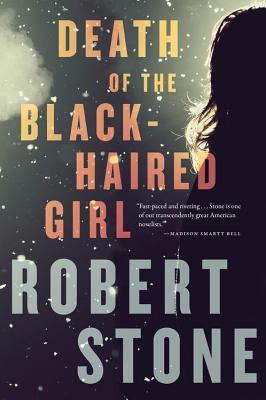 Death of the Black-Haired Girl (Paperback)
Mariner Books, 9780544227798, 288pp.
Publication Date: June 3, 2014
Other Editions of This Title:
Hardcover (11/12/2013)
Compact Disc (6/3/2014)
Compact Disc (11/12/2013)
MP3 CD (11/12/2013)
MP3 CD (11/12/2013)
Compact Disc (11/12/2013)
Library Binding, Large Print (1/1/2014)
* Individual store prices may vary.
Description
A New York Times Book Review Editors' Choice

"Fast-paced [and] riveting . . . Stone is one of our transcendently great American novelists." — Madison Smartt Bell

"Brilliant." — Washington Post

At an elite college in a once-decaying New England city, Steven Brookman has come to a decision. A brilliant but careless professor, he has determined that for the sake of his marriage, and his soul, he must end his relationship with Maud Stack, his electrifying student, whose papers are always late yet always incandescent. But Maud is a young woman whose passions are not easily curtailed, and their union will quickly yield tragic and far-reaching consequences.

Death of the Black-Haired Girl is an irresistible tale of infidelity, accountability, the allure of youth, the promise of absolution, and the notion that madness is everywhere, in plain sight.

"At once unsparing and generous in its vision of humanity, by turns propulsive and poetic, Death of the Black-Haired Girl is wise, brave, and beautifully just." — Boston Globe

"Unsettling and tightly wrought—and a worthy cautionary tale about capital-C consequences." — Entertainment Weekly

"A taut, forceful, lacerating novel, full of beautifully crafted language." — Los Angeles Review of Books
About the Author
ROBERT STONE (1937–2015) was the acclaimed author of eight novels and two story collections, including Dog Soldiers, winner of the National Book Award, and Bear and His Daughter, a finalist for the Pulitzer Prize. His memoir, Prime Green, was published in 2007.
Praise For Death of the Black-Haired Girl…
A New York Times Book Review Editor's Choice
Winner, 2014 Paterson Fiction Prize

"A taut novel of psychological suspense… The result is at once a Hawthorne-like allegory and a sure-footed psychological thriller."
—Michiko Kakutani, New York Times Book Review 

"The novel is unsettling and tightly wrought—and a worthy cautionary tale about capital-C consequences."—Entertainment Weekly

"A compressed story with the swift metabolism of a thriller"
—Alexandra Alter, Wall Street Journal

"Anyone who loves fine fiction has no choice but to read this novel now."
—San Francisco Chronicle

"In his fiction, Robert Stone is immersed no less profoundly in envisioning the drama of human evil in action than was the great French Catholic novelist and Nobel Laureate, Francois Mauriac. Not only with his brilliant new novel, Death of the Black-Haired Girl but from the early novels such as Dog Soldiers and A Flag at Sunrise down to later books like Damascus Gate and Bay of Souls, he has demonstrated again and again that he is no less a master than Mauriac of the tragic novel—of depicting the fatal inner workings of revenge, hatred, betrayal, and zealotry—and that, like Mauriac, he is the pitiless guardian of a cast of sufferers on whose tribulations he manages to bestow a kind of shattered mercy."
—Philip Roth

"The death of a star student at an upper-crust university unsettles friends, faculty and family in a piercing novel from veteran novelist Stone… A critique of tribalism of all sorts—religious, academic, police—…[Death of the Black-Haired Girl is] an unusual but poised mix of noir and town-and-gown novel, bolstered by Stone's well-honed observational skills."
—Kirkus (starred review)

"Robert Stone is one of our transcendently great American novelists. In Death of the Black-Haired Girl he turns an unflinching gaze into the darkest crevices of the human psyche, where glimmers of redemption are extremely hard-won. This fast-paced, riveting novel reflects a vivid and unforgettable image of what we have made of ourselves, in this country, at the turn of 21st century so far."
—Madison Smartt Bell

"Robert Stone is a vastly intelligent and entertaining writer, a divinely troubled holy terror ever in pursuit of an absconded God and His purported love. Stone's superb work with its gallery of remarkable characters is further enhanced here by his repellently smug professor, Steve Brookman, and the black-haired girl's hopelessly grieving father, Eddie Stack."
—Joy Williams

"Stone (Damascus Gate) imbues his characters with a rare depth that makes each one worthy of his or her own novel. With its atmosphere of dread starting on page one, this story will haunt readers for some time."—Publishers Weekly
or
Not Currently Available for Direct Purchase