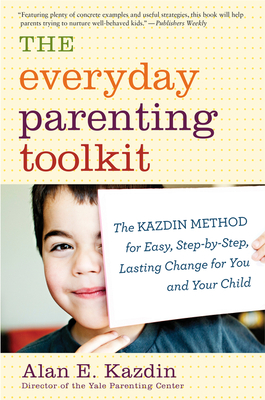 The Everyday Parenting Toolkit (Paperback)
The Kazdin Method for Easy, Step-by-Step, Lasting Change for You and Your Child
Mariner Books, 9780544227828, 208pp.
Publication Date: August 5, 2014
Other Editions of This Title:
Hardcover (6/11/2013)
* Individual store prices may vary.
Description
"Alan Kazdin delivers the evidence-based, gold-standard method for parents who want simple, effective responses to the everyday challenging behaviors of their children." —Martin E. P. Seligman, author of Flourish and The Optimistic Child

Alan Kazdin's The Kazdin Method for Parenting the Defiant Child is the gold standard for research-backed advice on being a better parent for difficult children. But what about children who are not "defiant"? Now, in The Everyday Parenting Toolkit, Dr. Kazdin addresses how parents can deal with the routine challenges that come with raising a child.

Dr. Kazdin's methods are based on the most up-to-date research and are implemented in real-world ways. These are the problems that plague parents on a day-to-day basis: from getting ready for school on time to expanding the palates of picky eaters to limiting computer time, no parenting book does a better job at helping parents understand and correct problematic behaviors. Dr. Kazdin's methods foster lifelong positive character traits such as respectfulness, honesty, kindness, and altruism. With The Everyday Parenting Toolkit, Dr. Kazdin helps transform parenting and helps develop ideal child-parent relationships.

"Jam-packed with solid advice any parent can use." —BookPage

"A useful guide to eliminating stress, improving communication and providing a more nurturing family environment." —Kirkus Reviews
About the Author
Alan E. Kazdin, Ph.D., is the John M. Musser Professor of Psychology and Child Psychiatry at Yale University and Director of the Yale Parenting Center. His work on parenting and childrearing has been featured on NPR, PBS, the BBC, and he has appeared on the Today Show, Good Morning America, ABC News, 20/20, and Dr. Phil. He frequently lectures to parents, educators, and business groups interested in learning the latest research and techniques of childrearing.
Carlo Rotella writes regularly for the New York Times Magazine, and he is a columnist for the Boston Globe. His work has also appeared in the New Yorker, Harper's, Slate, and The Best American Essays, and on WGBH. He is director of American Studies and professor of English at Boston College.