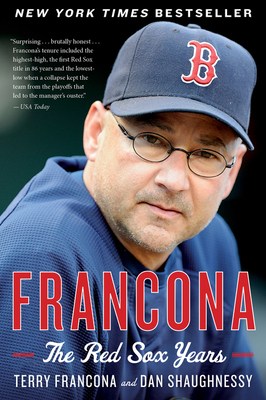 Francona (Paperback)
The Red Sox Years
Mariner Books, 9780544227873, 384pp.
Publication Date: April 1, 2014
Other Editions of This Title:
Hardcover (1/22/2013)
Compact Disc (1/22/2013)
* Individual store prices may vary.
Description
"This is the best book looking inside the mind of a big-league manager I have ever read, because Francona is sharp and loves the game, because Shaughnessy is eloquent and a dazzling storyteller."—Philadelphia Daily News

When Terry Francona took over as manager of the Boston Red Sox in 2004, the storied franchise hadn't won a World Series championship in eighty-six years. Led by Francona, the team won two over the course of four years. During the full eight years of Francona's tenure, the Red Sox were transformed from "cursed" into one of the most successful and profitable teams in baseball history—only to fall back to last place as soon as Francona was gone.

Francona: The Red Sox Years lets readers in on the inner workings of the Red Sox clubhouse like no book has ever done before. From the highs of the World Series to the lows of the final months of the 2011 season—the most epic collapse of a team in baseball history—this book features the never-before-told stories about Sox fans' favorite players, moments, wins, and losses.

"A scorched-earth memoir . . . [that] touches fleetingly on steroid use, sabermetrics, and Michael Jordan's stint in the minor leagues . . . but saves its heaviest artillery for the owners . . . [and] Theo Epstein backs him up."—New York Times Book Review

"It's not often that baseball aficionados and gossip gluttons can plunk down on a shared portion of outfield grass with the same book for an afternoon of readerly delight, but Francona can bridge those kinds of differences."—Boston Globe
About the Author
Terry "Tito" Francona was a first baseman and outfielder in the majors from 1981 to 1990. After retiring as a player, he managed several minor league teams in the 1990s before managing the Philadelphia Phillies for four seasons. In 2004, Francona was hired to manage the Boston Red Sox, and that year he led the team to its first World Series championship since 1918. He won another World Series with Boston in 2007 and continued to manage the team until the end of the 2011 season. He is now a commentator for ESPN, joining in on their Sunday Night Baseball telecast and contributing to ESPN.com.


Dan Shaughnessy is an award-winning columnist for the Boston Globe and the author of several sports books, including The Curse of the Bambino, a best-selling classic. Seven times Shaughnessy has been voted one of America's top ten sports columnists by Associated Press Sports Editors and named Massachusetts Sportswriter of the Year. He has appeared on Good Morning America, The Today Show, The Early Show, CNN, Nightline, NPR, Imus in the Morning, ESPN, HBO, and many others. He lives in Newton, Massachusetts.