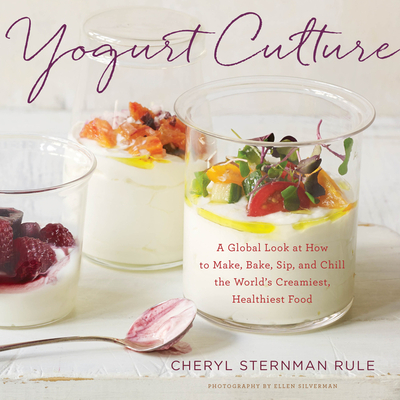 Yogurt Culture
A Global Look at How to Make, Bake, Sip, and Chill the World's Creamiest, Healthiest Food
Hardcover

* Individual store prices may vary.
Description
Long celebrated as a versatile ingredient in cuisines across the globe, yogurt has recently emerged as a food of nearly unparalleled growth here in the United States. The time has come for a modern, far-ranging cookbook devoted to its untapped culinary uses.

In Yogurt Culture, award-winning food writer Cheryl Sternman Rule presents 115 flavorful recipes, taking yogurt farther than the breakfast table, lunchbox, or gym bag. Rule strips yogurt of its premixed accessories and brings it back to its pure, wholesome essence. In chapters like Flavor, Slurp, Dine, and Lick, she pairs yogurt not just with fruit but with meat, not just with sugar but with salt, not just with herbs but with fragrant spices whose provenance spans the globe. She provides foolproof, step-by-step instructions for how to make yogurt, Greek yogurt, and labneh at home, though all of her recipes can also be prepared with commercial yogurt.

Rule explores yogurt from every angle, explaining how to read a label, visiting producers large and small, and gaining entry to the kitchens of cooks from around the world. Deeply researched and peppered with stories, interviews, and full-color photographs, Yogurt Culture offers a fresh, comprehensive take on a beloved food.
Praise For Yogurt Culture: A Global Look at How to Make, Bake, Sip, and Chill the World's Creamiest, Healthiest Food…
"The Internet has plenty of yogurt how-to's, but I found the most accessible and complete guide in a book called "Yogurt Culture," by Cheryl Sternman Rule, published last year. Her book made homemade yogurt seem not only easy, but also kind of essential." —The New York Times 

"Sternman Rule stuffs her book with a global smorgasbord of tempting recipes. Some were gathered during trips abroad, or adapted from interviews and cooking lessons with immigrants in the U.S. for whom yogurt remains an essential taste of home." —NPR.org

"Yogurt is hugely popular in American supermarkets, but it's often sweetened to sugar-bomb status, packed into snack cups or processed into squeezable tubes. In food writer Cheryl Sternman Rule's kitchen, though, we get a worldwide, whirlwind tour of the versatile ingredient..." —The Seattle Times

"Sternman Rule traveled and interviewed yogurt producers, chefs, and home cooks from a wide range of cultures while writing the book to explore how yogurt is used across the globe and just how versatile it can be in the kitchen..." –The Oregonian
 
"Part cookbook, part guide, and 100% inspiring. Whether you buy little containers of it from the store or make your own at home, Yogurt Culture will make you fall in love with the tart and creamy stuff anew..." –Paste.com
 
"[Cheryl Sternman Rule's] anecdotes throughout give texture and context to many of the recipes, from the Eritrean spicy tomato bread salad with yogurt (called fata) to the syrup-drenched orange phyllo cake. Rule's yogurt primer is comprehensive, going so far as to delve into the relationship between yogurt and gender..." –The San Francisco Chronicle
 
"Sternman Rule shares recipes and stories from kitchens around the world and visits yogurt producers large and small to explore the scope of this booming industry. After exploring the history of yogurt, she... offers a fool-proof guide on how to take the anxiety of making yogurt from scratch. Rule also explains how to strain regular yogurt into a thick, creamy Greek version, then combines it with blood orange and kalamata olives for an outstanding dip..." –The Detroit News
 
"... [Rule's] evocative descriptions of the people and cultures that inspire her recipes make me want to pull out my pots and pans — or my passport — just so I can taste what she tasted…Cheryl Sternman Rule delves deeply into the traditional flavors and food ways where yogurt plays a starring role, and with "Yogurt Culture," we are all the richer for it." –The San Diego Union-Tribune

"...Turning a critical eye to the history and economics of this extremely popular food, [Rule] explores global eating habits, the practices of large co-packing facilities, and the growth of notable companies such as Dannon and Chobani. In addition to this informative content, and perhaps best of all, Rule delivers outstanding recipes..." —Library Journal, starred

"In the America of my lifetime, yogurt has gone from being a fringe food for 'health nuts' to the (usually too sweet) snack of hipsters everywhere. Yet there is so much more to this profound and ancient food than most people may realize. Cheryl's delightful and beautifully communicated book brings yogurt to center stage with the focus it deserves, as a cornerstone ingredient in its own right. And the recipes are terrific." —Mollie Katzen, author of Moosewood Cookbook and The Heart of the Plate
 
"Yogurt Culture is rich in history and lore, big on common sense, and filled with appealing ways to use yogurt as expressed in the recipes, with clear instructions for making your own yogurt and a useful trouble-shooting guide. This is a great little book about a food that is part of so many of our lives. With it in hand, yogurt will undoubtedly have a bigger role to play in your life, too. I know it will in mine." —Deborah Madison, author of Vegetable Literacy and The New Vegetarian Cooking for Everyone
 
"From something so simple as yogurt, Cheryl Sternman Rule has painted a picture of vast possibility. Yogurt Culture is a beautifully written book, with astute observations on the global importance of the ingredient and stunning recipes to explore." — Hugh Acheson, chef/author
 
"Cheryl Sternman Rule not only understands that plain honest yogurt puts all the strange confections in the supermarket yogurt case to shame for flavor and versatility, but knows how to bring home the point to fellow cooks. Her worldwide Eritrea-to-Mongolia-to California quest for yogurt traditions is also a very contemporary exploration of its limitless flavor potential. If her inventive recipes for anything from waffles to cooling summer drinks, relishes to savory marinades, curries to frozen desserts help turn yogurt into the newest culinary craze — well, it's about time!" –Anne Mendelson, author, Milk
 
"Through pointed research and experimentation, Cheryl distills for us a primer on at-home yogurt making, shows how she integrates it into her own day-to-day cooking, and explores and celebrates yogurt's traditional place in global cultures. You come away with a deeper understanding of the facets of yogurt that make it such a dynamic, adaptive, and globally loved part of our lives." — Heidi Swanson, author, Super Natural Every Day
Rux Martin/Houghton Mifflin Harcourt, 9780544252325, 352pp.
Publication Date: April 28, 2015
About the Author
CHERYL STERNMAN RULE is the author of Ripe: A Fresh, Colorful Approach to Fruits and Vegetables. Her blog, 5 Second Rule, was named best culinary blog of 2012 by the IACP and best writing blog by Saveur in 2014. Her work has appeared in Cooking Light, EatingWell, Health, Vegetarian Times, and more.
or
Not Currently Available for Direct Purchase