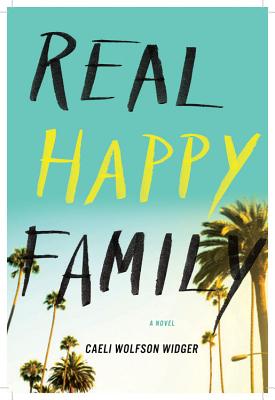 Real Happy Family
Hardcover

* Individual store prices may vary.
Description
Part-time actress, full-time party girl Lorelei Branch isn't famous yet, but she's perfected a Hollywood lifestyle full of clubbing, fashion, and the latest juice cleanse. When Robin, her sister-in-law and agent, throws a plum job her way, Lorelei jumps at the chance and auditions to be the new girl on television's hottest reality show,
Flo's Studio
.
Enter Colleen, Lorelei's pill-popping mother, who wants nothing more than to see her daughter win the fame and glory she never had a chance to pursue herself. But Lorelei's dream of becoming the next reality star is dashed when she loses the spot on Flo's Studio to a stunning African woman. In an attempt to defend her daughter against what she calls a rigged contest, Colleen goes ballistic and delivers a racist rant on live television, sparking a national media frenzy. Lorelei flees the limelight, humiliated and broke, with her slacker boyfriend Don and heads for Reno where she begins to self-destruct.
Meanwhile, the rest of the Branch family starts to come apart at the seams. Colleen and her husband, Carl, are quietly drifting apart. Darren, Lorelei's older half-brother, is stuck in Florida working on a contentious film set while his wife, Robin, continues the tedious regimen of fertility drugs meant to help them conceive a child. Desperate to bring the family together again and make things right, Colleen hatches a plan to stage an intervention for Lorelei on the reality show Real Happy Family. Soon the entire Branch family is entangled in a mission to bring the prodigal daughter back into the fold.
Will Lorelei ever forgive Colleen? Will Real Happy Family air their most sensational intervention yet? All roads lead to a seedy Reno hotel room, where a reality TV crew is waiting.
"This entertaining debut novel unsparingly takes on damaged family ecosystems and the show-business machine. Widger has created a delicate suspension bridge out of her characters' relationships to one another and the world, and throughout the course of the novel, she steadily, craftily adds weight, making for compulsive reading." --Kirkus Reviews
New Harvest/Houghton Mifflin Harcourt, 9780544263611, 361pp.
Publication Date: March 4, 2014
or
Not Currently Available for Direct Purchase