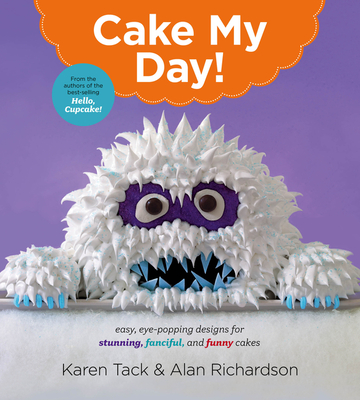 Cake My Day! (Paperback)
Easy, Eye-Popping Designs for Stunning, Fanciful, and Funny Cakes
Rux Martin/Houghton Mifflin Harcourt, 9780544263697, 304pp.
Publication Date: March 24, 2015
* Individual store prices may vary.
Description
The New York Times bestselling authors of Hello, Cupcake! take geniusity to the next level, with bigger, bolder, better creations for every occasion

Those cupcaking geniuses, Karen Tack and Alan Richardson, are back, this time with bigger canvases and bolder creations. Everything that can be done with a cupcake can be done better with a cake—with a twelfth of the effort and loads more wow power, using everyday pans, bowls, and even measuring cups.

Turn a round cake into Swiss cheese and Brie, and it's April Fool's! Simply press candy into frosting for an argyle pattern or use one of the easy new decorating techniques to produce wood grain for a guitar cake. Whether you're a kitchen klutz or a master decorator, you can transform a loaf cake into a retro vacuum cleaner for Mom or bake a cake in a bowl for a rag doll. Need a piñata for a birthday party? Bake the batter in a measuring cup. Or skip the baking altogether, buy a pound cake, and fashion it into a work boot for Dad or a high-top sneaker.

You won't believe these creations aren't the real thing—and they're so stunning you'll have to make them!
About the Author
Called "the cake whisperer" by Gourmet, KAREN TACK is a cooking teacher and food stylist. Her work can be seen on the covers of Gourmet, Bon Appétit, Good Housekeeping, Family Circle, Woman's Day, Martha Stewart Living, Parents, Real Simple, Nick Jr., and many others.
Fellow creator ALAN RICHARDSON has photographed dozens of best-selling cookbooks, and his work appears in many leading food and women's magazines. He is the coauthor of The Breath of a Wok, which won two coveted awards from the International Association of Culinary Professionals.