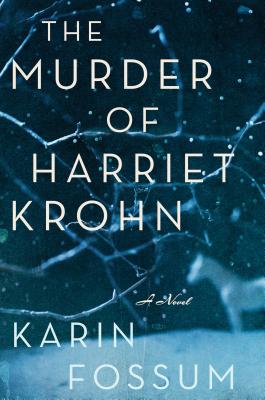 The Murder of Harriet Krohn (Inspector Sejer Mysteries #10) (Hardcover)
Houghton Mifflin Harcourt, 9780544273399, 256pp.
Publication Date: November 18, 2014
Other Editions of This Title:
Paperback (11/3/2015)
* Individual store prices may vary.
Description
Available for the first time in English, the seventh entry in the beloved Inspector Sejer series from Norway's Queen of Crime, Karin Fossum
On a wet, gray night in early November, Charlo Torp, a former gambler who's only recently kicked the habit, makes his way through the slush to Harriet Krohn's apartment, flowers in hand. Certain that paying off his debt is the only path to starting a new life and winning his daughter's forgiveness, Charlo plans to rob the wealthy old woman's antique silver collection. What he doesn't expect is for her to put up a fight.
The following morning Harriet is found dead, her antique silver missing, and the only clue Inspector Sejer and his team find in the apartment is an abandoned bouquet. Charlo should feel relieved, but he's heard of Sejer's amazing record — the detective has solved every case he's ever been assigned to.
Told through the eyes of a killer, The Murder of Harriet Krohn poses the question: how far would you go to turn your life around, and could you live with yourself afterward?
About the Author
KARIN FOSSUM is the author of the internationally successful Inspector Konrad Sejer crime series. Her recent honors include a Gumshoe Award and the Los Angeles Times Book Prize for mystery/thriller. She lives in Norway.
Praise For The Murder of Harriet Krohn (Inspector Sejer Mysteries #10)…
"Fossum's superior seventh Insp. Konrad Sejer novel, the 10th book in the series to be released in the U.S. (after 2013's Eva's Eye), puts a modern spin on Dostoyevsky's Crime and Punishment. Widower Charlo Olav Torp's robbery and murder of elderly Harriet Krohn allows him to pay off his debts and reconnect with his estranged 16-year-old daughter, Julie. He even buys Julie the horse she has always wanted. But this fresh start comes with a price. His every moment is clouded by guilt over his actions and the fear that he'll be caught, but he's also proud that he's committed the perfect murder. Months go by until Sejer, who has never had an unsolved case, targets Charlo by building on the one small piece of forgotten evidence at the crime scene. Series fans and newcomers alike will savor this insightful character study of a man on the edge with little regard to how his actions affect others. (Nov.)"--Publishers Weekly, STARRED review

"In the seventh Konrad Sejer story, Fossum's pitch-perfect dialogue (internal and otherwise) sets the tense, desperate tone of this introverted, psychological cat-and-mouse tale. Gambling addict Charlo Torp is proudly shoving his past behind him. He's paid off the enormous gambling debt he owed a dangerous friend, found a part-time job, and even bought a horse to win back his equestrian daughter's affection. There is just the small matter of Harriet Krohn, whom Charlo murdered during the robbery that netted the cash for his new life. Within days of the attack, media coverage of the brutal crime is unavoidable, and Charlo learns that formidable Inspector Konrad Sejer is hunting him. Convinced that he can burrow into his new life and escape notice, Charlo denies the fallout of his crime even as fear and paranoia begin to creep in behind his facade. Fossum's modern take on "The Tell-Tale Heart" will please the large, ever-expanding base of Sejer fans, who will be enthralled with following the investigation from the prey's angle."--Booklist"

"Charlo Torp doesn't mean to kill anyone. A widower desperate to pay off gambling debts, he intends to enter Harriet Krohn's house under the pretense of a flower delivery and steal the elderly woman's valuables. But Harriet resists, Charlo panics, and she ends up bludgeoned to death in her kitchen. With the whodunit thus settled two dozen pages in, Fossum trains her focus on the "why" of the crime, examining Charlo's guilt and how he justifies his actions to himself, especially after the stolen money helps him repair his relationship with an estranged daughter. Still, he constantly looks over his shoulder, and with good reason—the policeman investigating Harriet's death, Insp. Konrad Sejer, has never failed to solve a murder. VERDICT Writing from the killer's perspective, Fossum sketches a credible if unsuspenseful portrait of how normal people commit violent acts. This is the seventh book in the "Sejer" series (The Water's Edge; Bad Intentions; The Caller) but one of the last to be translated into English, quite possibly because the detective doesn't appear until well past the halfway mark. That's too bad, because his scenes crackle with energy that's lacking in the rest of the book. For readers who enjoy psychological suspense and who don't mind crime novels minus the mystery."--Library Journal
or
Not Currently Available for Direct Purchase