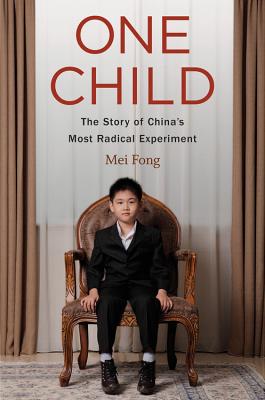 One Child
The Story of China's Most Radical Experiment
Hardcover

* Individual store prices may vary.
Other Editions of This Title:
Digital Audiobook (2/8/2016)
MP3 CD (2/9/2016)
Compact Disc (2/9/2016)
MP3 CD (2/9/2016)
Compact Disc (2/9/2016)
Paperback (1/9/2018)
Description
An intimate investigation of the world's largest experiment in social engineering, revealing how its effects will shape China for decades to come, and what that means for the rest of the world

When Communist Party leaders adopted the one-child policy in 1980, they hoped curbing birth-rates would help lift China's poorest and increase the country's global stature. But at what cost? Now, as China closes the book on the policy after more than three decades, it faces a population grown too old and too male, with a vastly diminished supply of young workers.

Mei Fong has spent years documenting the policy's repercussions on every sector of Chinese society. In One Child, she explores its true human impact, traveling across China to meet the people who live with its consequences. Their stories reveal a dystopian reality: unauthorized second children ignored by the state, only-children supporting aging parents and grandparents on their own, villages teeming with ineligible bachelors, and an ungoverned adoption market stretching across the globe. Fong tackles questions that have major implications for China's future: whether its "Little Emperor" cohort will make for an entitled or risk-averse generation; how China will manage to support itself when one in every four people is over sixty-five years old; and above all, how much the one-child policy may end up hindering China's growth.

Weaving in Fong's reflections on striving to become a mother herself, One Child offers a nuanced and candid report from the extremes of family planning.
Praise For One Child: The Story of China's Most Radical Experiment…
Honorable Mention, ASJA 2017 Writing Awards

"A searing, important, and eminently readable exploration of China's one-child policy."
— NICHOLAS D. KRISTOF, NEW YORK REVIEW OF BOOKS

"The policy itself remains a monument to official callousness, and Fong's book pays moving testimony to the suffering and forbearance of its victims."
— NEW YORK TIMES BOOK REVIEW

"Not to be missed ... [Fong] combines tough, broad economic analysis with individual stories."
— ECONOMIST / 1843

"A timely, important work that takes stock of the one-child policy's damage…ONE CHILD is, like the policy's abolition, long overdue, and Ms. Fong was the perfect person to write it."
— WALL STREET JOURNAL

"Fong's fine book is a moving and at times harrowing account of the significance of decisions taken by a small coterie of men with too much faith in science and ideology, and too little in humanity."
— GUARDIAN

"Fong writes eloquently and with an authority that reflects her knowledge of many cultures ... A deeply moving account of a policy that looks set to haunt China (and the world) for decades."
— INDEPENDENT (UK)

"With impeccable timing, [Fong's] new book offers a superb overview... Fong writes in an easy, accessible style, and in 200 pages takes us behind the scenes of the Sichuan earthquake, the Olympic stadium in Beijing, the dancing grannies, the migrant workers, the orphanages, the transnational adoption of Chinese baby girls, birth tourism, and surrogacy. She fills in the background to these familiar subjects with impressive research and interviews, conducted over many years."
— LOS ANGELES REVIEW OF BOOKS
"Fong excels in telling the personal stories of others, providing the reader with insight into how an Orwellian policy, rarely understood by outsiders, has played out in the lives of over a billion people."
— MS.

"The country's one-child policy, to be officially phased out in 2016, created more far-reaching social distortions than even its most vociferous critics realized, argues Pulitzer Prize-winning journalist Fong in this timely exposé of a reproductive regime whose inner workings Chinese officials have tried hard to keep under wraps… Finished just before the announcement of the policy's demise, One Child is a touching and captivating anthropological investigation of one of the most invasive laws ever devised."
— KIRKUS REVIEWS

"Timely ... Compassionate ... Fong illumines individual grief and dignity ... [Her] human-scale portrayal of individual stories, weaving in her own fraught journey toward motherhood as well, makes for an approachable and edifying treatment."
— LIBRARY JOURNAL

"Mei Fong's brilliant exploration of China's one-child policy must change the way we talk about China's rise. One Child is lucid, humane, and unflinching; it is vital reading for anyone focused on the future of China's economy, its environment, or its politics. It not only clarifies facts and retires myths, but also confronts the deepest questions about the meaning of parenthood."
— EVAN OSNOS, National Book Award-winning author of Age of Ambition
"Eye-opening, powerful, and utterly gripping, One Child had me hooked from page one. Mei Fong possesses a rare eye for the details that truly illuminate a story, the ones that most of us overlook. She writes beautifully and vividly, revealing sides of China I'd never imagined to exist."
— AMY CHUA, author of Battle Hymn of the Tiger Mother and The Triple Package

"Babies are a strange topic for a weighty book about China. But Mei Fong's moving and highly personal account of the one-child policy will teach you more about the dysfunction and cruelty of modern-day China than any other. The story of her train ride to Sichuan Province with parents whose only children were killed in the 2008 earthquake is as heartbreaking as anything I've ever read about China."
— BARBARA DEMICK, author of Nothing to Envy

"One Child is a critically important book about a major force that has shaped contemporary China, necessary reading both for policy experts and anyone interested in the future of one of the world's most important nations. But it is also a riveting read, written with the flair and compassion of a novel, that throws new light on the tough decisions we all face – and the joys we discover – in family life."
— ANNE-MARIE SLAUGHTER, author of Unfinished Business

"One Child is a timely and informative look into China's infamous effort to control its enormous population. But Mei Fong has also given us a wry, bittersweet, and often very personal look at how courtship, marriage, birth, and death interact in the post-Mao Chinese family. A lovely antidote to decades of chillingly cold Party-speak from Beijing."
— ORVILLE SCHELL, author of Wealth and Power

"Mei Fong reveals the dark underbelly of China's one-child policy. Whatever the original intentions, its implementation led to heartache, human rights abuses, and coercion of women across the country. Also poignant is the fact that the legacy of this state attempt to control reproductive rights may linger as an Achilles heel derailing its economic rise."
— PAUL FRENCH, author of Midnight in Peking
"In human history, China's one-child policy is unique. If you want to understand how it affected the lives of ordinary people and Chinese society as a whole, you need to read this. With its vivid character portrayals and incredible stories,
One Child
is an eye-opening book."
— XINRAN XUE, author of The Good Women of China and Buy Me the Sky: The Remarkable Truth of China's One-Child Generations
"A highly impressive account of one of the controversial aspects of today's China, combining policy analysis, extensive on-the-ground reporting, and personal experience."
— JONATHAN FENBY, author of The Penguin History of Modern China and Tiger Head, Snake Tails
Mariner Books, 9780544275393, 272pp.
Publication Date: January 5, 2016
About the Author
MEI FONG is a Pulitzer Prize–winning journalist with over a decade of reporting in Asia. She is a winner of Amnesty's Human Rights Press Award, a 2013 recipient of a Ford Foundation grant for investigative journalism, and a 2015 New America Fellow. Her writing has also appeared in the Atlantic, the Los Angeles Times, Salon, Forbes, and Far Eastern Economic Review. She has appeared on CNBC, CNN, National Public Radio, South China Post, and Singapore Straits Times.
Coverage from NPR
or
Not Currently Available for Direct Purchase