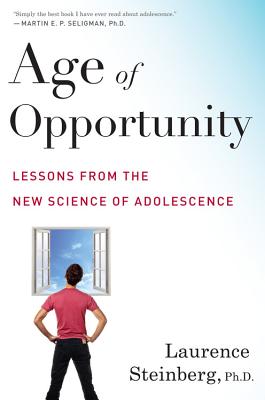 Age of Opportunity
Lessons from the New Science of Adolescence
Hardcover

* Individual store prices may vary.
Other Editions of This Title:
Paperback (9/22/2015)
Description
A leading authority draws on new research to explain why the adolescent years are so developmentally crucial, and what we must do to raise happier, more successful kids.
Adolescence now lasts longer than ever before. And as world-renowned expert on adolescent psychology Dr. Laurence Steinberg argues, this makes these years the key period in determining individuals' life outcomes, demanding that we change the way we parent, educate, and understand young people.
In Age of Opportunity, Steinberg leads readers through a host of new findings — including groundbreaking original research — that reveal what the new timetable of adolescence means for parenting 13-year-olds (who may look more mature than they really are) versus 20-somethings (who may not be floundering even when it looks like they are). He also explains how the plasticity of the adolescent brain, rivaling that of years 0 through 3, suggests new strategies for instilling self-control during the teenage years. Packed with useful knowledge, Age of Opportunity is a sweeping book in the tradition of Reviving Ophelia, and an essential guide for parents and educators of teenagers.
Praise For Age of Opportunity: Lessons from the New Science of Adolescence…
"This study will be gratefully received by many for its advice on how our increasing understanding of adolescent development can be put to practical use in helping adolescents through emotional and behavioral tumult... Steinberg's audience is as broad as his approach and includes parents, educators, politicans, businesspeople, and health care professionals. A clear and canny look into the adolescent brain that will help influence adolescent lives for the better." —Kirkus Reviews
"This is a convincing and eloquent call for change." —Publishers Weekly


"Steinberg forces us to rethink our assumptions, and ... includes some fascinating advice ... Steinberg's essential book serves the same purpose for parents of adolescents as the work of the late Louise Ames did for those of babies, toddlers, and young children: it makes sense of these mysterious creatures." — Huffington Post
"Simply the best book I have ever read about adolescence, and I say this as both the father of seven and as a scientist who works in this field. Steinberg guides us through truly novel findings on what happens during adolescence and tells us how, as parents and teachers, we should change our ways." — Martin E. P. Seligman, Ph. D., author of Learned Optimism and The Optimistic Child
"As a mother of two boys and an educator, I am so grateful Laurence Steinberg has written this amazing book. He not only clearly and elegantly communicates the newest insights into understanding teenagers' brains but also shows how adults can manage ourselves when we get frustrated with teens' behavior." —Rosalind Wiseman, author of Queen Bees and Wannabes and Masterminds and Wingmen
"If you need to understand adolescents — whether your own or anyone else's — you must read this book. Steinberg explains why most of our presumptions about adolescence are dead wrong and reveals the truth about this exciting and unnerving stage of life. Written with warmth, lucidity, and passion, Age of Opportunity will fill parents with relief by demystifying their children. Educators and policy-makers should study it carefully." —Jennifer Senior, author of All Joy and No Fun
"I love this book! Steinberg has blended the latest research with his decades of expertise to give us a bold new view of the perils and promise of adolescence." —Daniel J. Siegel, M.D., Clinical Professor, UCLA School of Medicine, and author of Brainstorm: The Power and Purpose of the Teenage Brain
"Clear, evidence-based, and solutions-oriented, Age of Opportunity is the roadmap you need whether you already have a teen or young adult, or are preparing for one." —Madeline Levine, Ph.D., author of The Price of Privilege and Teach Your Children Well
"A fascinating and important book. What every parent, teacher and counselor MUST knowabout the adolescent brain, its vulnerabilities, and its tremendous possibilities." —Carol Dweck, Professor of Psychology, Stanford University, and author of Mindset
"A masterful summary of what science has recently discovered about adolescence. I learned something new on every page." —Angela Duckworth, Ph.D., MacArthur Fellow and Associate Professor of Psychology, University of Pennsylvania
"This fascinating book gives us cause for concern, cause for hope and cause for celebration. Whether you're a parent or an adolescent yourself, you should read it. There's information in these pages that could change and improve your life." —Peg Tyre, author of The Good School: How Smart Parents Get Their Kids the Education They Deserve
"Steinberg explains how 'abnormal' adolescent behavior is actually 'normal.' This book belongs on the shelf of every parent, teacher, youth worker, counselor, judge— heck, anyone interested in pre-teens and teenagers." —David Walsh, Ph.D., author of Why Do They Act That Way?
"Based on cutting-edge research and the wisdom of a leading authority in the field, this magnificent book will captivate parents, teachers, policy-makers and adolescents themselves." —Sarah-Jayne Blakemore, Ph.D., Professor of Cognitive Neuroscience, University College, London
Eamon Dolan/Houghton Mifflin Harcourt, 9780544279773, 272pp.
Publication Date: September 9, 2014
About the Author
LAURENCE STEINBERG, Ph.D. is one of the world's leading experts on adolescence. He is Distinguished University Professor of Psychology at Temple University, in Philadelphia. Dr. Steinberg is the author of more than 350 articles and essays on development during the teenage years, and the author or editor of fourteen books, including You and Your Adolescent,The 10 Basic Principles of Good Parenting,Beyond the Classroom, and Adolescence, the leading college textbook on the subject. He has been a featured guest on numerous television programs, including CBS Morning News, Today, Good Morning America, 20/20, Dateline, PBS News Hour, and The Oprah Winfrey Show, and is a frequent consultant on adolescence for print and electronic media, including the New York Times and NPR. He has also written for the New York Times, Wall Street Journal, Washington Post, USA Today, and Psychology Today. A graduate of Vassar College and Cornell University, Dr. Steinberg is a Fellow of the American Academy of Arts and Sciences, the American Psychological Association, and the Association for Psychological Science.
or
Not Currently Available for Direct Purchase