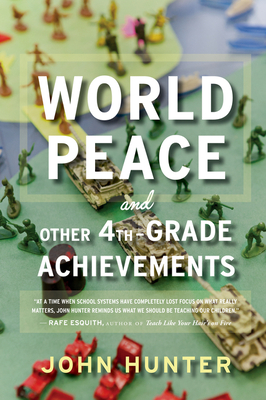 World Peace and Other 4th-Grade Achievements (Paperback)
Eamon Dolan/Mariner Books, 9780544290037, 272pp.
Publication Date: August 5, 2014
Other Editions of This Title:
Hardcover (4/2/2013)
Compact Disc (8/5/2014)
MP3 CD (4/8/2014)
MP3 CD (4/2/2013)
Compact Disc (4/2/2013)
MP3 CD (4/2/2013)
Compact Disc (4/2/2013)
* Individual store prices may vary.
Description
"At a time when school systems have completely lost focus on what really matters, John Hunter reminds us what we should be teaching our children. His ideas will help anyone who has the courage to understand that a real education must go beyond filling in circles on a standardized test form." — Rafe Esquith, author of Teach Like Your Hair's on Fire

Can playing a game lead to world peace? If it's John Hunter's World Peace Game, it just might. In Hunter's classroom, students take on the roles of presidents, tribal leaders, diplomats, and military commanders. Through battles and negotiations, standoffs and summits, they strive to resolve a sequence of many-layered, interconnected scenarios, from nuclear proliferation to tribal warfare.

Now, Hunter shares inspiring stories from over thirty years of teaching the World Peace Game, revealing the principles of successful collaboration that people of any age can apply. He offers not only a forward-thinking report from the frontlines of American education, but also a generous blueprint for a world that bends toward cooperation rather than conflict. In this deeply hopeful book, a visionary educator shows us what the future of education can be.

"Inspired, breath-of-fresh-air reading." — Kirkus Reviews

"With numerous reflections on the game's impact on certain students and a resounding final chapter highlighting his class's 2012 visit to the Pentagon, Hunter proves the value of 'slow teaching' in this important, fascinating, highly readable resource for educators and parents alike." — Booklist
About the Author
A native Virginian and graduate of Virginia Commonwealth University, JOHN HUNTER is an award-winning teacher and educational consultant. Hunter led his first sessions of the World Peace Game at Richmond Community High School in 1978. Since then, he has taught the game successfully in a variety of settings, from public schools in Virginia and Maryland to a session with Norwegian students sponsored by the European Youth Initiative. He has spoken at the Aspen Ideas Festival, Google's Palo Alto campus, the Pentagon, the United Nations, and elsewhere. His March 2011 TED talk was greeted with a standing ovation, and Arianna Huffington and Chris Anderson named it the No. 1 talk of TED 2011.
Praise For World Peace and Other 4th-Grade Achievements…
"A veteran educator's uplifting account of how he introduced schoolchildren to global problems through a visionary game that charged them with saving the world . . . Inspired, breath-of-fresh-air reading." — Kirkus Reviews
 
"At a time when school systems have completely lost focus on what really matters, John Hunter reminds us what we should be teaching our children. His ideas will help anyone who has the courage to understand that a real education must go beyond filling in circles on a standardized test form." — Rafe Esquith, author of Teach Like Your Hair's on Fire
 
"John Hunter's World Peace Game is more than a brilliant example of educational game design. It shows us exactly how to inspire and manage creative collaboration around the most complex problems imaginable. And given that virtually all young people today are growing up gamers, this book is a must-read for twenty-first century educators and leaders." — Jane McGonigal, author of Reality Is Broken: Why Games Make Us Better and How They Can Change the World
"Hunter's optimism is infectious"  — Publishers Weekly
"With numerous reflections on the game's impact on certain students and a resounding final chapter highlighting his class's 2012 visit to the Pentagon, Hunter proves the value of "slow teaching" in this important, fascinating, highly readable resource for educators and parents alike."  — Booklist