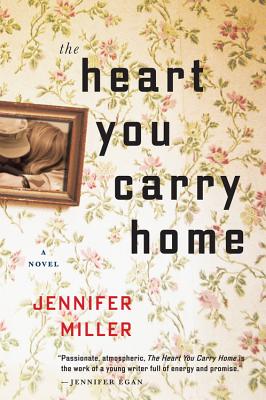 The Heart You Carry Home
Paperback

* Individual store prices may vary.
Description
A novel about surviving on the home front, fathers and daughters, and the limits and limitlessness of love
Becca Keller is no stranger to the way war can change a man. Her Vietnam vet father, King, has been more out of her life than in. Her mother boycotts her wedding because Becca is making the same mistakes she did—yoking herself to a man just back from battle. And Ben is different after his second tour. Within days of the wedding he turns dangerous, and Becca runs to the only person she has left. 
King, though, is heading West with his motorcycle buddies, out to a place they call Kleos. A mysterious desert compound ruled over by a guru-like commanding officer, it is a refuge for some soldiers, but might be the death of others. There, Becca will be faced with the possibility that she may not know the real damage in her loved ones' hearts. In finally seeing her father's demons, she might just be able to start with her husband on their own journey back to peace.
The Heart You Carry Home 
lays bare the violence soldiers bring home, as one woman fights for the men in her life who have been scarred by different wars in disturbingly similar ways. It "combines great storytelling with social questions that are both as current and as old as war" (Karl Marlantes). And it mines the trials of generations of American families to find hope for the next.
Praise For The Heart You Carry Home…
"In a powerful novel about soldiers returning from war, Miller shows that sometimes the worst wounds of war are the ones not visible from the outside...Miller's vivid characters illustrate the emotional and physical damages brought home by returning veterans, forcing the reader into harrowing, moving places. This novel will haunt readers long after the final page is turned."—Publishers Weekly

"Miller offers an impressively fresh perspective on soldiers returning from war by delivering a memorable heroine...[W]ell done and worthwhile." —Booklist

"Strong, well-developed portraits of veterans' experiences and relationships."—Kirkus

"Passionate, atmospheric,The Heart You Carry Home is the work of a young writer full of energy and promise."—Jennifer Egan, author of A Visit from the Goon Squad and others

"Speaking as the daughter, as well as the wife, of a veteran, I can say this book packs an honest punch. The Heart You Carry Home gives voice to generations of soldiers and their families seeking understanding and forgiveness. A testimony to love's ultimate ability to heal even our most hidden wounds." —Sarah McCoy, New York Times bestselling author of The Mapmaker's Children and The Baker's Daughter

"Here is a tale of family, community, love, and madness, as a woman who is both the daughter of a Vietnam veteran and wife of an Iraq veteran journeys to heal the heart-wounds of war. The Heart You Carry Home combines great story-telling with social questions that are both as current and as old as war. I read it in one sitting."—Karl Marlantes, author of Matterhorn

"A powerhouse of a novel. Miller captures the emotional minefield of veterans returning home from the battlefields of Iraq and Afghanistan with vivid, engaging detail. This novel cuts right to the heart."—David Abrams, author of Fobbit, a 2012 New York Times Notable Book

"In Becca Keller, Miller has crafted a fierce heroine whom you'll eagerly follow across the country, into the depths of a madman's sanctum, and back into the light--stronger but forever changed. The Heart You Carry Home is a story about fathers and daughters, and how the legacy of war not only breaks families apart, but can pull them back together."—Joanna Smith Rakoff, author of My Salinger Year

"An engrossing tale layered in mystery, told with compassion and - at the perfect moments - wit. Miller gives us a truthful look at the fallout from war, both today's wars and the conflict in Vietnam. A damn fine read."—Artis Henderson, author of Unremarried Widow

"With The Heart You Carry Home, Miller has crafted a thrilling, surprising, and mercilessly readable novel about the far-reaching effects of trauma, our crippling capacity for guilt, and the long road to forgiveness. Ultimately though, it's a novel about healing."—Jonathan Evison, author of West of Here, All About Lulu, and The Revised Fundamentals of Caregiving
Mariner Books, 9780544300552, 320pp.
Publication Date: November 3, 2015
About the Author
JENNIFER MILLER, the author of Inheriting the Holy Land: An American's Search for Hope in the Middle East, holds a BA from Brown University, an MS in journalism from Columbia, and an MFA in fiction writing from Columbia. Her work has been published inthe New York Times, Marie Claire, Men's Health, the Christian Science Monitor, Salon.com, and others.