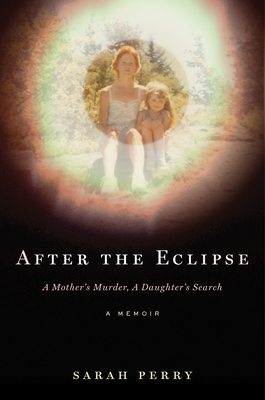 After the Eclipse
A Mother's Murder, a Daughter's Search
Hardcover

* Individual store prices may vary.
Other Editions of This Title:
Digital Audiobook (9/25/2017)
Paperback (9/4/2018)
Compact Disc (9/26/2017)
Description
"Stunning." —Entertainment Weekly

"Raw and perfect." —Laura Miller, Slate

"Heartbreaking yet hopeful." —Samantha Irby, Marie Claire

"[Perry] is a wonderful writer...Beauty and tenderness rise up through the darkness...[She] succeeds in restoring her mother's humanity, and her own." —Bliss Broyard, The New York Times Book Review

A fierce memoir of a mother's murder, a daughter's coming-of-age in the wake of immense loss, and her mission to know the woman who gave her life.

When Sarah Perry was twelve, she saw a partial eclipse of the sun, an event she took as a sign of good fortune for her and her mother, Crystal. But that brief moment of darkness ultimately foreshadowed a much larger one: two days later, Crystal was murdered in their home in rural Maine, just a few feet from Sarah's bedroom.
 
The killer escaped unseen; it would take the police twelve years to find him, time in which Sarah grew into adulthood, struggling with abandonment, police interrogations, and the effort of rebuilding her life when so much had been lost. Through it all she would dream of the eventual trial, a conviction—all her questions finally answered. But after the trial, Sarah's questions only grew. She wanted to understand her mother's life, not just her final hours, and so she began a personal investigation, one that drew her back to Maine, taking her deep into the abiding darkness of a small American town.
 
Told in searing prose, After the Eclipse is a luminous memoir of uncomfortable truth and terrible beauty, an exquisite memorial for a mother stolen from her daughter, and a blazingly successful attempt to cast light on her life once more.
 
Praise For After the Eclipse: A Mother's Murder, a Daughter's Search…
Praise for After the Eclipse
Winner of the Publishing Triangle's Betty Berzon Emerging Writers Award
A New York Times Book Review Editors' Choice
A Best Book of the Year by BookPage
A Must-Read Title of the Fall by Entertainment Weekly, W Magazine,  and The Portland Press Herald
A Great Book of September by Nylon
A Great Nonfiction Title of September by Bustle
A Notable Nonfiction Debut of the Year by Poets & Writers
A Notable Fall Title by Book Reporter
A Barnes & Noble Discover Pick
A Publisher's Weekly Pick of the Week

"Stunning...A graceful and powerful memorial."
—Entertainment Weekly

"After the Eclipse pulls the reader swiftly along on parallel tracks of mystery and elegy...Perry's scrupulous research and painstaking rendering of her experiences make her a trustworthy guide through such emotionally charged terrain. She's also a wonderful writer with an assured sense of when to zoom in to her body's somatic response for a piercing immediacy and when to pull back to convey the measured perspective gained through the distance of time. Many moments of beauty and tenderness rise up through the darkness. In the end, Perry succeeds in restoring her mother's humanity, and her own."
—Bliss Broyard, The New York Times Book Review

"A gut punch...A heartbreaking yet hopeful testament to human resilience."
—Samantha Irby, Marie Claire

"After the Eclipse is both a heartfelt memoir and a suspenseful story. With its many twist and turns, the mystery of this murdered woman and the small town of people who knew and loved her, it feels like I'm reading a prequel to Twin Peaks."
—Gabourey Sidibe, Book of the Month Club

"Raw and perfect...I've never read a better depiction of how a sudden, violent event rips through a human being's apprehension of reality...[It's] an unfussy, richly textured remembrance of a town, a family, a particular place on the planet that its author knows all the way down to her bones—the strengths of a classic memoir... After the Eclipse [has] an eerie, heartbreaking power that it shares with the very best of true crime."
—Laura Miller, Slate

"Perry weaves together her painful memories of that night with archival research and journalistic interviews to not only piece together the details of her mother's death, but illuminate the woman she was before it. With clear, powerful prose, Perry paints a portrait of unconventional motherhood while questioning society's handling of violence against women. Reminiscent of Maggie Nelson's The Red Parts, After the Eclipse tells the very human story at the center of a needless crime."
—W Magazine

"Profoundly moving...Explores the systemic misogyny and classism in small-town America, and revolves around the life of Perry's mother, Crystal, who shines from the borders of this often unbearably dark story as bright as the sun on a summer day...Powerful."
—Nylon Magazine

"With rich prose, Sarah Perry tackles grief, and how we persevere in the face of tragedy."
—The Portland Press Herald

"After The Eclipse is a tragedy set in motion by the vicious murder of a plucky young woman, the author's mother. It's a tender elegy for her too, and for the life she made with and for her daughter. Crystal Perry was much more than a victim, and Sarah Perry gives her vibrant life here. She does the same for the small, working class Maine town they both grew up in: the woes passed down through generations; the feelings (rage and guilt, grief), acted out but mostly unspoken. Perry writes with unerring power and hard-won wisdom."
—Margo Jefferson, Pulitzer Prize-winning author of Negroland: A Memoir

"What strikes me so strongly about this excellent memoir is that—considering the subject matter—the writer was able to organize it at all.  It's sometimes disarmingly astute, and what it says about the ties that bind, at the same moment they sometimes get stretched way beyond capacity, elaborates not just this singular drama, but provides a painful , and wincingly real, statement about class in America."
—Ann Beattie, award-winning author of The State We're In: Maine Stories, The New Yorker Stories, and more

"After the Eclipse, Perry's beautifully wrought account of her mother's murder, is a profoundly important book. In this gripping tale of the search for the killer, Perry examines the issues her mother faced in her brief life: poverty, the search for home and, most importantly, the deadly and all-too-common issue of violence against women.  Part memoir, part true crime, Eclipse is a clear-eyed, captivating portrait of a life cut short. With this book, Perry writes her mother back into the world."
—Alison Smith, author of Name All the Animals

"Sarah Perry's book is smooth, beautiful and breathtaking. I can't quite get over it—her mastery of the language, the narrative, and the landscape of the devastated heart."
—Roxana Robinson, author of Cost and Sparta

"A moving journey."
—Bustle

"The deeply personal memoir examines our obsession with female violence while telling the account of her mother's murder in the small town of Bridgton, Maine. It'll give you chills."
—Hello Giggles

"After the Eclipse is a thoroughly researched account of Crystal Perry's death and the efforts to bring her murderer to justice, yet this is so much more than a typical true crime tale. Sarah Perry has created a captivating and emotionally raw account of the event that changed her life and how it shaped her."
—BookPage

"Vivid, arresting prose."
—Book Riot

"Beautiful but gut-wrenching...A brave personal stand."
—The Seattle Post-Intelligencer

"In compelling detail, After the Eclipse is the true story of a murder and its aftermath, as told by the only witness...A strong, gritty memoir...A tantalizing whodunit...Ultimately, what the book illustrates best is the gulf of loss and the continuing significance of one life taken before its time. Grief, after all, is not a tidy emotion. It echoes through and beneath every subsequent experience ('the colors and sounds and textures of the world still seem to conspire to bring her back to me'). This book is just one of the many repercussions of a life cut short."
—The Brooklyn Rail

"[Perry] wonderfully evokes her mother even as she struggles to unravel the mystery of her death...Perry's memoir is a testament to one child's ability to survive the unspeakable, one woman's ability to recapture what was lost, and a fascinating small-town mystery with breathtaking revelations at the end."
—Publishers Weekly, starred review 

"In an accomplished debut memoir, a daughter struggles to understand the life of her mother, who was murdered when the author was 12... deft pacing and vivid portraits result in an absorbing mystery and a forthright memoir of abiding grief."
—KIRKUS REVIEWS
Houghton Mifflin Harcourt, 9780544302655, 368pp.
Publication Date: September 26, 2017
About the Author
SARAH PERRY is the author of the memoir After the Eclipse, which was named a New York Times Book Review Editors' Choice, a Poets & Writers Notable Nonfiction Debut, and a Barnes and Noble Discover Great New Writers pick. Perry is the recipient of the 2018 Betty Berzon Emerging Writer Award and a fellowship from the Edward F. Albee Foundation. She holds an M.F.A. in nonfiction from Columbia University and will serve as the 2019 McGee Distinguished Professor of Creative Writing at Davidson College.
 
or
Not Currently Available for Direct Purchase