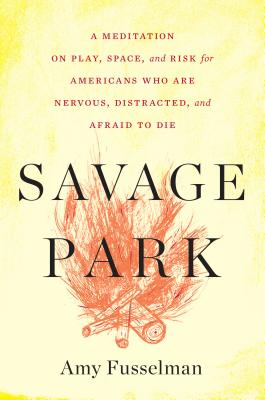 Savage Park (Hardcover)
A Meditation on Play, Space, and Risk for Americans Who Are Nervous, Distracted, and Afraid to Die
Houghton Mifflin Harcourt, 9780544303003, 144pp.
Publication Date: January 13, 2015
* Individual store prices may vary.
Description
Part memoir, part manifesto, this exploration of the underside of America's obsession with safety is prompted by the author's visit to a thrillingly alarming adventure playground in Tokyo
"How fully can the world be explored," asks Amy Fusselman " . . . if you are also trying not to die?"
On a visit to Tokyo with her family, Fusselman stumbles on Hanegi playpark, where children are sawing wood, hammering nails, stringing hammocks to trees, building open fires. When she returns to New York, her conceptions of space, risk, and fear are completely changed. Fusselman invites us along on her tightrope-walking expeditions with Philippe Petit and late night adventures with the Tokyo park-workers, showing that when we deprive ourselves, and our children, of the experience of taking risks in space, we make them less safe, not more so.
Savage Park is a fresh, poetic reconsideration of behaviors in our culture that — in the guise of protecting us — make us numb and encourage us to sleepwalk through our lives. We babyproof our homes; plug our ears to our devices while walking through the city. What would happen if we exposed ourselves, if — like the children at Hanegi park — we put ourselves in situations that require true vigilance? Readers of Rebecca Solnit and Cheryl Strayed will delight in the revelations in Savage Park.
About the Author
AMY FUSSELMAN is the author of The Pharmacist''s Mate and 8. As "Dr." Fusselman, she writes the "Family Practice" parenting column for McSweeney's Internet Tendency. Her work has also appeared in the New York Times Magazine, Ms., Hairpin, and ARTnews.
Praise For Savage Park: A Meditation on Play, Space, and Risk for Americans Who Are Nervous, Distracted, and Afraid to Die…
Advance Praise for Savage Park:

"Amy Fusselman writes with a unique depth of feeling, and Savage Park is a fascinating and daresay essential meditation on childhood, parenthood, and the importance of wild spaces for those wild creatures known as kids." — Dave Eggers

"In this unusually refreshing meditation (which reads like a novel), we are given a tour of the space around and within us. With poetic efficiency Amy Fusselman reveals what makes us savage or not; why secret, wild spaces are essential; and, why playing should be taken seriously."
—Philippe Petit, High Wire Artist

"I yield to no one in my admiration for Amy Fusselman's work. Her new book, Savage Park, further explores with astonishing power, eloquence, precision, and acid humor her obsessive, necessary theme: the gossamer-thin separation between life and death."—David Shields, author of Reality Hunger

"Savage Park is a deeply felt and brilliant evocation of one of motherhood's most pressing concerns: safety. In asking whether we can live fully--or parent successfully--when we're governed by an unacknowledged fear of death, Fusselman jumps high above the tedious Mommy Wars, elevating crucial questions of parenting to a profound philosophical level. Here's hoping more writer-mothers follow her lead."--Darcey Steinke, author of Sister Golden Hair

"Amy Fusselman helps us see, and feel, what matters most about being alive. This is a daring and artful—and exhilarating—book. The ideas are bracing; the stories are irresistible; the prose sets a new standard for non-fiction literature."
—Joshua Wolf Shenk, author of Powers of Two

"Fusselman's mind is a playground in and of itself. [Her] prose has a spare, clean elegance that can carry a knife-like precision."—San Francisco Chronicle

"This brief, passionate book….never fails to engage."—Kate Tuttle, The Boston Globe
or
Not Currently Available for Direct Purchase