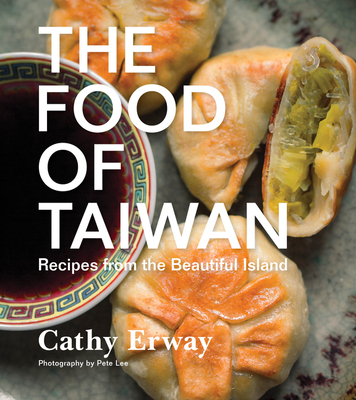 The Food Of Taiwan
Recipes from the Beautiful Island
Hardcover

* Individual store prices may vary.
Description
Acclaimed author Cathy Erway offers an insider's look at Taiwanese cooking—from home-style dishes to authentic street food

While certain dishes from Taiwan are immensely popular, like steamed buns and bubble tea, the cuisine still remains relatively unknown in America. In The Food of Taiwan, Taiwanese-American Cathy Erway, the acclaimed blogger and author of The Art of Eating In, gives readers an insider's look at Taiwanese cooking with almost 100 recipes for both home-style dishes and street food. Recipes range from the familiar, such as Pork Belly Buns, Three Cup Chicken, and Beef Noodle Soup, to the exotic, like the Stuffed Bitter Melon, Oyster Noodle Soup, and Dried Radish Omelet. Tantalizing food photographs intersperse with beautiful shots of Taiwan's coasts, mountains, and farms and gritty photos of bustling city scenes, making this book just as enticing to flip through as it is to cook from.
Praise For The Food Of Taiwan: Recipes from the Beautiful Island…
"In this appetizing collection, Erway (The Art of Eating In), an acclaimed blogger at Not Eating Out in NY, takes readers on a cultural and culinary tour of Taiwan that will engage armchair travelers and foodies alike… From pantry staples such as chili bean sauce, ginger, and rice wine to the vibrant night markets that take over entire streets, she offers an insider's perspective of the Taiwanese lifestyle and reveals what makes a dish distinctly Taiwanese. In addition to chapters on appetizers, vegetables, meat, and seafood, she explores the lasting culinary influences of military villages, train bento boxes, and Taiwanese tea. Recipes for fried pork chop noodle soup, shredded chicken over rice, and Hakka-style sweet green tea convey cultural insight as well as instruction… Photos of everyday people, the diverse landscape, and alluring dishes complete this engaging and delightful collection." —Publisher's Weekly, starred review "Erway's cookbook is among the very first to celebrate Taiwanese food and culture in English. It is written with deep affection, and the photographs capture the beauty of Taiwan and its tantalizing cooking. Erway's charming stories make this book as much a travelogue as an enticing introduction to this little-known cuisine." —Grace Young, author of Stir-Frying to the Sky's Edge   "A fresh voice, a fascinating new culture (at least for most of us), and bulletproof recipes. Cathy Erway writes as well as she cooks, which is great." —Peter Kaminsky, author of Culinary Intelligence   "Taiwanese is one of the great neglected regional cuisines of China. Why? Because Taiwanese restaurateurs are more likely to open Cantonese, Shanghai, or Sichuan restaurants, and keep their own excellent dishes—like stinky tofu, oyster omelets, beef noodle soup, and meatball mochi—to themselves. In Cathy Erway's new cookbook The Food of Taiwan, she explicates all these recipes and more, filling a great gap in our knowledge of Chinese cooking, inviting you to mount your own dinner party." —Robert Sietsema, Eater NY —
Harvest, 9780544303010, 256pp.
Publication Date: March 24, 2015
About the Author
CATHY ERWAY is the author of The Art of Eating In and has written for publications such as Saveur, PAPER magazine, and Serious Eats. She is the host of Heritage Radio Network's "Eat Your Words" and co-founded the supper club The Hapa Kitchen.