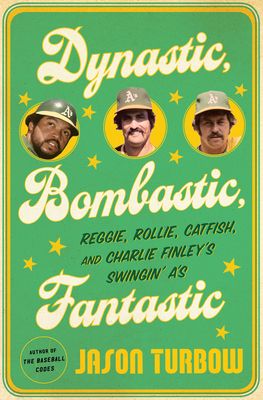 Dynastic, Bombastic, Fantastic (Hardcover)
Reggie, Rollie, Catfish, and Charlie Finley's Swingin' A's
Houghton Mifflin Harcourt, 9780544303171, 400pp.
Publication Date: March 7, 2017
Other Editions of This Title:
Paperback (9/4/2018)
Compact Disc (3/7/2017)
* Individual store prices may vary.
Description
How the Oakland A's of the 1970s—a revolutionary band of brawling Hall of Famers—won three straight championships and knocked baseball into the modern age

The Oakland A's of the early 1970s were the most transformative team in baseball history. Never before had an entire organization so collectively traumatized baseball's establishment with its outlandish behavior and business decisions, let alone an indisputably winning record: five consecutive division titles and three straight championships. The drama that played out on the field was exceeded only by the drama in the clubhouse and front office. But those A's, with their garish uniforms and outlandish facial hair, redefined the game for coming generations.

Under the visionary leadership of owner Charles O. Finley, the team assembled such luminaries as Reggie Jackson, Catfish Hunter, Rollie Fingers, and Vida Blue. Finley acted as his own general manager, his insatiable need for control dictating everything from the playlist of the ballpark organist to the menu for the media lounge. So pervasive was his meddling that one of his managers, Dick Williams, quit in the middle of the championship celebration following Oakland's Game 7 victory over the Mets in the 1973 World Series. The advent of free agency spelled the end of Finley's reign; within two years, his dynasty was lost.

A sprawling, brawling history of one of baseball's unforgettable teams, Dynastic, Bombastic, Fantastic is a paean to a turbulent, magical time.
About the Author
JASON TURBOW is the author of the best-selling The Baseball Codes: Beanballs, Sign Stealing & Bench-Clearing Brawls: The Unwritten Rules of America's Pastime and Dynastic, Bombastic, Fantastic. He has written for the New York Times, the Wall Street Journal, and SI.com. He lives in California.
Praise For Dynastic, Bombastic, Fantastic: Reggie, Rollie, Catfish, and Charlie Finley's Swingin' A's…
"Dynastic, Bombastic, Fantastic masterfully recounts a thrilling period in Oakland A's history.  Jason's storytelling vividly captures the cast of characters that made up the Athletics of the 70's, starting with their ringleader, Charlie Finley.  The stories of those memorable teams come to life in the pages of this fascinating book." – Billy Beane, executive vice president of baseball operations, Oakland A's

"Not to be believed, and yet 100 percent true – this is Jason Turbow's colorful, hilarious, and impossible-to-put-down account of the Swingin' A's, from their tyrannical, unhinged, and wildly innovative owner to the brawling players whose locker-room dysfunction fueled one of baseball's greatest dynasties." –Steve Fainaru, senior writer for ESPN and author of League of Denial
 
"Full of great characters, from Finley to Reggie to Catfish, this rollicking look at some of the most entertaining teams in baseball history is a must-read for any fan of the sport. Jason Turbow's passion, and love for the game, comes through." –Chris Ballard, Sports Illustrated senior writer and author of One Shot at Forever

"Carefully researched and often hilarious . . . 'Dynastic, Bombastic, Fantastic' has plenty to offer fans both serious and casual . . . Turbow has unearthed new perspectives on brief but important chapters in team history." – San Francisco Chronicle

"A must-read for A's fans​." – San Jose Mercury News

"The history of a fascinating franchise during professional baseball's colorful 1970s era . . . The narrative benefits immensely from Turbow's many interviews with the long-retired players from the Athletics' dominant stretch . . . A pleasing slice of baseball nostalgia that offers relevance to today's game." – Kirkus Reviews

"Turbow captures that glorious time period, brilliantly weaving fascinating tales of the team's colorful cast of characters while offering a behind-the-scenes look at a great time in sports history . . . Turbow vividly captures the ups and downs of his team through interviews with former players. VERDICT An exciting and engrossing book with stories that are worth telling. This work will engage fans of Charlie O. Finley and the Oakland Athletics, along with anyone captivated by baseball history." – Library Journal, starred review

"Offers a chance to relive a period of outlandish moments in America's pastime." – Publishers Weekly

"Just enough tidbits . . . to give the book some pop. Entertaining reading for fans whose interest in baseball history extends back 40 years." – Booklist

"The read of the season." – BookPage