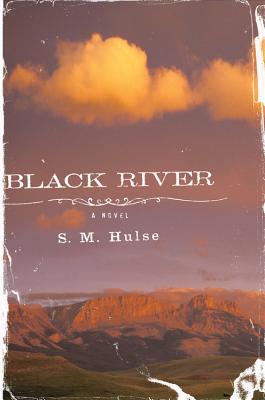 Black River
Hardcover

* Individual store prices may vary.
Other Editions of This Title:
Digital Audiobook (1/19/2015)
Paperback (1/5/2016)
MP3 CD (1/20/2015)
Compact Disc (1/20/2015)
Description
A tense Western and an assured debut, Black River tells the story of a man marked by a prison riot as he returns to the town, and the convict, who shaped him.
 When Wes Carver returns to Black River, he carries two things in the cab of his truck: his wife's ashes and a letter from the prison parole board. The convict who held him hostage during a riot, twenty years ago, is being considered for release.
Wes has been away from Black River ever since the riot. He grew up in this small Montana town, encircled by mountains, and, like his father before him and most of the men there, he made his living as a Corrections Officer. A talented, natural fiddler, he found solace and joy in his music. But during that riot Bobby Williams changed everything for Wes — undermining his faith and taking away his ability to play.
How can a man who once embodied evil ever come to good? How can he pay for such crimes with anything but his life? As Wes considers his own choices and grieves for all he's lost, he must decide what he believes and whether he can let Williams walk away.
With spare prose and stunning detail, S. M. Hulse drops us deep into the heart and darkness of an American town.
Praise For Black River…
Winner of the 2015 Reading the West Book Award
A PEN/Hemingway Finalist
Washington State Book Award Finalist
Long-listed for the 2015 Center for Fiction First Novel Prize
Semifinalist for the VCU Cabell First Novelist Award
Short-listed for the Reading the West Book Awards
Named an Honor Book for the 2015 Montana Book Award
Nominated for the ​International Dublin Literary Award 2017
February 2015 Indie Next Title
An ABA's Winter/Spring 2015 Indies Introduce title
One of the Seattle Times's "Best Books of 2015"
Named One of the Choice Books by the RUSA Committee(ALA)

"This Montana-based story, about a prison guard who returns to his hometown after decades away, is an intricate work that layers faith with broken promises, broken bones, and broken hearts. This is a story of people shaped irrevocably by place and circumstance."—Seattle Times, "Best Books of 2015"
"A promising debut...the lyrical landscapes and the emotional weather are in place." --John Williams, The New York Times

"Impressive...[a] tough, honest novel by a surprisingly wise young writer." --Ron Charles, The Washington Post

"Hulse evokes the Montana landscape in lyrical, vivid prose...[she] is a gifted wordsmith with promising dramatic instincts." --The Boston Globe

"The assured rhythms of the language convey grace, restraint, insights, power, and beauty. Black River transcends its setting and the circumstances of a few people in a small Montana town to say something true and enduring about violence and families, and grief and compassion." -- Los Angeles Review of Books

"Transcending its genre-fiction setting, Black River is a powerful meditation on faith, family and redemption set in present-day Montana."--The Guardian

"This first novel pulses with dramatic tension and emotional resonance... Hulse's story is lyrical, elegiac and authentic. Watch for it on best-of-the-year lists."  -- BBC Culture
 
"This top-of-the-line modern American Western debut explores the themes of violence, revenge, and forgiveness with a sure hand...From the bluegrass theme to the Western rural setting, Hulse handles his story like a pro."--Publishers Weekly, starred and boxed review

"Heads up—Hulse is a smart writer, able to reveal her character's gut-level emotions and trickiest self-manipulations. Comparing the author to Annie Proulx, Wallace Stegner, or Kent Haruf is no exaggeration. Her debut is bound to turn readers' hearts inside out and leave them yearning for some sweet, mournful fiddle music." --Library Journal, starred review

"Hulse debuts with a stark, tender tale about one man's quest for faith and forgiveness...By making Wes' suffering so palpable, Hulse makes it even more moving when, in the novel's final pages, he achieves something he's been seeking for a very long time: grace. Profound issues addressed with a delicate touch and folded into a strong story populated by wrenchingly human characters: impressive work from a gifted young artist." --Kirkus, starred review

"Hulse clearly loves Montana, and her own fiddle playing and knowledge of horses shine through the novel. She maintains suspense and manages to avoid the clichés of redemption stories in this assured debut." --Booklist, starred review

"Black River tackles themes of Old Testament proportion—the inheritance of sin, deliverance and damnation, good and evil. Its characters wrestle with their pasts and each other; their collisions are filled with rage, miscommunication, and occasionally the wistful hope for a  second chance. With an empathic touch, this sophisticated debut illuminates how fine a line there can be between vengeance and redemption. This is a story you won't forget."
—Siobhan Fallon, author of You Know When the Men Are Gone

"The prose in S.M. Hulse's debut novel Black River mirrors the Montana land in which it's set: spare, powerful, and dangerous. This is a novel about love born from violence, about families torn apart by tragedy, and about a community that must take a long, hard look at its past if it's ever going to see its future. Like Kent Haruf and Larry McMurtry, S.M. Hulse knows the landscape about which she writes, and she understands the hearts of those who live there."
—Wiley Cash, author of the NYT bestselling A Land More Kind Than Home and This Dark Road to Mercy

"Hulse writes with great clarity and precision, her language a celebration of rigor and intensity, and with such awareness of human rage and love—and fear of love—that her novel Black River feels like a river itself, teeming and unexpected and driven. She has an amazing sensibility for creating the understated, the emotionally-pressurized, the contained-and-explosive, the unsaid-and-impossible-to-say. One of the great joys of reading this novel is watching how she manages this—and how her perfect balance allows her deeper and deeper insights into the ways that people, especially men, negotiate their love for, and their fear of, each other and themselves."
—Kent Meyers, author of The Work of Wolves

"Like her forbears Kittredge, Proulx, Carlson, Hulse examines the mountains and rivers of the west, its implacable beauty, and makes the landscape her own. In Wesley Carver she has made a mountain of her own, fashioned and then refashioned by the forces of memory, bitterness, and finally, forgiveness. A wonderful debut by a welcome new voice."
—Ehud Havazelet, author of Bearing the Body

"A lovely austerity infuses this story of damage and redemption, and makes it glow. Hulse is a wise and compassionate writer who understands the tricky and heartbreaking borders between principle and rigidity, justice and revenge. Her debut novel is provoking and memorable."
—Deirdre McNamer, author of Red Rover and My Russian
"
Black River
is one of the best debut novels I've read in a long time. S.M. Hulse is a smart and sensitive writer, utilizing strong, clean and evocative prose to tell us of Wes Carver, a man who is wrestling with the world and himself, haunted by an old horror, tattered family bonds, a wife who is dead but not gone."
—Daniel Woodrell, author of
Winter's Bone
,
The Maid's Version
, and others
"
Black River
is such a vivid, compelling debut novel. S.M. Hulse is an astute guide to an implacable western landscape of grief, violence and redemption."
—Jess Walter, author of
Beautiful Ruins
,
The Financial Lives of the Poets
, and others
Houghton Mifflin Harcourt, 9780544309876, 240pp.
Publication Date: January 20, 2015
About the Author
S. M. HULSE received her MFA from the University of Oregon and was a fiction fellow at the University of Wisconsin–Madison. Her stories have appeared in Willow Springs,Witness, and Salamander. A horsewoman and fiddler, she has spent time in Washington, Montana, Idaho, and Oregon. 
As the novel switches perspectives between Wesley and Claire, the tense also changes: Claire's accounts are in the present tense, while Wesley's are in the past tense. Why do you think the author chose this approach? How did it affect your reading of the book? order levitra onlinegeneric viagra price canada
How does Claire's story, told from her point of view, alter or complicate the central narrative, told from Wesley's perspective? order levitra onlinegeneric viagra price canada
Do you believe that Bobby Williams's jailhouse conversion to Christianity was authentic, or that he is, as Wesley asserts to his brother-in-law Arthur, a sociopath just trying to con the parole board with a story of rebirth and reform? order levitra onlinegeneric viagra price canada
Wesley's reaction to Williams's torture seems to be divided between anxiety about how others perceive him (when they see his hands and the scars on his arm) and how he perceives himself (when he wrestles with the loss of his ability to play the fiddle). What do you think was the most profound impact of the trauma? order levitra onlinegeneric viagra price canada
Were you curious to learn the details of what happened to Wesley during the prison riot, or did you dread reading the description? order levitra onlinegeneric viagra price canada
What role do you think Scott plays in Wesley's journey toward peace in the town of Black River? order levitra onlinegeneric viagra price canada
What was your reaction to Scott's suicide? How did that plot development affect your opinion of the novel as a whole? order levitra onlinegeneric viagra price canada
On page 171, as Wesley reflects on Scott's death at the railroad crossing, Hulse writes: "He was starting to know something he didn't want to know, had been starting to know it ever since Dennis first told him about Scott. He'd kept it at bay . . . and he knew he'd better not come to know it for certain while he was with Dennis." What do you think Wesley was beginning to realize? Did your interpretation of this moment change as you read further? order levitra onlinegeneric viagra price canada
Both Dennis and Wesley bear responsibility for the difficult nature of their relationship—but is it shared equally between them? Or is one of them more at fault for the tensions between them?generic viagra price canada
The novel ends with Wesley and Dennis, "father and son" beginning a conversation. In your opinion, how will the events that unfolded after Wesley's return to Black River influence that conversation? What do you think the novel suggests the future holds for the two men? order levitra onlinegeneric viagra price canada
or
Not Currently Available for Direct Purchase