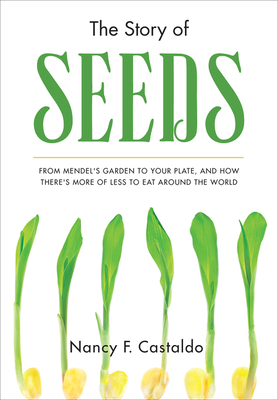 The Story Of Seeds
From Mendel's Garden to Your Plate, and How There's More of Less to Eat Around the World
Hardcover

* Individual store prices may vary.
Other Editions of This Title:
Paperback (1/14/2020)
Description
Something as small as a seed can have a worldwide impact. Did you know there are top-secret seed vaults hidden throughout the world? And once a seed disappears, that's it—it's gone forever? With the growth of genetically modified foods, the use of many seeds is dwindling—of 80,000 edible plants, only about 150 are being cultivated. With a global cast of men and women, scientists and laypeople, and photographic documentation, Nancy Castaldo chronicles where our food comes from, and more importantly, where it is going as she digs deeper into the importance of seeds in our world. This empowering book also calls young adult readers to action with suggestions as to how they can preserve the variety of one of our most valuable food sources through simple everyday actions. Readers of Michael Pollen will enjoy the depth and fascinatingly intricate social economy of seeds.
Praise For The Story Of Seeds: From Mendel's Garden to Your Plate, and How There's More of Less to Eat Around the World…
National Science Teachers Association 2017 Top Science Trade Books for K-12 Students Nerdy Book Club Nerdies 2016 Longform Nonfiction Nonfiction Detectives: Best of 2016 Northland College Young Adult Notable Book Green Earth Book Award – YA Nonfiction 2017 Sigurd F. Olson Nature Writing Notable book * "A terrific, engrossing resource." —Booklist, STARRED review "This eye-opening book on the science and politics of agriculture serves as a wake-up call to readers about the fragility of something many of us take for granted: our plant-based food supply. Castaldo clearly lays out a case for the importance of plant diversity ("Seeds equal life"), presenting engaging scientific and historical information..." —Horn Book Magazine "An impassioned call to action..." —School Library Journal "Castaldo delivers a sobering global status report—and a call to action...Well-crafted and inspiring." —Kirkus "Castaldo breaks down threats like climate change and disease, while providing a greater sense of interconnectivity in nature and within world communities." —Publishers Weekly —
Clarion Books, 9780544320239, 144pp.
Publication Date: February 23, 2016
About the Author
Nancy Castaldo has been writing about the planet for decades. She's contributed to the Sierra Club Waste Paper, NRDC's Personal Action column, and others. She is the author of many STEM books including, Sniffer Dogs: How Dogs (and Their Noses) Save the World, Back from The Brink: Saving Animals From Extinction, and Beastly Brains: Exploring How Animals Think, Talk, and Feel. She lives in New York's Hudson Valley.

Website: nancycastaldo.com
Twitter: @NCastaldoAuthor
Instagram: @naturespeak