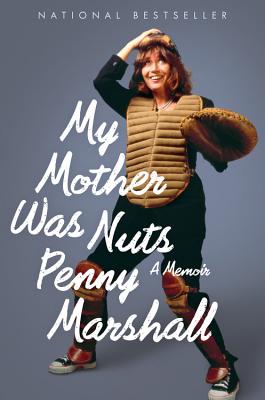 My Mother Was Nuts
Paperback

* Individual store prices may vary.
Other Editions of This Title:
Compact Disc (9/18/2012)
Hardcover (9/18/2012)
MP3 CD (9/1/2012)
MP3 CD (9/18/2013)
Compact Disc (9/18/2013)
Compact Disc (9/1/2012)
MP3 CD (9/18/2012)
Description
At the age of twenty-six, Penny Marshall was a divorced mother of one living in the Bronx. One year later she starred in a Head & Shoulders commercial (she was the one with the dandruff) with Farah Fawcett. So began the unlikely career of one of Hollywood's most accomplished directors. My Mother Was Nuts tells the story of Marshall's incredible life, from her starring role on the classic sitcom Laverne and Shirley to her trailblazing moment as the first woman to direct a movie grossing more than $100 million at the box office. The book is a behind-the-scenes look at Hollywood life, exploring her friendships with John Belushi, Lorne Michaels, Art Garfunkel, and Carrie Fisher, her marriage to and eventual divorce from Rob Reiner, and her experiences working with Tom Hanks, Robert De Niro, Robin Williams, Geena Davis, Denzel Washington, and Drew Barrymore. This is a book about Hollywood, womanhood, and the power of Spanx. 
Praise For My Mother Was Nuts…
"There's as much practical, hard-won advice here as there is Hollywood gossip, and Marshall's boundless energy and no-nonsense attitude make for a fun read." – Publishers Weekly

"Bold and irrepressibly sassy." – Kirkus Reviews

"Marshall's matter-of-fact memoir is a must-read for one reason – it's hilarious." – Marie Claire
"According to her revealing new memoir, budding actress Penny Marshall braved the cruelties of a business obsessed with perky, girl-next-door pretty. Of course, that was before Marshall starred in the juggernaut sitcom Laverne & Shirley, then directed movies like A League of Their Own and Big – the first Hollywood film with a woman at the helm to gross over $100 million, vaulting her into the elite ranks of Hollywood power players. Beautiful." – O Magazine
"Penny Marshall charmed America in Laverne & Shirley and gave her comedic and director's touch to films such as Big and A League of Their Own. Now she tells all with memoir My Mother Was Nuts. The brutally honest, heartbreaking tale includes her recent struggle with (and victory over) cancer. Above all, the book is funny." – USA Weekend
"This breezy and charming memoir also has many serious things to say about motherhood, the Hollywood pecking order, taking advantage when luck comes one's way, growing up with distant and weird parents, and marrying too young." – Publishers Marketplace
"Penny Marshall's My Mother Was Nuts is absolutely hilarious and dead serious… it's Penny's raspy, punchline packed voice all the way through. You cannot put My Mother Was Nuts down. Just try." –ShowBiz411.com
"Hollywood aficionados will get a kick out of Marshall's anecdotes about her circle of friends, including Albert Brooks, John Belushi, and Carrie Fisher, all told in a funny, down-to-earth manner." – Booklist

"Penny Marshall is a fascinating woman who has lived a life few of us could survive. Did you know she gave me two of the best jobs I've ever had? Of course not, because when she talks she is barely comprehensible. Read her memoir and you'll come to love her as much as I do."  – Tom Hanks
 
"If I hadn't known Penny for the past 35 years, reading this book would make me want to.  Also, I'm so glad she wrote it because it helps me remember things I forgot, which is a lot." – Carrie Fisher
 
"My sister Penny is one of the funniest people I know.  I'm not saying that because she's my sister, although I am partial to nepotism.  She made everyone laugh at our family dinner table, and she made everyone laugh on the set of Laverne and Shirley.  The fact that she went on to become the first woman director in the history of film, to make not one, but two movies that made over $100 million is no surprise to me.  Read this book and you will know why." – Garry Marshall
 
"A very funny book by a very funny lady. I wouldn't have a career without her!" – Mark Wahlberg
New Harvest, 9780544320833, 352pp.
Publication Date: May 20, 2014
About the Author
Penny Marshall is an actress, producer, and director. From 1976 until 1983, she starred as Laverne DeFazio in the classic TV sitcom Laverne and Shirley. She went on to direct films such as Big (1988), the first movie directed by a woman to gross in excess of $100 million at the U.S. box office, Awakenings (1990), which was nominated for an Academy Award for Best Picture, and A League of Their Own (1992), which also made over $100 million in the U.S. She has directed episodes of United States of Tara (2009) and guest-starred on Portlandia (2011).