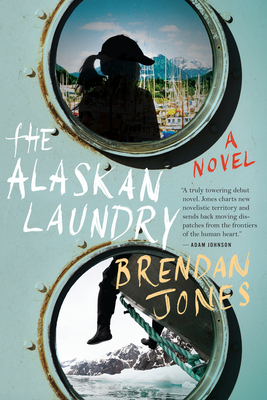 The Alaskan Laundry
Paperback

* Individual store prices may vary.
Description
In waters as far and icy as the Bering Sea, a fierce, lost young woman finds herself through the hard work of fishing and the stubborn love of real friendship.
 
Tara Marconi has made her way from Philly to "the Rock," a remote island in Alaska governed by the seasons. Her mother's death left her unmoored, with a seemingly impassable rift between her and her father. But in this majestic, rugged frontier she works her way up the commercial fishing ladder—from hatchery assistant all the way to king crabber. Disciplined from years as a young boxer, she learns anew what it means to work, to connect, and—through an unlikely old tugboat — how to make a home she knows is her own.   

A testament to the places that shape us and the places that change us, The Alaskan Laundry tells one woman's unforgettable journey back to the possibility of love. 
Praise For The Alaskan Laundry…
Winner of the 2017 Alaskana Award
Longlisted for the Center for Fiction First Novel Prize
"The relationships portrayed in this debut novel draw you in with their honesty, and Tara is a courageous, vibrant narrator...Jones' big-hearted, generous prose invite you into the sometimes thrilling, often grueling way of life in this last American wilderness." —
Oprah.com
"A stunning literary debut."—
Outside Magazine
"This book's got everything. A lady boxer from South Philly travels to Alaska and buys a World War II-vintage fishing boat. Of course she does! And this is written by a guy who lives on a fishing boat up there."—
The Philadelphia Inquirer, "14 books worth checking out this summer"
"Remarkable...It's a story of well-crafted characters, entirely believable drama and redemption through excruciatingly hard labor...Jones perfectly evokes the culture of Southeast Alaska and those working in fisheries...Jones has captured what Alaska has long been for so many people: a last and best chance to remake their lives and become what they could never have been any place else. It may be fiction, but the story he tells is real."—
Alaska Dispatch News
"Tara Marconi has made her way to 'The Rock,' a remote island in Alaska governed by the seasons and the demands of the world of commercial fishing. She hasn't felt at home in a long while―her mother's death left her unmoored and created a seemingly insurmountable rift between her and her father. But in majestic and mysterious Alaska, she begins to work her way up the fishing ladder―from hatchery assistant all the way to king crabber. Disciplined from years as a boxer in Philadelphia, here she truly learns what it means to work and to connect. And in buying and fixing up an old tugboat, she learns how to make a home that is her own." —
Library Journal
"Debut novelist Jones draws on his real-life experience living and working on an Alaskan tugboat to craft the tale of Tara Marconi, a Philadelphia woman who runs away from the depression and anger that have taken over her life. Desperate for a change, Tara leaves boxing, her family bakery, a deceased mother, a rage-filled father, and a boyfriend with hurt feelings for a foreign landscape where the men come with guns and questionable senses of humor. She arrives with anger "hot in her chest" and feels, "at the far end of the flame's heat, something new. Quieter, reassuring." She's committed to working for one year at a hatchery on Archangel Island, Alaska, also known as "The Rock" because that's what it is—a 15-by-50-mile stretch of rock that reeks of dead fish. After a late start on her first day and learning that her training as a boxer is no preparation for the hard work she's taken on, Tara starts to feel confident and comfortable in her new environment—so much so that a tugboat for sale catches her eye. Once the first year at The Rock passes successfully, it's clear that Tara is not ready to leave Alaska. By allowing herself to be vulnerable, she builds and rebuilds relationships, setting herself up to heal past wounds. The novel is a long collection of short chapters, which amplifies the step-by-step nature of Tara's hard-earned personal and professional accomplishments. The compelling tale of a woman's journey from hopeless anger to genuine empowerment, made richer by its immersion in the world of commercial fishing."—
Kirkus Reviews
"This is a truly towering debut novel. Brendan Jones charts new novelistic territory and sends back moving dispatches from the frontiers of the human heart." —
Adam Johnson, author of The Orphan Master's Son
"This book will pick you up from wherever you are and transport you to Sitka, Alaska; drop you in the hurl of its waves, winds, and weather; educate you in its secret language and slant codes of conduct; introduce you to a cast of characters you don't meet anywhere but the Great North.  More importantly, maybe, it will re-convince you of the power of wilderness to heal a human heart."—
Pam Houston, author of Contents May Have Shifted, Cowboys Are My Weakness, and others
"This novel is a rarity -- a gripping, straight-forward, old-fashioned novel about coming of age (a woman, no less) in Alaska.  It is reminiscent of the best of Wallace Stegner."—
Richard Ford
"
The Alaskan Laundry
is a gorgeous and powerful novel that succeeds both as a page-turning adventure story and an evocative exploration of the meaning of home. With acute psychological precision and a naturalist's attention to detail, Brendan Jones has created a hauntingly beautiful novel that will stay with me for a long time." –
Molly Antopol, author of The Unamericans
"A taut, page-turning narrative, an indomitable heroine, and a rich cast of characters—all steeped in a world where you can smell the tang of kelp at low tide, feel the creak of seiners at their moorings, hear the rustling of the Southeast Alaska rain forest.
The Alaskan Laundry
plunges the reader into the heart and soul of a unique commercial fishing culture and the story of Tara Marconi, as she struggles for respect, love, inner peace, and a place to call her own. A cinematic tour de force, it offers up an empowering message of hope and resilience."—
Nick Jans, author of A Wolf Called Romeo
"There are the easy journeys, the ones that take us where we mean to travel, and there are those we shy from, the dark and uncertain treks of the soul. Without flinching, nineteen-year-old Tara ventures from South Philly to the male-dominated "Rock," an island off the coast of Alaska. True to her boxer instincts, Tara comes out swinging, unsure what the island will make of her. As layers of her former life wash away, she proves as raw and tender as the landscape, as striking and unforgettable. A promising debut, true to the core — a novel of grit and redemption." —
Deb Vanasse, author of Cold Spell and Out of the Wilderness
"
The Alaskan Laundry
is a novel of bracing air that gets deep into your lungs. As Tara Marconi reinvents herself in Alaska, we see all facets of the American dream of self-reliance and boundless possibility play out on the stage of the Last Frontier. A strong, singular person grows in these pages. Like a protagonist in a Daniel Woodrell novel, she is stubborn, heroic, and capable of anything." —
Will Chancellor, author of A Brave Man Seven Storeys Tall
"The story is unusual, the setting vivid, and the pace keeps one reading right along. The life Tara takes on fairly easily is a hardy, rugged life requiring physical stamina in a harsh landscape where people are blessed by the presence of other hard-working, free-spirited people and fabulous wildlife."—
Curled Up
"A fresh voice in contemporary realism arrives on the scene in this coming-of-age novel. Fierce and flawed, protagonist Tara Marconi leaves the Lower 48 behind to cut her teeth on the Alaskan wilderness, searching for salvation in the notion that 'people come to Alaska to wash themselves clean.' Jones's dynamic love of America's last frontier comes through in spare, gripping prose." — Suzanne Rindell, author of The Other Typist
Mariner Books, 9780544325265, 384pp.
Publication Date: April 26, 2016
About the Author
BRENDAN JONES lives on a tugboat in Alaska and works in commercial fishing. A Stegner Fellow, he received his B.A. and M.A. from Oxford University, where he boxed for the Blues team. His work has appeared in the New York Times, Ploughshares, Popular Woodworking, the Huffington Post, and on NPR.