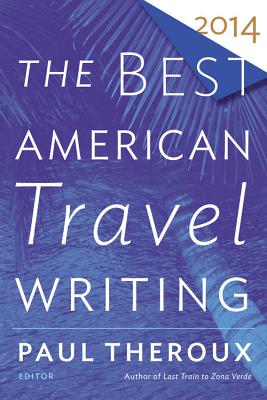 The Best American Travel Writing 2014 (The Best American Series ®) (Paperback)
Mariner Books, 9780544330153, 336pp.
Publication Date: October 7, 2014
* Individual store prices may vary.
Description
"Travel connoisseurs divide the world into those places they've been dying to visit or revisit and places they'd never set foot in but are glad someone else did. This year's volume of travel writing . . . focuses mostly on the latter with derring-do dispatches." — USA Today
A far-ranging collection of the best travel writing pieces published in 2013, collected by guest editor Paul Theroux. The Best American Travel Writing consistently includes a wide variety of pieces, illuminating the wonder, humor, fear, and exhilaration that greets all of us when we embark on a journey to a new place. Readers know that there is simply no other option when they want great travel writing.
About the Author
JASON WILSON is the author of Godforsaken Grapes: A Slightly Tipsy Journey through the World of Strange, Obscure, and Underappreciated Wine and Boozehound: On the Trail of the Rare, the Obscure, and the Overrated in Spirits. He writes regularly for the Washington Post and the New York Times. Wilson has been the series editor of The Best American Travel Writing since its inception in 2000. His work can be found at jasonwilson.com.
 
PAUL THEROUX is the author of many highly acclaimed books. His novels include The Lower River and The Mosquito Coast, and his renowned travel books include Ghost Train to the Eastern Star and Dark Star Safari. He lives in Hawaii and Cape Cod.
Praise For The Best American Travel Writing 2014 (The Best American Series ®)…
"The Best American Travel Writing has been the gold standard for short-form travel writing from newspapers, magazines and the Internet since its inception 15 years ago.  This year's guest editor – a different one is chosen for each volume – is none other than the godfather of contemporary American travel writing, Paul Theroux.  A generation of travel writers owes a debt to Theroux's immersive, first-person narratives, captured with unflinching, sometimes merciless candor...In essay after essay, a theme runs through this volume – people journey, sometimes great distances, often enduring great hardship, only to be redeemed by human connection."  -- The New York Times Book Review

"Will gratify both armchair travelers and the most seasoned and fearless thrill-seekers...refreshingly original stories, alternately humorous, nostalgic, exhilarating and horrifying...A thrilling, surprising collection—one of the best in the series." --Kirkus