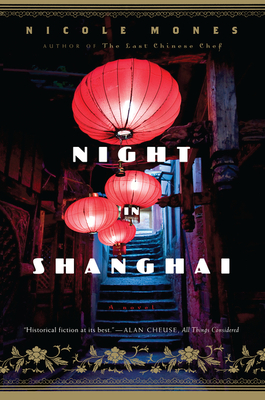 Night in Shanghai (Paperback)
Mariner Books, 9780544334458, 288pp.
Publication Date: January 6, 2015
Other Editions of This Title:
Digital Audiobook (5/5/2014)
Compact Disc (5/6/2014)
Hardcover (3/4/2014)
MP3 CD (5/6/2014)
Compact Disc (5/6/2014)
* Individual store prices may vary.
Description
"Historical fiction at its best." —Alan Cheuse, All Things Considered

Sailing to Shanghai in 1936, Thomas Greene goes from playing classical piano for pennies in segregated Baltimore to living in a mansion with his own servants, the leader of a black jazz orchestra. Song Yuhua has been bonded since age eighteen to Shanghai's toughest crime boss, but risks her life spying on him for the Communist Party. With Shanghai shattered by the Japanese invasion, Thomas and Song find one another and forge a bond neither can deny. Torn between music and survival, freedom and commitment, love and war, they navigate the city's growing dangers until the moment when they must cast their lots in Night in Shanghai's final, impossible choice.

About the Author
Nicole Mones is the prizewinning author of three previous novels, The Last Chinese Chef, Lost in Translation, and A Cup of Light, which are published in more than twenty-five countries.
Praise For Night in Shanghai…
"Both of them young and awkward, but gifted and smart, [Thomas and Song] make for an odd but brilliant pair of lovers. They light up the pages of this novel.... Night in Shanghai, an intelligent historical romance, shows off with forceful insight, terrific characters, and a telling sense of detail. And, folks, it swings." —Alan Cheuse, All Things Considered
 
"You read Night in Shanghai impressed by its meticulous research and drawn in by its sweep—those crowded, humid Shanghai streets seem to live and breathe." —Seattle Times
 
"This thrilling, sexy novel reveals some little-known facts from that time. The strands of the story weave together as the themes and rhythms of the jazz her protagonist plays." —Christian Science Monitor
 
"With a magician's sleight of hand, Nicole Mones conjures up the jazz-filled, complex, turbulent world of Shanghai just before World War II. Mones has re-created a feast for the senses, transporting us to the rich, decadent city in which the lives and loves of expatriate musicians intertwine with the growing tensions between the Communist Party and the Nationalist Party, while the ominous threats from the Japanese stir the winds of war. A rich and thoroughly captivating read." —Gail Tsukiyama, author of The Samurai's Garden and A Hundred Flowers
 
"Every page in Mones's compelling, sexy and richly textured novel reveals some custom, some costume, some trick of language that exposes a fascinating moment in history—the Japanese invasion of Shanghai on the eve of World War II. Mones weaves the multiple strands of her story much the way themes and melodies are woven into the jazz her protagonist plays, with subtle and suggestive undertones of human greed, power, and passion." —Marisa Silver, Mary Coin

"I loved Night in Shanghai. I held hope for the characters even after I finished, I was so deeply connected to them—to me, the sign of a great book." —Ben Harper, Grammy Award-winning singer-songwriter
 
"Mones's vivid account is animated by the real historical personalities it digs up and resurrects. More than ghosts, they're born again protagonists at the vanguard of a musical movement too brilliant to be made up." —TimeOut Beijing
 
"Comparisons to James Clavell's epic Asian sagas are appropriate. Never has history sounded so good." —Arizona Republic
"Mones works seamlessly with a large and disparate group of characters – gangsters and Communists, jazz men and diplomats – always with a sympathetic hand. Music jumps from every page; even if the reader doesn't know quite what it means to flat the 7th, the sound comes through just fine in Thomas Greene's voice. A touching story and highly recommended." —Historical Novel Society
 
"Night in Shanghai is a riveting, entertaining and illuminating look at a moment that has largely been lost from history." —January Magazine
 
"The novel excels in its flamboyant portrayal of Shanghai as a Noah's Ark of musicians, gamblers, drug addicts, poets, triad members and prostitutes. Page after page, the multiple faces of Shanghai's nights are outlined; the worlds of the underground and entertainment tango provocatively." —Asian Review of Books
 
"Mones' engrossing historical novel illuminates the danger, depravity, and drama of this dark period with brave authenticity." —Booklist
 
"Breathless and enlightening…[An] ambitious book." —Kirkus