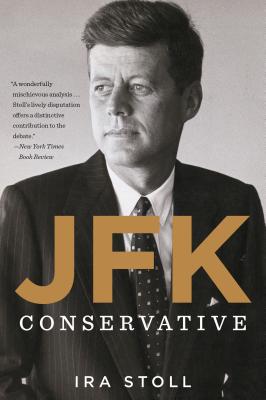 JFK, Conservative (Paperback)
Mariner Books, 9780544334540, 288pp.
Publication Date: October 7, 2014
Other Editions of This Title:
Digital Audiobook (10/14/2013)
Hardcover (10/15/2013)
Pre-Recorded Audio Player (10/15/2013)
Compact Disc (10/15/2013)
MP3 CD (10/15/2013)
Compact Disc (10/15/2013)
* Individual store prices may vary.
Description
"America, meet the real John F. Kennedy." — Washington Times

John F. Kennedy is lionized by liberals. He inspired Lyndon Johnson to push Congress to pass the Civil Rights Act. His New Frontier promised increased spending on education and medical care for the elderly. He inspired Bill Clinton to go into politics. His champions insist he would have done great liberal things had he not been killed by Lee Harvey Oswald.

But what if we've been looking at him all wrong? Indeed, JFK had more in common with Ronald Reagan than with LBJ. After all, JFK's two great causes were anticommunism and tax cuts. His tax cuts, domestic spending restraint, military buildup, pro-growth economic policy, emphasis on free trade and a strong dollar, and foreign policy driven by the idea that America had a God-given mission to defend freedom — all make him, by the standards of both his time and our own, a conservative. This widely debated book is must reading for conservatives and liberals alike.

"Provocative and compelling . . . Ira Stoll has succeeded in changing our very perception of Kennedy as one of liberalism's heroes." — Weekly Standard

"An informative analysis of the ways in which JFK did indeed evince his conservative side — he was very religious, open to a free market unencumbered by governmental interference, and staunchly anti-Communist." — Publishers Weekly 
About the Author
IRA STOLL is editor of FutureOfCapitalism.com, and the author of Samuel Adams: A Life. From 2002 to 2008 he was vice president and managing editor of The New York Sun. Previously, he served as Washington correspondent and managing editor of The Forward, as North American editor of the Jerusalem Post, and as president of the Harvard Crimson.