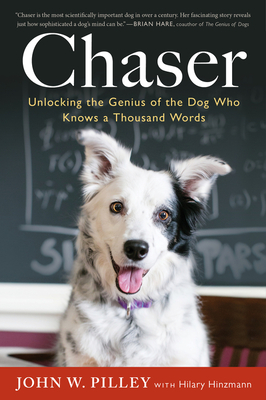 Chaser (Paperback)
Unlocking the Genius of the Dog Who Knows a Thousand Words
Mariner Books, 9780544334595, 288pp.
Publication Date: September 23, 2014
Other Editions of This Title:
Hardcover (10/29/2013)
MP3 CD (6/21/2016)
Hardcover, Large Print (2/12/2014)
* Individual store prices may vary.
Description
A New York Times Bestseller

"The most scientifically important dog in over a century." —Brian Hare

Chaser has fascinated dog lovers and scientists alike. Her story reveals the potential for taking out dialogue with dogs well beyond "fetch." When retired psychology professor John Pilley first got his new Border collie puppy, Chaser, he wanted to explore the boundaries of language learning and communication between humans and man's best friend. Exhibiting intelligence previously thought impossible in dogs, Chaser soon learned the names of more than a thousand toys and sentences with multiple elements of grammar. Chaser's accomplishments are revolutionizing the way we think about the intelligence of animals. John and Chaser's inspiring journey demonstrates the power of learning through play and opens our eyes to the boundless potential in the animals we love.
About the Author
JOHN W. PILLEY was an emeritus professor of psychology at Wofford College. He began working with Chaser in 2004 and has published the findings from their work in the journal Behavioural Processes.
Hilary Hinzmann is a freelance editor and writer based in New York City.
Praise For Chaser: Unlocking the Genius of the Dog Who Knows a Thousand Words…
"Chaser is the most scientifically important dog in over a century. Her fascinating story reveals just how sophisticated a dog's mind can be."
—Brian Hare, coauthor of The Genius of Dogs

"After you read Chaser, you will realize that you may have underestimated the intelligence of your dog. Marvelous insights into a dog's mind."
—Temple Grandin, author of Animals in Translation and Animals Make Us Human

"This is an extraordinary book, full of warmth and wisdom that has the potential to forever change the way we look at dogs. While Chaser herself seems extraordinary, maybe she is also every dog, in showing us what every dog is capable of. Maybe not every dog can learn over a thousand words, but every dog I have ever known can read our heart, and that, to me, is the great secret between dogs and humans that we are just now learning, and which is so deeply evident in this wonderful book: Chaser loves people, and because of that love she will do anything asked of her, even learn the names of one thousand toys! Dr. John Pilley's work with Chaser is not only a loving affirmation for readers who already know how much they adore and trust the ability of dogs, but is also a game-changer for skeptical scientists, who must find themselves, after reading this remarkable book, inching closer to recognizing the full humanity of dogs."
—Jeffrey Moussaieff Masson, author of When Elephants Weep and Dogs Never Lie About Love

"A Border Collie that understands lots of words won't surprise people who work with these inventive dogs, but what makes John Pilley's tale special is his dogged determination, long after his retirement from teaching psychology, to keep his own brain fizzing with all the new words and techniques and ideas he needs to learn to get his results published in a respected science journal."
—Bruce Fogle, author of The Dog's Mind and The Encyclopedia of Dogs

"If a truly great book leaves one better for having read it, then Chaseris quite simply a masterpiece. Dogs and those of us who love them owe to debt of gratitude to the brilliant, courageous author and his equally heroic subject."
—Jennifer Arnold, author of Through a Dog's Eyes

"In the age old war between cats and dogs, canines might have just struck the killer blow."
—Jessica Griggs, New Scientist

"An engrossing and remarkable tale."
—The Bark

"A delightful memoir that offers a challenge to behavioral psychologists and inspiration for pet lovers."
—Kirkus Reviews

"This marvelous blend of good science and heartwarming dog story will inspire all of us to reexamine our canine friends."
—Booklist, *starred* review