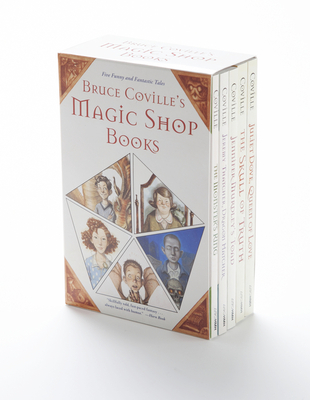 Bruce Coville's Magic Shop Books [BOXED SET] (Multiple copy pack)
HMH Books for Young Readers, 9780544339088, 896pp.
Publication Date: November 4, 2014
* Individual store prices may vary.
Description
Step inside Mr. Elives' magic shop, where the shelves are stocked with strange and mysterious goods. The children in these five books each leave the shop with magical items intended especially for them.
In The Monster's Ring, Russell Crannaker, bullied all his life, gets a chance to fight back when he is given a monstrous magical item.
In Jeremy Thatcher, Dragon Hatcher, a boy receives a small marbled dragon's egg—and when it hatches, his wildest dreams take wing.
In Jennifer Murdley's Toad, a girl "in a plain brown wrapper," buys a talking toad who knows a thing or two about the true nature of beauty.
In The Skull of Truth, Charlie Eggleston, the biggest liar in town, steals a skull from the shop, and it puts him under some sort of spell: He can only tell the truth—but now no one believes him!
And in Juliet Dove, Queen of Love, a shy girl suddenly becomes the most popular girl in school when she wears the ancient amulet given to her at the magic shop.
These funny and fantastic tales are collected in a boxed set, perfect for gift-giving.
About the Author
BRUCE COVILLE
is the author of over 100 books for children and young adults, including the international bestseller
My Teacher is an Alien,
the Unicorn Chronicles series, and the much-beloved
Jeremy Thatcher, Dragon Hatcher.
His work has appeared in a dozen languages and won children's choice awards in a dozen states. Before becoming a full time writer Bruce was a teacher, a toymaker, a magazine editor, a gravedigger, and a cookware salesman. He is also the creator of Full Cast Audio, an audiobook company devoted to producing full cast, unabridged recordings of material for family listening and has produced over a hundred audiobooks, directing and/or acting in most of them. Bruce lives in Syracuse, New York, with his wife, illustrator and author Katherine Coville. Visit his website at
www.brucecoville.com
.  
Praise For Bruce Coville's Magic Shop Books [BOXED SET]…
Praise for THE MONSTER'S RING
ABA's Pick of the Lists
IRA Children's Choice
"This lively tale . . . [will] appeal, at any time, to anyone who, like Russell, is 'very fond of monsters.'"—The New York Times Book Review
"A Halloween romp, with Katherine Coville's illustrations revving up the chills and giggles. . . . A junior Jekyll and Hyde."—Publishers Weekly
Praise for JEREMY THATCHER, DRAGON HATCHER
IRA Teachers' Choice
Marion Vannett Ridgway Award
Maryland Black-Eyed Susan Book Award
Nevada Young Readers' Award
Texas Lone Star Reading List
Utah Children's Book Award
* "A funny, enjoyable, imaginative story whose serious undercurrents lend it unexpected depth."—Kirkus Reviews, starred review
"Will bring laughter and near tears to readers. . . . Dragons really exist for a little while."—School Library Journal
Praise for JENNIFER MURDLEY'S TOAD
California Young Reader Medal
Dorothy Canfield Fisher Award
Georgia Children's Book Award
"Endlessly funny. . . . A roller-coaster ride of a story, full of humor and even wisdom."—Kirkus Reviews
"[A] light, fast-paced fantasy."—Booklist
Praise for THE SKULL OF TRUTH
A School Library Journal Best Book of the Year
Society of School Librarians International Honor Book
* "A fast-moving, rollicking, yet serious tale. . . . Will keep youngsters thinking."—School Library Journal, starred review
"This skillfully told, fast-paced fantasy ranges in mood from serious to scary, but it's always laced with humor."—The Horn Book
Praise for JULIET DOVE, QUEEN OF LOVE
"Coville's easy style works well in a tale that has its share of both humor and heartache."—Booklist
"Surprising depth, with musings on honor, power, strength, courage, and, above all, love. . . . Interweaves mythological characters with realistic modern ones, keeping readers truly absorbed."—School Library Journal