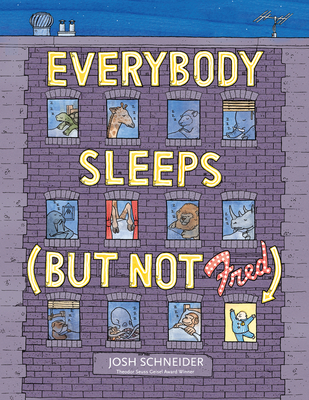 Everybody Sleeps (But Not Fred) (Hardcover)
Clarion Books, 9780544339248, 32pp.
Publication Date: April 7, 2015
* Individual store prices may vary.
Description
Every kind of bird and beast has to sleep, from the monkeys in the jungle to the whales in the ocean to the ants under the ground.
     But not Fred. His to-do list is far too long! 
     Armed with plenty of imagination, this determined little boy and his attempts to resist bedtime are sure to strike a chord with today's over scheduled families. Drowsy animals of all stripes look on in disbelief as Fred keeps on going and going and going, until . . .
     Could it be that, after so much activity, even Fred needs to rest?
     Shhh. Close the book softly, and please let Fred sleep.
About the Author
Josh Schneider is the Theodor Seuss Geisel Award-winning creator of Tales for Very Picky Eaters and many popular picture books, including Princess Sparkle-Heart Gets a Makeover, Everybody Sleeps (But Not Fred), and Kid Amazing vs. The Blob. His first book, You'll Be Sorry, was named "Book That Provides Best Ammunition to Parents Weary of Warning Their Kids About Socking Their Siblings" by Publishers Weekly magazine. Josh lives in Chicago with his wife, Dana.
Praise For Everybody Sleeps (But Not Fred)…
"A fun addition to the bedtime canon."
—School Library Journal
* "Schneider's deadpan delivery, combined with his ability to populate a world of realistically rendered animals in fanciful settings or situations, is a comedic win...Ingenious."
—Kirkus, starred review
* "From visual gags like jellyfish in sleep masks...to verse mocking soporific picture-book rhymes...it's a pitch perfect parody. Sorry, parents: kids will be too busy laughing to get sleepy reading this one."
—Publishers Weekly, starred review
"A bedtime story sure to inspire dreams of imaginative antics."
—Booklist
Praise for Princess Sparkle-Heart Gets a Makeover by Josh Schneider
"Schneider continues to show a remarkable talent for bringing uncommon humor and psychological depth to ordinary situations. . . . Another winner." —Publishers Weekly,starred review
"[This] playful take on the beauty makeover upends expectations with comedic—and powerful—results. . . . A testament to the joy of creation and a celebration of a different kind of beauty." —
Kirkus
,
starred review