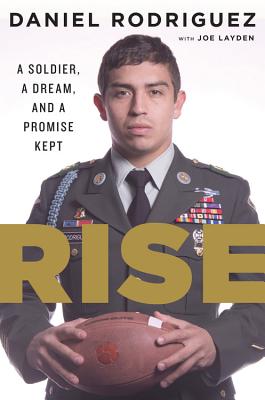 Rise (Hardcover)
A Soldier, a Dream, and a Promise Kept
Houghton Mifflin Harcourt, 9780544365605, 256pp.
Publication Date: October 7, 2014
Other Editions of This Title:
Digital Audiobook (1/5/2015)
Paperback (9/8/2015)
Pre-Recorded Audio Player (4/2/2015)
Compact Disc (1/6/2015)
Compact Disc (1/6/2015)
MP3 CD (1/6/2015)
* Individual store prices may vary.
Description
The unforgettable story of a young soldier who survived one of the bloodiest battles in Afghanistan and lived to pursue his dream of playing Division I college football
At 5-foot-8, 175 pounds, Daniel Rodriguez was an unlikely recruit for the gridiron. But on the battlefield, under the daily rain of sniper fire, he made a promise to his best friend. "When I get out of this shithole, I'm going to play college football."
Daniel had joined the army just weeks after graduating from high school, having recently suffered a devastating loss. At age nineteen he had no idea what war really was; he just wanted to get out of town. Almost immediately, he was deployed to Iraq (and would later serve in Afghanistan). And he grew up fast — stopped sleeping, started smoking. Killing became second nature. He fought in the infamous Battle of Kamdesh and for his bravery he was awarded a Purple Heart and the Bronze Star. But his best friend was not so lucky.
Against all odds, Daniel returned home — broken, but still alive. Stuck in the clutches of PTSD, Daniel remembered that fateful promise to his friend and knew he had to make good on it. He embarked on a grueling training regimen and when he posted a video of his efforts, it went viral overnight. By some mix of grit, determination, and the power of the Internet, he earned a spot on the Clemson University football team.
A powerfully delivered narrative of a young soldier, his unlikely dream, and how he found his way out of darkness, Rise is inspiring, quintessentially American, and will resonate with anyone who has ever fought for what they what they wanted.
About the Author
DANIEL RODRIGUEZ was a wide reciever for Division I football, honors student, and decorated war hero. He has served tours of duty in Iraq and Afghanistan, rising through the ranks to sergeant. In 2009, he fought in the Battle of Kamdesh, one of the bloodiest battles in the Afghanistan conflict, earning a Purple Heart and the Bronze Star Medal With Valor Device. He has been interviewed by Dan Rather, profiled in the New York Times, Washington Post, Esquire, USA Today, and ESPN, and has gained internet fame for his viral YouTube video. He lives in Los Angeles.
An award-winning journalist and best-selling author, JOE LAYDEN has written more than thirty books, including the New York Times bestsellers Mustaine: A Heavy Metal Memoir, No Regrets, and Living with Honor.
Praise For Rise: A Soldier, a Dream, and a Promise Kept…
"Daniel Rodriguez–a decorated combat veteran–doesn't sugarcoat the hard parts of his life. A warrior who fought on the battlefield, wrestled with PTSD, and now wins victories on the gridiron, his story reminds us that with grit and determination we can move through suffering to strength. Rise is an inspiring story of a resilient warrior who knows what it means to keep a promise." –Eric Greitens, Navy SEAL and author of New York Times bestseller, The Heart and the Fist

"RISE is a surreal look at what today's youth should aspire to accomplish. From Virginia to Iraq, from Afghanistan to South Carolina, Daniel Rodriguez shows the grit and determination it takes to rise above the hardships life throws at you. Life is designed to beat you down. Daniel shows you how to kick its ass." –Major Rusty Bradley, U.S. Army (ret.), bestselling author of Lions of Kandahar

"Daniel's service to his country and his ability to follow his dreams is what is truly right with America. His story, as movingly told in Rise, is a great example of where hard work, determination, and a never-quit attitude can get you." –Sal Giunta, Medal of Honor recipient and author of the New York Times bestseller, Living with Honor
or
Not Currently Available for Direct Purchase