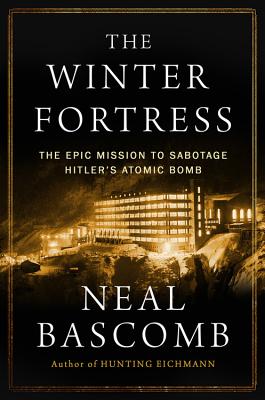 The Winter Fortress (Hardcover)
The Epic Mission to Sabotage Hitler's Atomic Bomb
Houghton Mifflin Harcourt, 9780544368057, 400pp.
Publication Date: May 3, 2016
Other Editions of This Title:
Paperback (5/16/2017)
* Individual store prices may vary.
Description
From the internationally acclaimed, best-selling author of Hunting Eichmann and The Perfect Mile, an epic adventure and spy story about the greatest act of sabotage in all of World War II.
It's 1942 and the Nazis are racing to be the first to build a weapon unlike any known before. They have the physicists, they have the uranium, and now all their plans depend on amassing a single ingredient: heavy water, which is produced in Norway's Vemork, the lone plant in all the world that makes this rare substance. Under threat of death, Vemork's engineers push production into overdrive.  
For the Allies, the plant must be destroyed. But how would they reach the castle fortress set on a precipitous gorge in one of the coldest, most inhospitable places on Earth?  
Based on a trove of top secret documents and never-before-seen diaries and letters of the saboteurs,
The Winter Fortress
is an arresting chronicle of a brilliant scientist, a band of spies on skies, perilous survival in the wild, sacrifice for one's country, Gestapo manhunts, soul-crushing setbacks, and a last-minute operation that would end any chance Hitler could obtain the atomic bomb—and alter the course of the war.
About the Author
NEAL BASCOMB is the national award-winning and New York Times best-selling author of The Winter Fortress, Hunting Eichmann, The Perfect Mile, Higher, The Nazi Hunters, Red Mutiny, among others. A former international journalist, he is a widely recognized speaker on the subject of war and has appeared in a number of documentaries. He lives in Seattle, Washington. For more information visit http://nealbascomb.com, or Twitter @nealbascomb.
Praise For The Winter Fortress: The Epic Mission to Sabotage Hitler's Atomic Bomb…
A New York Times Espionage Bestseller

"Weaving together his typically intense research and a riveting narrative, Neal Bascomb's The Winter Fortress is a spellbinding piece of historical writing."
–Martin Dugard, author of Into Africa and co-author of the "Killing" series

"Neal Bascomb's The Winter Fortress is a riveting, high-action World War II thriller with nothing less than the fate of Planet Earth on the line. Just imagine the horror if Hitler had gotten the atomic bomb? Written with great verve and historical acumen, Bascomb hits the mark of excellence. Highly recommended!"
–Douglas Brinkley, New York Times bestselling author of The Great Deluge and Cronkite

"This book is a must read! A small band of spies commit themselves, their lives, and their family's lives to literally saving the world from the Nazis. An exciting and accurate story detailing a very dark time in world history, when the world pendulum could have tipped either way. If you liked Bridge of Spies, you are going to love this!"
–Scott McEwen, #1 New York Times Bestselling Co-Author of American Sniper.

"What would have happened if Hitler had managed to develop nuclear weapons? In The Winter Fortress, Neal Bascomb brilliantly tells the extraordinary true story of arguably the most important and daring commando raid of WWII: how an amazing band of men on skis made sure Hitler never got to drop the ultimate bomb."     
–Alex Kershaw, New York Times bestselling author of The Longest Winter   

"Brilliantly written, The Winter Fortress cinematically captures a commando team's efforts to destroy one of the most important secret facilities in World War II. Bascomb's riveting prose puts the reader into one of the more daring missions of the war and the Allies' efforts to sabotage a crucial aspect of Germany's nuclear program. An excellent read."
 –Patrick K. O'Donnell, bestselling author of First Seals and Washington's Immortals

"This well-told and deeply researched account sheds light on an aspect of World War II that is little known or remembered, creating a valuable history that will be beneficial for most collections."
–Library Journal​

"An exciting, thorough account . . . Featuring excellent characterization and exquisite detail concerning a theater of the war (Norway) not well-mined, this will make a terrific addition to World War II collections."
–Kirkus Reviews, starred review

"Bascomb, a WWII historian and former journalist, thrillingly recounts the commando effort to destroy the Norwegian Vemork hydroelectric plant . . . A fascinating read about how a small group of Norwegians refused to submit to the brutal occupation of their country and contributed significantly to Allied victory." 
--Publishers Weekly
"Gripping . . . Parts of the book read like an adventure novel, others like straightforward history, but the combination will appeal to readers of both WWII fiction and nonfiction."
--Booklist, starred review

"An authoritative account . . . Vivid and gripping." 
--Foreign Affairs

"Bascomb brings this overlooked tale of wartime nuclear sabotage to life while taking care to explain the science behind the story."
--Scientific American

"A spellbinding account of the quest to stop Germany from building an atomic bomb….The Winter Fortress is a taut and peerlessly told adventure story full of thrills, derring-do and heart-stopping tension. And it packs an even more powerful punch because so much is at stake."
—Seattle Times

"Gripping."
—St. Louis Post-Dispatch

"Told with both historical and scientific accuracy...this book has rocketed into my pantheon of the top suspense-filled stories about [WWII], along with The 900 Days and The Colditz Story."
—Ethan Siegel, Forbes

"Deeply researched . . .Bascomb interweaves the stories of Hitler's 'Uranium Club' and of atomic chemist Leif Tronstad, who directed the Allied operation, with the thriller-esque tale of the commandos who put the plant out of action in 1943."
—Nature

"Suspenseful . . . An intensely researched and vividly told account of one of the most critical episodes of the war."
—Minneapolis Star-Tribune

"Riveting and poignant . . . 'The Winter Fortress' metamorphoses from engrossing history into a smashing thriller . . . Mr. Bascomb's research and, especially, his storytelling skills are first-rate."
—Wall Street Journal

"This tale of a daredevil mission to slow Germany's World War II progress toward an atomic bomb could only be conjured by a master storyteller. Neal Bascomb's a master all right, but the events he describes in fly-on-the-wall fashion—working from recently declassified documents, firsthand interviews and previously unseen diaries and letters—are true. . . It's part spy tale, part action-adventure yarn as the saboteurs strap on skis and undertake the mission of a lifetime. We know how it will turn out, but there are plenty of surprises along the way in a book that, once you reach the midpoint, is almost impossible to put down."
—BookPage

"Gripping ... compelling and makes for an absolute page-turner. It is as much a saga of adventure and survival in the mode of Jon Krakauer and Sebastian Junger as it is an account of wartime sabotage, secret agents and resistance fighters . . . epic in its sweep and is masterfully narrated by Bascomb." 
—Knoxville News Sentinel
or
Not Currently Available for Direct Purchase