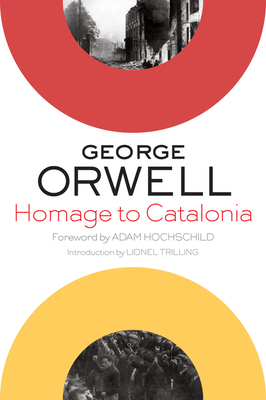 Homage to Catalonia (Paperback)
Mariner Books, 9780544382046, 304pp.
Publication Date: May 19, 2015
Other Editions of This Title:
Digital Audiobook (12/31/1991)
Paperback (7/12/2018)
Paperback (1/11/2011)
Hardcover (7/12/2018)
Paperback (5/7/2019)
Paperback (8/7/2017)
Paperback (5/7/2019)
Paperback (11/10/2017)
Hardcover (11/6/2010)
Paperback (3/29/2019)
Paperback (3/6/2019)
Compact Disc (1/1/1992)
Compact Disc (10/1/2017)
Paperback (11/3/2018)
Paperback (10/20/2018)
Paperback (11/3/2017)
Paperback (10/12/2017)
Paperback (9/17/2017)
* Individual store prices may vary.
Description
A National Review Top Ten Best Nonfiction Books of the Century
 
"One of Orwell's very best books and perhaps the best book that exists on the Spanish Civil War."—The New Yorker
 
In 1936, originally intending merely to report on the Spanish Civil War as a journalist, George Orwell found himself embroiled as a participant—as a member of the Workers' Party of Marxist Unity. Fighting against the Fascists, he described in painfully vivid and occasionally comic detail life in the trenches—with a "democratic army" composed of men with no ranks, no titles, and often no weapons—and his near fatal wounding. As the politics became tangled, Orwell was pulled into a heartbreaking conflict between his own personal ideals and the complicated realities of political power struggles.
 
Considered one of the finest works by a man V. S. Pritchett called "the wintry conscience of a generation," Homage to Catalonia is both Orwell's memoir of his experiences at the front and his tribute to those who died in what he called a fight for common decency. This edition features a new foreword by Adam Hochschild placing the war in greater context and discussing the evolution of Orwell's views on the Spanish Civil War.
 
"No one except George Orwell . . . made the violence and self-dramatization of Spain so burning and terrible."— Alfred Kazin, New York Times
 
"A wise book, one that once read will never be forgotten."—Chicago Sunday Tribune
About the Author
GEORGE ORWELL (1903–1950) was born in India and served with the Imperial Police in Burma before joining the Republican Army in the Spanish Civil War. Orwell was the author of six novels as well as numerous essays and nonfiction works.
ADAM HOCHSCHILD is the author of ten books. King Leopold's Ghost was a finalist for the National Book Critics Circle Award, as was To End All Wars. His Bury the Chains was a finalist for the National Book Award and won the Los Angeles Times Book Prize and PEN USA Literary Award. He lives in Berkeley, California.