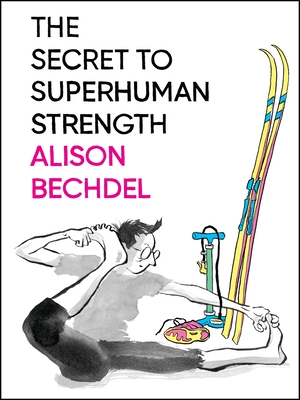 The Secret to Superhuman Strength
Hardcover

* Individual store prices may vary.
Description
From the author of Fun Home, a profoundly affecting graphic memoir of Bechdel's lifelong love affair with exercise, set against a hilarious chronicle of fitness fads in our times

Comics and cultural superstar Alison Bechdel delivers a deeply layered story of her fascination, from childhood to adulthood, with every fitness craze to come down the pike: from Jack LaLanne in the 60s ("Outlandish jumpsuit! Cantaloupe-sized guns!") to the existential oddness of present-day spin class. Readers will see their athletic or semi-active pasts flash before their eyes through an ever-evolving panoply of running shoes, bicycles, skis, and sundry other gear. But the more Bechdel tries to improve herself, the more her self appears to be the thing in her way. She turns for enlightenment to Eastern philosophers and literary figures, including Beat writer Jack Kerouac, whose search for self-transcendence in the great outdoors appears in moving conversation with the author's own. This gifted artist and not-getting-any-younger exerciser comes to a soulful conclusion. The secret to superhuman strength lies not in six-pack abs, but in something much less clearly defined: facing her own non-transcendent but all-important interdependence with others.

A heartrendingly comic chronicle for our times.
Praise For The Secret to Superhuman Strength…
"A true delight of graphic literature, and nobody does it better.  You feel as if you're peering through a plexiglass panel right into Bechdel's marvelous brain."—New York Times Book Review

"Color? It's the first sign that something new is afoot in a book full of familiar flourishes [including] the figure of Bechdel herself, drawn as a bit of a cross between Tintin and Waldo, vibrating with anxiety, doing her best to flee herself on bike or skis or simply afoot….It's [an] accumulating ease we feel in this book—a supple, loose-limbed grace; an absence of fear that translates into simplicity, discipline and modesty."—New York Times

"Astonishing . . . utterly absorbing"—The Atlantic

"[Bechdel] set out to write a light book about her lifelong commitment to exercise, including stints as a cyclist, climber, skier and yogi. As usual, her story and art are about so much more — the realities of aging, the quest for transcendence and the drumbeat of mortality."—Washington Post

"The book is certainly light and fun in parts, but like 2006's Fun Home and 2012's Are You My Mother?, the new work is a wonderland of literary allusions and introspection. The delight of reading an Alison Bechdel book is in watching the author make mind-blowing connections from seemingly disparate sources, and feeling like you're soul-searching right along with her . . . The Secret to Superhuman Strength . . . is a wondrous exploration of how an obsession with exercise—'the sweat, the endorphins, the gear, the togs, the next new thing!'—can be self-care and a means of connecting with the world at large."—Oprah Daily

"[Bechdel] makes a strong case for the intrinsic interconnectedness of creativity, spirituality, and an elevated heart rate . . . The Secret to Superhuman Strength could stand alone as an entertaining look back at the rise of various American workout trends. But it's much more than that . . . With this book, Bechdel establishes her place in a long line of progressive thinkers who have sought spiritual growth via physical activity."—Outside.com
"Alison Bechdel's literary, illustrated dive into a lifetime of fitness fads—from skiing to karate to yoga—is characteristically expansive and profound."—Vanity Fair

" . . . An effort to see beyond herself and recognize her oneness with the world. In Bechdel's inimitable storytelling and comics style, as in her much-loved and -lauded Fun Home (2006) and Are You My Mother? (2012), this is sprawling and dense in the best way, and her legions of fans will devour it."—Booklist, starred review

"Grappling with the desire for spiritual transcendence in the most intensely personal terms, Bechdel achieves a tricky—even enlightening—balance."—Publishers Weekly, starred review

"Alison Bechdel finally turns her gaze on herself, with beautiful results . . . As ever, Bechdel satirizes and analyzes herself with a sharp, knowing, but affectionate touch that is observant without being solipsistic.  This is a thoughtful, funny and ruminative autobiography whose intensity is leavened with surprising notes of grace."—Minneapolis Star-Tribune

"The Secret to Superhuman Strength is Alison Bechdel's third graphic memoir and, amazingly, her third triumph." —Vulture
 
"Engrossing, pensive." —The Cut

"[Bechdel] pulls off a remarkable balancing act between a personal quest and a fascinating overview of fitness fads over years."—Christian Science Monitor, 10 Best Books of May

"Alison Bechdel is a national treasure . . . Bechdel uses her trademark wit to explore the cultural conditions that created our cultural obsession with wellness and undergirded her own ever-evolving relationship with her body." —Bitch

"Brings the same intensity and wit as her previous works . . . Her latest work—personal, emotional, deep yet colorful—has powerful messages in every drawing."—Zibby Owens, Good Morning America.com

"[Bechdel's] work is known for its unique style of combining incisive insight, humor, emotional resonance, queer ethos, and visually stunning illustration. She brings all of that to her new graphic memoir, The Secret to Superhuman Strength."—Shondaland

"The author's probing intelligence and self-deprecating humor continue to shimmer through her emotionally expressive drawings . . . More thought-provoking work from an important creator."—Kirkus Reviews
Mariner Books, 9780544387652, 240pp.
Publication Date: May 4, 2021
About the Author
ALISON BECHDEL's cult following for her early comic strip Dykes to Watch Out For expanded wildly for her family memoirs, the New York Times bestselling and Time magazine #1 Book of the Year graphic memoir Fun Home, adapted into a Tony Award-winning musical, and Are You My Mother? Bechdel has been named a MacArthur Fellow and Cartoonist Laureate of Vermont, among many other honors. The Secret to Superman Strength is her third graphic memoir.