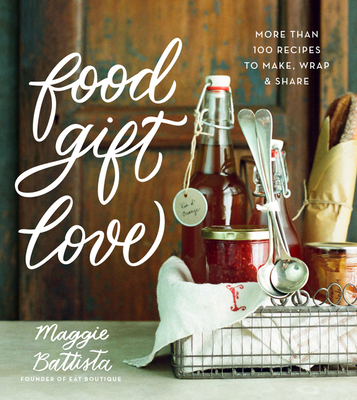 Food Gift Love
More than 100 Recipes to Make, Wrap, and Share
Hardcover

* Individual store prices may vary.
Description
An exciting, inspiring, and beautiful food-gift guide for crafty cooks and food-DIY fans

In Food Gift Love, Maggie Battista, a food-gift guru and rising star of the blog world, celebrates her expertise in and enthusiasm for small-batch, hand-crafted foods. She features 100 memorable, edible gifts for any occasion with simple, delicious recipes, detailed wrapping instructions, and stunning photography. There are countless ways to share the pleasures of food with people you care about—from simple homemade infused salts and sugars to instant-gratification gifts like fresh ricotta and flavored butters; from jams, pickles, and vinaigrettes to irresistible cookies, desserts, savories, and spirits that will impress fellow food fans. There's helpful information for creating your own Food Gift Love pantry at home as well as creative guidance on how to wrap food gifts with style. This book will inspire cooks, food-lovers, and DIY fans to be year-round food gifters.
Praise For Food Gift Love: More than 100 Recipes to Make, Wrap, and Share…
"As warm and gracious as Maggie herself, Food Gift Love is the handbook for anyone looking for unique and delicious ways to welcome a new neighbor, comfort a freshly minted mama, or simply tell a friend that you care."                                                            – MARISA McCLELLAN, author of Preserving by the Pint and Food in Jars     "I've long been a fan of Maggie Battista's carefully curated shop, Eat Boutique, so it was no surprise that her long-awaited cookbook would be a creative, inspiring collection. Showcasing edible homemade gifts such as Roasted Banana Bread, Bourbon-Vanilla Cherries, and Jam-Swirled Marshmallows, Food Gift Love reaches far beyond what many of us typically think of when we hear the words 'homemade gift.' In Maggie's generous, reassuring hands, we're shown that it is indeed possible to make a gift for every occasion or inclination. A most welcome addition to my collection, and one that will be used throughout the year."               – MEGAN GORDON, owner, Marge Granola, and author of Whole-Grain Mornings     "Food Gift Love is a tasty collection of sweet treats and delicious bites that make perfect gifts, although you'll be tempted to make an extra batch… to keep for yourself!"      – DAVID LEBOVITZ, author of My Paris Kitchen     "Food Gift Love is full of recipes I want to cook and ideas I want to borrow, but most of all, it's full of heart. Maggie's spirit of generosity is contagious! This little book makes me want to be a better friend." – MOLLY WIZENBERG, author of Delancey and A Homemade Life     "Food Gift Love's recipes are a double pleasure: First there's the pleasure of making them, and then there's the pleasure of sharing them as gifts, boxed and bowed, bottled and beautifully beribboned. From cookies and jams, marshmallows and extracts, to cordials and curds, Maggie's book is filled with delicious ideas to help you share the foods you love best with the people you love most."                                                                  – DORIE GREENSPAN, author of Baking Chez Moi   "This book is a reminder that a culinary gift—made with heart and thoughtfulness—is a way to make someone feel special and cared for. It's a book that celebrates all the possibilities that stem from little gestures and generosity."                                                           &
Harvest, 9780544387676, 256pp.
Publication Date: October 13, 2015
About the Author
MAGGIE BATTISTA is the founder/director of the successful Eat Boutique cooking blog/food-gift retail business, for which she won the 2013 IACP Best Culinary Brand Award. She writes for Food52, Time Out New York, Style Me Pretty, and other outlets.
or
Not Currently Available for Direct Purchase