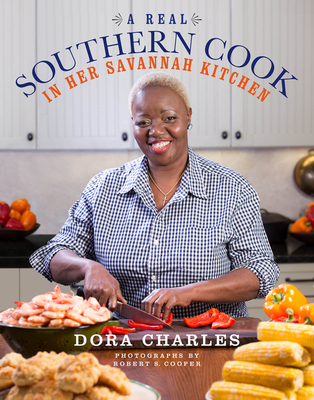 A Real Southern Cook
In Her Savannah Kitchen
Hardcover

* Individual store prices may vary.
Description
"Dora Charles is the real deal, and hers may be the most honest - and personal - southern cookbook I've ever read." - John Martin Taylor

In her first cookbook, a revered former cook at Savannah's most renowned restaurant divulges her locally famous Savannah recipes—many of them never written down before—and those of her family and friends

Hundreds of thousands of people have made a trip to dine on the exceptional food cooked by Dora Charles at Savannah's most famous restaurant. Now, the woman who was barraged by editors and agents to tell her story invites us into her home to taste the food she loves best.

These are the intensely satisfying dishes at the heart of Dora's beloved Savannah: Shrimp and Rice; Simple Smoky Okra; Buttermilk Cornbread from her grandmother; and of course, a truly incomparable Fried Chicken. Each dish has a "secret ingredient" for a burst of flavor: mayonnaise in the biscuits; Savannah Seasoning in her Gone to Glory Potato Salad; sugar-glazed bacon in her deviled eggs. All the cornerstones of the Southern table are here, from Out-of-This-World Smothered Catfish to desserts like a jaw-dropping Very Red Velvet Cake.

With moving dignity, Dora describes her motherless upbringing in Savannah, the hard life of her family, whose memories stretched back to slave times, learning to cook at age six, and the years she worked at the restaurant. "Talking About" boxes impart Dora's cooking wisdom, and evocative photos of Savannah and the Low Country set the scene.
Praise For A Real Southern Cook: In Her Savannah Kitchen…
"Dora Charles's take on classic Southern recipes is approachable and creative, and her moment in the spotlight is long overdue."
--Eater.com
"The book is itself a tribute to a woman who never imagined she would have to practice signing her name for fans... Some recipes...like crab cakes, poundcakes, and jambalaya, are the best of scratch cooking... Ms. Charles is a meticulous and methodical cook...[she] is also an astute interpreter of culture... [She] stresses the importance of selecting good raw ingredietns and building flavor at every step, like saving what she called fry-meat-grease from bacon, sausage, or pork chops to rub on sweet potatoes as they bake or to eliven rice and greens..."
--The New York Times
"Even just reading the names of recipes in Savannah chef Dora Charles' debut cookbook is making us wild with hunger – Buttermilk cornbread? Fried chicken? Very red velvet cake? We're not sure we can wait until September."
—People.com
"
A Real Southern Cook
is a beautiful read, a vital illustration of Southern foodways, and an important addition to the canon of great American cookbooks." -
Matt Lee and Ted Lee,
authors of
The Lee Bros. Charleston Kitchen
"Dora Charles is the real deal
,
and hers may be the most honest — and personal — Southern cookbook I've read." -
John Taylor,
author of
Hoppin' John's Lowcountry Cooking
and owner of HoppinJohns.com
"
After soaking in pages of fried spareribs, red rice, and coconut cake, I just wanted to be at Dora's house when supper was served." —
Vivian Howard
, chef and owner, Chef & the Farmer and creator of the PBS documentary
A Chef's Life 
"Dora Charles and her family recipes are legendary in Savannah, and finally she has written them down for the rest of us." —
Nathalie Dupree,
author and television personality
"Dora Charles is unabashedly honest about the scarred beauty that is Southern food. It is time to make some Tomato Pie and some Hushpuppies, because within those recipes are the stories of family and place." —
Hugh Acheson
, chef and author
"People like Dora and the food she cooks are what I love about the South — real people, honest cooking. Two thumbs up!" –
Eddie Hernandez
, executive chef of Taqueria del Sol restaurants  
Rux Martin/Houghton Mifflin Harcourt, 9780544387683, 272pp.
Publication Date: September 8, 2015
About the Author
From a huge Savannah family of accomplished cooks, DORA CHARLES, worked in Savannah's most famous restaurant for 22 years, where she taught dozens of staffers and managers.