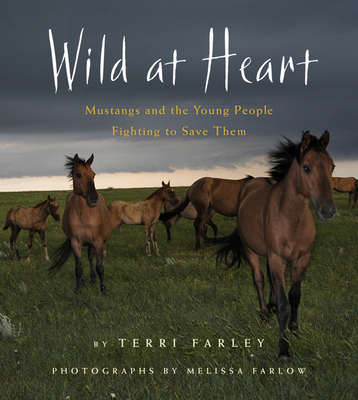 Wild at Heart (Hardcover)
Mustangs and the Young People Fighting to Save Them
HMH Books for Young Readers, 9780544392946, 208pp.
Publication Date: September 22, 2015
* Individual store prices may vary.
Description
Mustangs have thrived for thousands of generations. But now they are under attack from people who see them as pests. The lucky ones are adopted. Some are sent to long-term holding pens; more and more are sold for slaughter. But courageous young people are trying to stop the round-ups and the senseless killings. They are standing up to the government and big business to save these American icons. With eye witness accounts, cutting-edge science, and full-color photographs, Terri Farley and Melissa Farlow invite readers into the world of mustangs in all its beauty, and profile the young people leading the charge to keep horses wild and free. Includes notes and sources, index, and glossary.
About the Author
Terri Farley is the author of the Phantom Stallion series. Her research for the series led to her awareness of mustangs and the challenges they face. Terri lives in Verdi, Nevada. Learn more about Terri and her work at terrifarley.com.
Melissa Farlow is a Pulitzer-prize winning photographer who learned about the plight of mustangs when shooting a story for National Geographic. She lives in Sewickley, Pennsylvania.
Praise For Wild at Heart: Mustangs and the Young People Fighting to Save Them…
"Gorgeously written, richly photographed and passionately argued, WILD AT HEART will ignite the hearts of every horse lover. Thank you, Teri Farley and Melissa Farlow, for bringing us the truth about America's wild mustangs and burros--and for giving us the courage to rise up in defense of these native animals, to allow them to once again thrive in their rightful home."
—Sy Montgomery, author of Kakapo Rescue, a Sibert Award winner

"Anyone who cares about wild horses should read this book. So should anyone who cares about how science is being abused to justify flawed management policies masquerading as 'responsible conservation'."
—Dr. Ross MacPhee, Curator of Mammalogy/Vertebrate Zoology, American Museum of Natural History

"Fast-paced and factual, Wild at Heart weaves history, evolution, behavior, and first person accounts of North America's native wild horses into a unique and highly entertaining book."
—Ginger Kathrens, Emmy Award-winning producer, cinematographer, author of natural history books and articles, and biographer of the wild stallion Cloud

"An urgent call to action, supported with detailed endnotes and a substantial bibliography."
—School Library Journal

"A sweeping introduction to the wild horses of the American West, their past, present, and possible future. Farley, well-known for her wildly popular middle-grade series Phantom Stallion, divides her subject into several parts, opening with the heartfelt story of Wild Horse Annie, one of the first activists determined to save wild horses from abuse and slaughter, and ending with the equally warm stories of several teens working for the same cause."
—Kirkus

"Interspersed throughout the text are various eyewitness accounts that detail the actions of activists, photographers, and advocates, both on the range and at auctions...exceptionally eye-catching photography, and a final chapter on children and teens involved in the fight to save wild horses is particularly evocative and will surely usher in a new generation of activists."
—Booklist