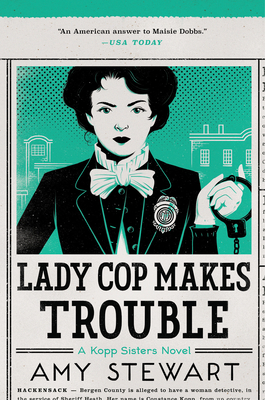 Lady Cop Makes Trouble (A Kopp Sisters Novel #2)
Hardcover

* Individual store prices may vary.
Other Editions of This Title:
Digital Audiobook (9/5/2016)
Digital Audiobook (10/5/2016)
Compact Disc (9/6/2016)
Paperback (5/2/2017)
September 2016 Indie Next List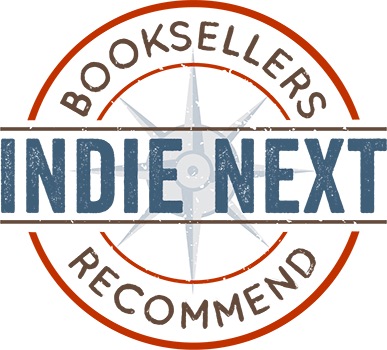 "Stewart's follow-up to Girl Waits With Gun is equally fascinating. Based on the life of Constance Kopp, the first female deputy sheriff in New Jersey, this tale takes readers from rural New Jersey to the mean streets of New York City in 1915. With grit, smarts, and utter determination, Constance tracks a convict who escaped her custody. Despite the astounding restrictions on a woman's life in the early 20th century, Constance takes every risk to capture her suspect. Complemented by the historical notes that Stewart provides, Lady Cop is both informative and loads of fun."
— Kathi Kirby (E), Powell's Books, Inc, Portland, OR
View the List
Description
A wily con man makes a daring escape from prison, endangering Constance Kopp's new job as deputy sheriff, and the chase is on through the streets of New York for the fugitive.

After besting (and arresting) a ruthless silk factory owner and his gang of thugs in Girl Waits with Gun, Constance Kopp became one of the nation's first deputy sheriffs. She's proven that she can't be deterred, evaded, or outrun. But when the wiles of a German-speaking con man threaten her position and her hopes for this new life, and endanger the honorable Sheriff Heath, Constance may not be able to make things right.     Lady Cop Makes Trouble sets Constance loose on the streets of New York City and New Jersey--tracking down victims, trailing leads, and making friends with girl reporters and lawyers at a hotel for women. Cheering her on, and goading her, are her sisters Norma and Fleurette--that is, when they aren't training pigeons for the war effort or fanning dreams of a life on the stage.    Based on a true story, Girl Waits with Gun introduced Constance Kopp and her charming and steadfast sisters to an army of enthusiastic readers. Those readers will be thrilled by this second installment--also ripped from the headlines--in the romping, wildly readable life of a woman forging her own path, tackling crime and nefarious criminals along the way.     
Praise For Lady Cop Makes Trouble (A Kopp Sisters Novel #2)…
"LADY COP MAKES TROUBLE  takes readers on a lively chase through a lost world. It's a colorful and inventive adventure tale that also contains a serious message at its core about the importance of meaningful work to women's identities and, in some cases, survival." - Maureen Corrigan, Washington Post "Whether Constance is tackling a criminal 'in what had to be the most undignified position a woman had ever been seen in on the streets of Brooklyn' or pouring punch in a theater lobby for Fleurette's Christmas pageant, her days and nights come vividly to life. And although the real crimes are solved by the end of the novel, Stewart leaves the reader wondering about one mystery still developing unsolved: the relationship between Constance and her married boss, Heath...Readers will just have to wait — impatiently, no doubt — for book No. 3." - Boston Globe "Constance and her sisters are every bit as enjoyable in this outing as their first. Stewart deftly combines the rough-and-tumble atmosphere of early 20th-century New York City with the story of three women who want to live life on their own terms. The addition of supporting female characters who are also pushing societal boundaries is a welcome touch to the series." - Library Journal, starred review "In the long-awaited sequel to Girl Waits With Gun, Constance has to take matters into her own hands. Lady Cop Makes Trouble, based on actual events, is another irresistible madcap adventure featuring the Kopp sisters." - PopSugar "Amy Stewart (Girl Waits with Gun) continues the fictional adventures of Miss Constance Kopp in LADY COP MAKES TROUBLE. Constance is based on a real woman who, just prior to World War I, became a deputy sheriff in New Jersey, one of the first of her kind in the country. And yes, she does make trouble. Escaped convicts don't stand a chance against this adventurous woman, as Stewart crafts a heady brew of mystery and action in a fast-moving, craftily written novel that's fueled by actual news headlines of the day." - BookPage "It's 'True Grit,' New York style. Stewart ("Girl Waits With Gun") delivers the second novel in her series based on the real-life antics of Constance Kopp, one of the few female deputy sheriffs who lived 100 years ago. With encouragement from her two sisters, Constance tracks a German con man through the streets of the Big Apple. The book's title is inspired by several actual newspaper headlines of the time about the small number of women who worked in law enforcement." - New York Post "Constance Kopp is one of the most fascinating characters in recent mystery fiction. The fact that Stewart bases her on a real person and uses real events in her plots make Constance even more fascinating....Lady Cop Makes Trouble is one of the best mystery novels of the year: wonderful and very entertaining characters based on meticulous research, understated humor, and an accurate snapshot of the times just prior to America's entry in WWI. One could hunt for a downside to Amy Stewart's series, but it would be a vain search. Kudos to Amy Stewart and Constance Kopp. May there be many more sequels to follow." - New York Journal of Books "The second entry in Amy Stewart's historical mystery series based on the real-life Kopp sisters is as compulsively readable and effortlessly enjoyable as the first....Stewart expertly plays imagination and research off of one another in a way that is a pleasure in itself...So bring on more of the Kopp sisters! I can't wait t —
Mariner Books, 9780544409941, 320pp.
Publication Date: September 6, 2016
About the Author
AMY STEWART is the New York Times best-selling author of the acclaimed Kopp Sisters series, which began with Girl Waits with Gun. Her seven nonfiction books include The Drunken Botanist and Wicked Plants. She lives in Portland, Oregon. 
In addition to her deputy sheriff duties, Constance serves Paterson as the jail matron. How do the expectations and requirements of this aspect of her job compare to those of her work as a deputy? How does each position speak to Constance's strengths and weaknesses.
In an era where women have limited options, discuss how characters like Providencia Monafo, Mrs. Heath, Aunt Adele, and Constance deal with fears and disappointments; how do they each choose to cope?
"Deputies follow the orders given to them by the sheriff," says Sheriff Heath (p240). Those who don't, he asserts, are called "outlaws." Do you think Constance is an outlaw according to this definition?What power do titles and labels really have—can one still embody a role without "officially" owning its label?
Sheriff Heath goes to great pains to keep Constance's name out of the papers and keep her from public shame over losing von Matthesius. Do you think it's reckless of her to pursue the man despite the Sheriff's direct orders to the contrary? What would you have done in her place? What other "rules" does Constance break (or bend) in her life?
When they catch Reinhold, the messenger boy, he exclaims, "Rudy told me to watch for police, but he didn't say nothing about a lady." (p234) Many characters focus on women not being able to do what a man can do, but what about the reverse? Identify the advantages, both illustrated in this novel and in general, of having a female law enforcement officer.
Much changes once Constance captures von Matthesius. Describe the changes between her and her family. How might things have ended if Constance had not caught von Matthesius? How would his escape influence how you viewed Constance's actions throughout the novel?
"The first line came with such tenderness that it seemed as if it was meant for each one of us," Constance thinks of the Christmas carol lyrics shared in the novel's ending. Discuss how they apply to Constance and her fellow lawmen. Why do you think the author chose to end the novel with this poignant moment?
or
Not Currently Available for Direct Purchase