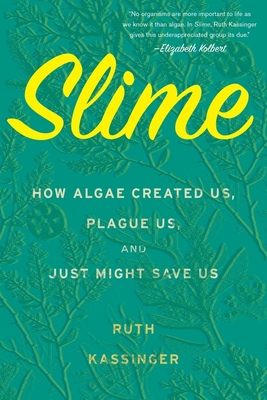 Slime
How Algae Created Us, Plague Us, and Just Might Save Us
Hardcover

* Individual store prices may vary.
Other Editions of This Title:
Paperback (6/9/2020)
Compact Disc (6/11/2019)
Description
"No organisms are more important to life as we know it than algae. In Slime, Ruth Kassinger gives this under-appreciated group its due." —Elizabeth Kolbert

Say "algae" and most people think of pond scum. What they don't know is that without algae, none of us would exist.

There are as many algae on Earth as stars in the universe, and they have been essential to life on our planet for eons. Algae created the Earth we know today, with its oxygen-rich atmosphere, abundant oceans, and coral reefs. Crude oil is made of dead algae, and algae are the ancestors of all plants. Today, seaweed production is a multi-billion dollar industry, with algae hard at work to make your sushi, chocolate milk, beer, paint, toothpaste, shampoo and so much more.
 
In Slime we'll meet the algae innovators working toward a sustainable future: from seaweed farmers in South Korea, to scientists using it to clean the dead zones in our waterways, to the entrepreneurs fighting to bring algae fuel and plastics to market.
 
With a multitude of lively, surprising science and history, Ruth Kassinger takes readers on an around-the-world, behind-the-scenes, and into-the-kitchen tour. Whether you thought algae was just the gunk in your fish tank or you eat seaweed with your oatmeal, Slime will delight and amaze with its stories of the good, the bad, and the up-and-coming.
Praise For Slime: How Algae Created Us, Plague Us, and Just Might Save Us…
Praise for Slime
An Amazon Best Science Title of 2019
A Science News Best Title of 2019
A New York Times New and Noteworthy Title
A Science Friday Best Book of the Summer
A Library Journal Best Science and Technology Book of 2019
A BookPage Best Book of 2019

"Kassinger gives these Plain Janes their time in the sun…Great reading."
—Ira Flatow, NPR's "Science Friday"

"Algae are among the earth's oldest life-forms, pervasive in everything from pond scum to crude oil. Kassinger explains their history and biology, and makes a persuasive case for their future importance."
—New York Times Book Review

"No organisms are more important to life as we know it than algae. In Slime, Ruth Kassinger gives this under-appreciated group its due. The result is engaging, occasionally icky, and deeply informative."
—Elizabeth Kolbert, New York Times-bestselling author of the Pulitzer Prize-winner The Sixth Extinction

"Kassinger, a popular-science writer whose previous books are on gardening and botany, packs an impressive amount of biochemistry into digestible terms."
—New York Review of Books

"Kassinger has found in algae an undervalued topic truly worthy of closer attention...In the end, Kassinger has us rooting for pond scum—it might just save us yet."
—Science News

"In spite of having studied algae for more than 30 years, I learnt much from Slime...Compelling...There is something for everyone, from committed phycologists to people who hitherto (but hopefully no longer) regarded algae as an inconvenience or worse. Blanket weed may never seem the same again."
—Nature

"Slime illustrates the important role algae have played in the world...Overall, Slime gives a distinct view into these underappreciated organisms and demonstrates our intertwined history with algae. Hopefully, it will help readers see algae in a different light."
—Science Magazine

"Fascinating and relevant...As Kassinger finds unique nuggets within algae's backstory and possible future, she unravels amazing, microscopic details of this vital resource...Where it gets really interesting is her detailed explanation of the large role algae played in the complicated, multistep process of human evolution, supplementing our ancestors' diets with iodine and the omega-3 oil DHA (docosahexaenoic acid), both essential ingredients for developing larger brains. And it has continued to serve as a nutritious food source for many cultures ever since...Kassinger has penned a wondrous story of this multifaceted, often misunderstood microorganism whose existence is vital to our own."
—BookPage, starred review

"We often look for big solutions, but the reality is that the smallest things often offer hope. This globetrotting book showcases the 'algae innovators' (the phrase of the month) exploring what we can learn from these often-ignored plants."
—EcoWatch

"A book full of delights and surprises. Algae are the hidden rulers of our world, giving us oxygen, food, and energy. This is a beautiful evocation of the many ways that our past and future are entangled in their emerald strands."
—David George Haskell, author of The Songs of Trees and Pulitzer Prize-finalist The Forest Unseen

"Deep and enlightening...Readers will learn more about algae than they ever imagined (and relish every minute of it). Comparisons to Mary Roach and Susan Orlean are well-deserved, and Kassinger's erudite and wide-ranging approach should entice readers with a wide range of interests, from food to fashion, bioengineering, marine biology, farming, and general fascination with the wonders of nature. Gardeners will welcome Kassinger's latest, and everyone else will feel lucky to discover this winsome writer."
—Booklist, starred review

"A fun and fascinating deep dive into the natural history, current uses, and vast potential of algae...Accessible and enthralling...Kassinger delivers the powerful and optimistic message that slime just may be our savior...Thorough but not dense, informative but never boring—a delight from start to finish."
—Kirkus, starred review

"In chirpy prose chock-full of homespun metaphors...Kassinger turns an obscure subject into delightful reading...Even readers who never expected to enjoy a book about slime will find this an informative and charming primer to 'the world's most powerful engines.'"
—Publishers Weekly

"Slime is a revelation! Algae has the power to cool the planet, replace plastics, fuel vehicles, and feed the world. This visionary book belongs in the hands of every policy maker, business leader, and engaged citizen looking for answers to our most pressing problems. It also happens to be a delightful read in the tradition of Susan Orlean, Mary Roach, and Michael Pollan. Ruth Kassinger turns a reporter's eye to the natural world and finds an epic narrative there, populated by dedicated scientists, intrepid chefs, and starry-eyed visionaries."
—Amy Stewart, New York Times-bestselling author of The Drunken Botanist and the Kopp Sisters novels

"Ruth Kassinger is a witty and affable guide throughout this globetrotting celebration of an overlooked life form.  Reading Slime will convince you that algae deserve our respect, and even our gratitude—they are ancient, fascinating, and essential to life as we know it." 
—Thor Hanson, author of Buzz, The Triumph of Seeds, and Feathers
Houghton Mifflin Harcourt, 9780544432932, 320pp.
Publication Date: June 11, 2019
About the Author
RUTH KASSINGER is the author of Paradise Under Glass and A Garden of Marvels, as well as a number of award-winning science and history books for young adults. She has written for the Washington Post, the Chicago Tribune,Health magazine,National Geographic Explorer, and other publications. She is a frequent speaker at conservatories, arboretums, and garden clubs, and has been featured on radio shows and Voice of America.