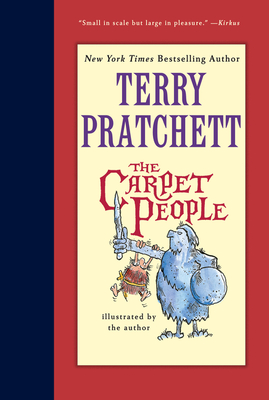 The Carpet People (Paperback)
Clarion Books, 9780544439542, 304pp.
Publication Date: February 3, 2015
Other Editions of This Title:
Digital Audiobook (11/4/2013)
Hardcover (11/5/2013)
CD-Audio (11/12/2013)
Audio Cassette, Abridged, Abridged (7/4/2003)
* Individual store prices may vary.
Description
"In the beginning, there was nothing but endless flatness. Then came the Carpet." That's the old story everyone knows. But now a new story is in the making. The story of Fray, sweeping a trail of destruction across the Carpet—and of two brothers on an adventure to end all adventures.
First published in 1971, this novel marked the debut of Sir Terry Pratchett. Years later, Sir Terry revised the work. This edition includes the updated text, his original illustrations, and the short story that is the forerunner to The Carpet People.
About the Author
Sir Terry Pratchett, the author of more than three dozen novels, is one of the world's best-selling and best-loved novelists writing in the English language. He wrote his first published story when he was 13 and his first novel, THE CARPET PEOPLE, when he was 17. His books have sold more than 85 million copies worldwide.
In addition to his phenomenal—and phenomenally popular—Discworld series for adults, Terry is the multi-award-winning author several children's books. These include the books of the BROMELIAD TRILOGY (HarperCollins, 2003), as well as THE WEE FREE MEN (HarperCollins, 2003), A HAT FULL OF SKY (HarperCollins, 2004), WINTERSMITH (HarperCollins, 2006), I SHALL WEAR MIDNIGHT (HarperCollins, 2010), NATION (HarperCollins, 2008)—a Michael L. Printz Honor Book, Boston Globe–Horn Book Award winner, and LA Times Book Prize for YA Literature winner—and DODGER (HarperCollins, 2012), for which he won his second Michael L. Printz Honor. He was awarded Britain's highest honor for a children's novel, the Carnegie Medal, for THE AMAZING MAURICE AND HIS EDUCATED RODENTS (HarperCollins, 2001). The recipient of several honorary doctorates, Sir Terry was knighted by Queen Elizabeth II in 2008 for his services to literature. And in 2011, he received the Margaret A. Edwards Award for Lasting Contributions to Young Adult Literature from the American Library Association.
He passed away in 2015 from Alzheimer's Disease. Find out more about Terry at terrypratchettbooks.com and the Facebook page https//www.facebook.com/pratchett (610K fans).
Praise For The Carpet People…
"The perfect starting place for young readers; seasoned Pratchett fans will just revel in his wit, his subversion of tropes and his sense of humanity. . . . Small in scale but large in pleasure."
—
Kirkus


"This story is inventive in its carefully worked-out central conceit, often vey funny, and dotted with some genuinely scary bits, as well as Pratchett's wiry 1971 spot illustrations."
—Publishers Weekly


"All of the big political ideas of mid-century epic fantasy are here writ literally small and carried along by Pratchett's signature wit and flawless pacing."
—
Bulletin of the Center for Children's Books


"Sure to be sought after by Pratchett's fans, young and old, this adventure will also amuse children who have never heard his name."
—
Booklist


"Fantasy with comedic flair is the Pratchett trademark . . . [This] book will entice young readers into a world with enough adventure, terror, and comic relief to keep them intrigued."
—
VOYA, 5Q 4P M J

"The brisk narrative mixes sly wit and occasional puns with lively battle scenes and mysterious revelations. . . an excellent entree to Pratchett's work."
—School Library Journal