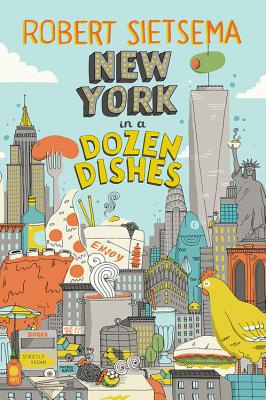 New York in a Dozen Dishes (Hardcover)
Houghton Mifflin Harcourt, 9780544454316, 304pp.
Publication Date: May 19, 2015
* Individual store prices may vary.
Description
Join New York City's most intrepid eater—Robert Sietsema, pioneer of outer-boroughs dining—in an urban adventure like none other. Through essays on the city's defining dishes, some familiar, others obscure, Robert paints a portrait of New York's food landscape past and present, and shares a life spent uncovering the delicious foods of the five boroughs.
 
Gobble up a century of New York pizza, from the coal-fired pies of a thriving Little Italy to the slice joints of a burgeoning rock 'n' roll East Village. Discover Katz's Delicatessen as Robert did, on a foray into the hardscrabble Lower East Side of the 1970s. Take Robert's hand and he'll bring you through the Mexican taquerias of Bushwick—with their papalo leaves and piled-high sandwiches—then visit the underground Senegalese dining scene hidden in plain sight in 1990s Times Square. See the evolution of New York fried chicken from Harlem's spare, ancient style to the battered-and-brined birds of hipster Brooklyn. Hunt with Robert for Hangtown fry and a vanishing Chinese-American cuisine, and follow him as he ferrets out the city's most elusive foods, including the Ecuadorian guinea pig. 

About the Author
Award-winning food writer Robert Sietsema has inspired generations to explore the wealth of dining options across the five boroughs of New York City. The restaurant critic for the Village Voice from 1993 to 2013, and a current restaurant critic at Eater.com, he also speaks widely about food and contributes to The New York Times, Lucky Peach, and elsewhere. 

Praise For New York in a Dozen Dishes…
"A big, fat, juicy slice of what makes New York City the greatest city in the world—by the dean of food critics, the ONE guy who's bothered to hunt down the very best wherever it might be. Sietsema KNOWS what's good. When you visit a city, you should always ask yourself, 'What do they do that's better than everywhere else? What's special? Iconic? Unmissable?' If you're talking New York, the answers are here."
—Anthony Bourdain
 
"Nobody knows—or appreciates—New York restaurants better than Robert Sietsema. But this wonderful book is not really about food; it's an entirely new way to see this city. If you live in New York, or ever plan to visit, you need this book."
—Ruth Reichl
 
"Robert Sietsema knows New York restaurants on an almost molecular level. In New York in a Dozen Dishes, we get to see him sequence the DNA."
—Jonathan Gold
 
"New York in a Dozen Dishes is the culmination of a lifetime of culinary discovery. There's a valuable history represented in every stand-alone chapter, each one worth the cover price. If you don't live in New York, you'll be planning a trip to discover the city's food through Sietsema's eyes. You'll get hooked by the pastrami chapter, but stick around f or the barbecue brisket."
—Daniel Vaughn, author of The Prophets of Smoked Meat: A Journey Through Texas Barbecue and Barbecue Editor of Texas Monthly
 
"Sure, New York in a Dozen Dishes is a tour de force that shows Sietsema's unrivaled knowledge of the city from tip to tail and back and forth through time. But that's not the reason to buy it. You'll do that because Robert has written the book in a style that puts you in a seat across the table from him in some out-of-the way restaurant while he holds court. The rhythm of his writing is hypnotic; he makes Senegalese geography seem approachable and he blazes through Chinese-American history as breezily as most guys talk about last night's game. There's an intimacy, an honest humor, and—what I feel is Robert's true superpower—a contagious enthusiasm that makes this book a pleasure craft ripping a wide wake through a turgid sea of food history books."
—Peter Meehan, editor of Lucky Peach