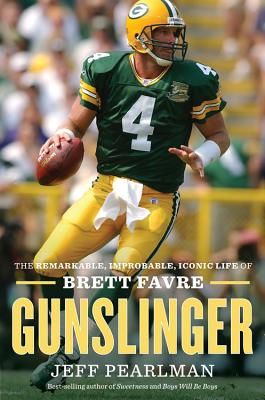 Gunslinger (Hardcover)
The Remarkable, Improbable, Iconic Life of Brett Favre
Houghton Mifflin Harcourt, 9780544454378, 448pp.
Publication Date: October 25, 2016
Other Editions of This Title:
Paperback (10/24/2017)
Compact Disc (11/1/2016)
* Individual store prices may vary.
Description
From a New York Times best-selling author, the full, definitive biography of Brett Favre

A towering figure on the field for two decades who breezed into the Hall of Fame, Brett Favre was one of the game's last cowboys, a fastball-throwing, tobacco-chewing gunslinger who refused to give up without a fight. This peerless quarterback guided the Green Bay Packers to two Super Bowls and one championship win, shattering countless NFL records along the way. 
 
Gunslinger tells Brett Favre's story for the first time, drawing on more than five hundred interviews, including many from the people closest to Favre. Jeff Pearlman charts an unparalleled journey from his rough rural childhood and lackluster high school football career to landing the last scholarship at Southern Mississippi to a car accident that nearly took his life. Favre clawed back, getting drafted into the NFL by the Atlanta Falcons, then finding his way to Green Bay, where he restored the Packers to greatness and inspired a fan base as passionate as any in the game. Yet he struggled with demons: addiction, infidelity, the loss of his father, and a fraught, painfully prolonged exit from the game he loved, a game he couldn't bear to leave.
 
Grand, gritty, and revelatory, Gunslinger is a big sports biography of the highest order, a fascinating portrait of the man with the rocket arm whose life has been one of triumph, of fame, of tragedy, of embarrassment, and—ultimately—of redemption.
 
About the Author
JEFF PEARLMAN is the New York Times best-selling author of eight books, including Football for a Buck,The Bad Guys Won!, Boys Will Be Boys, Showtime, Sweetness, and Gunslinger. He lives in Southern California with his wife, Catherine, and children, Casey and Emmett. He is the host of the Two Writers Slinging Yang podcast and blogs regularly at jeffpearlman.com.
Praise For Gunslinger: The Remarkable, Improbable, Iconic Life of Brett Favre…
"Jeff Pearlman writing about Brett Favre is a perfect match of author and subject, making
Gunslinger
as rollicking and raucous and joyous as Favre was improvising at Lambeau Field."
–David Maraniss, author of When Pride Still Mattered and Once in a Great City
"Over two decades, Brett Favre was as compelling a figure as any in the National Football League. He alone was 'Must-See TV.' In
Gunslinger
, Jeff Pearlman provides an extraordinary look at every facet of the life of a man who performed on sport's grandest stage and who had one helluva time along the way."
–Al Michaels
"Jeff Pearlman's deeply reported book is an unprecedented picture of an unprecedented athlete. Brett Favre emerges as at once incorrigibly childish and a magnetic leader of men. Perhaps never in sports history has a star so big inhabited a market so small.
Gunslinger
leaves an impression of Favre that is neither simply good nor bad, but rather something nearly non-existent in sportswriting today: a full portrait of a human being."
–David Epstein, author of The Sports Gene
"Here's a story as iconic as 'The Gunslinger' himself, Brett Favre. Like Favre, Jeff Pearlman goes deep–and scores."
–Adam Schefter, author of Romo: My Life on the Edge and Think Like A Champion
"This is the deepest understanding we are likely to have of Favre for quite some time... Pearlman's book is a complete, satisfying biography of a gunslinger who, for both better and worse, was far more complex than most fans have understood." --
Kirkus Reviews 
"Presenting Favre as a congenial, larger-than-life character, a 'gunslinger,' who was fun to watch on the field and hard to root against, Pearlman proves to be a good match for his subject and creates a compelling work." --
Library Journal
,
starred review
"A wealth of NFL-insider anecdotes sure to enthrall fans. Rarely does a straightforward sports bio ascend mainstream best-seller lists, but this could be the exception. Clear a spot:
Gunslinger
is coming."
-- Booklist
"Skilled sports biographer Pearlman brings his dogged, one-more-phone-call approach to this massively enjoyable book on Brett Favre, the gambling, cannon-armed quarterback whose talent and boyish enthusiasm brought the Green Bay Packers back to hallowed relevance in the mid-1990s."
-- Publishers Weekly
"What does 'Gunslinger' offer the Wisconsinite who has read a gazillion words about Favre over the past decades? A perspective outside the Packerland bubble, for one. He also delivers detailed reporting on aspects of Favre's life that we tend to dismiss in a line of background . . . Compelling." 
-- Jim Higgins, Milwaukee Journal-Sentinel

"Terrific . . . It's not only a page-turner, but it's built on a foundation of solid journalism by an author who has a background as a newspaper reporter . . . Many [stories] are new and draw back the curtain on Favre's life in a way that hadn't been done." 
-- Gary D'Amato, Milwaukee Journal-Sentinel

"The compelling, complete story of his legend, and his faults."
-- Chicago Tribune

"Comprehensive and readable, it's chock-full of stories gleaned through 573 interviews; even better, it provides a sense of the man."
-- Sports Illustrated

"A must-read . . . Well-researched and entertaining."
-- AOL.com
or
Not Currently Available for Direct Purchase