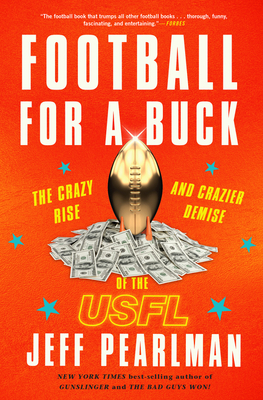 Football for a Buck (Hardcover)
The Crazy Rise and Crazier Demise of the USFL
Houghton Mifflin Harcourt, 9780544454385, 384pp.
Publication Date: September 11, 2018
* Individual store prices may vary.
Description
From a multiple New York Times bestselling author, the rollicking, outrageous, you-can't-make-this-up story of the USFL
 
The United States Football League—known fondly to millions of sports fans as the USFL—was the last football league to not merely challenge the NFL, but cause its owners and executives to collectively shudder. It spanned three seasons, 1983-85. It secured multiple television deals. It drew millions of fans and launched the careers of legends. But then it died beneath the weight of a particularly egotistical and bombastic owner—a New York businessman named Donald J. Trump. The league featured as many as 18 teams, and included such superstars as Steve Young, Jim Kelly, Herschel Walker, Reggie White, Doug Flutie and Mike Rozier.
 
In Football for a Buck, the dogged reporter and biographer Jeff Pearlman draws on more than four hundred interviews to unearth all the salty, untold stories of one of the craziest sports entities to have ever captivated America. From 1980s drug excess to airplane brawls and player-coach punch outs, to backroom business deals, to some of the most enthralling and revolutionary football ever seen, Pearlman transports readers back in time to this crazy, boozy, audacious, unforgettable era of the game. He shows how fortunes were made and lost on the backs of professional athletes and also how, thirty years ago, Trump was a scoundrel and a spoiler.
 
For fans of Terry Pluto's Loose Balls or Jim Bouton's Ball Four and of course Pearlman's own stranger-than-fiction narratives, Football for a Buck is sports as high entertainment—and a cautionary tale of the dangers of ego and excess.
About the Author
JEFF PEARLMAN is the New York Times best-selling author of eight books, including The Bad Guys Won!, Boys Will Be Boys, Showtime, Sweetness and Gunslinger. He lives in Southern California with his wife Catherine and children, Casey and Emmett. He is the host of the Two Writers Slinging Yang podcast and blogs regularly at jeffpearlman.com.
Praise For Football for a Buck: The Crazy Rise and Crazier Demise of the USFL…
"As we've come to expect from Jeff Pearlman's books,
Football for a Buck
is deeply reported, deftly told, smart, hilarious, sad, riveting — and prescient. Through the stories of USFL businessmen, coaches, benchwarmers, and stars who later became household names — Steve Young, Jim Kelly, Herschel Walker, and yes, Donald Trump — Pearlman captures the troubled lavishness of mid-80s America and foreshadows so many of the issues that professional football — and the country — are experiencing today. Oh, and there's a lot of sex and drugs."
—Seth Wickersham, ESPN The Magazine senior writer
"If foreshadowing was passing yards this book would be Jim Kelly. A definitive history of a wild and wooly football league fondly remembered three decades after its demise; but also a definitive preview to the 45th president."
—L. Jon Wertheim, Sports Illustrated
"When I started this book, I wasn't interested in the USFL. By the time I fished it, I wanted a sequel, a USFL movie, and Tampa Bay Bandits action figures. Jeff Pearlman's joy for this wild old league is contagious as hell. Great read. I'm in. GO MAULERS!!"
—Kyle Brandt, co-host of NFL Network's Good Morning Football
"Pearlman's enthusiasm for his subject is infectious . . . He has channeled his youthful affection into a raucous, well-reported, supremely entertaining ripsaw of a story."—
New York Times Book Review
"Tells in delightful detail the story of a long-gone pro football league. To call it just a sports book, though, sells it way short. 'Football for a Buck' far transcends other sports books, making it contemporary and fun for anybody to read . . . The book is nothing less than painstakingly thorough, with dozens of zany and colorful stories about players and executives in a renegade league that quickly made its mark, frightening the mighty NFL . . . It is a thorough, funny, fascinating and entertaining sports book."
—Forbes.com
"Endlessly fascinating . . . Pearlman proves to be the perfect person to write [the USFL's] history. He approaches the USFL with both the critical eye of a sportswriter and the unbridled enthusiasm of a fan. He's also quite funny . . . Above all, Pearlman is a master storyteller — he draws the reader in with his vivid descriptions of the league's wild games and wilder players. He's clearly done his homework, drawing from media coverage of the league and interviews with players, who look back on their USFL days with varying degrees of fondness.
Football for a Buck
is a hilarious, engrossing roller coaster of a book."
—NPR.org
"An amusing and entertaining tale of ego and excess . . .  [a] wacky, fascinating narrative." —
Washington Post
"Scathing, action-packed account of the rise and fall of spring football in the 1980s, with a familiar villain to the piece . . . Pearlman's fluently told story provides context for why the sitting president holds the NFL in such contempt—and why the sentiment should be richly returned. Gridiron fans of all stripes will find this a fascinating exercise in the collision of money, entertainment, politics, and ego." —
Kirkus Reviews
"Wonderful anecdotes . . . Fascinating and hilarious reading on a half-dozen levels. Just great for football fans who like to laugh."
—Booklist, *starred* review
"Pearlman's hundreds of interview with former players and coaches shine a light on this almost forgotten league. This is an excellent book for football junkies, but it's just as enthralling for a general audience."—
Publishers Weekly
"Every bit as fantastic as you'd expect a Pearlman book to be, and you honestly don't need to have spent time as devoted USFL fan (as Jeff and I both were) to enjoy."
—Mike Vaccaro, New York Post
"A knockout: an affectionate, often funny, sometimes horrifying history of the madcap league"—
Newsday
"Masterfully chronicled . . . Even without the Trump subplot,
Football for a Buck
is a fascinating read on the short life of an upstart league that almost survived. But Trump's presence lends the book a depth and urgency. And in chronicling the ways Trump delivers less than he promises, then leaves other to suffer the fallout, Pearlman has also written a playbook to the current presidency."—
Toronto Star
"A rollicking new book that captures the dream and the disaster that was the USFL."—
Arizona Republic
"A wonderful, thorough, insightful look at a deeply weird moment in American football history. And it's also a primer of sorts for this current deeply weird moment in American political history."—
Yahoo! Sports
"Engrossing, eerily relevant."—Time.com

"If you like football—and outrageous tales well told—Football for a Buck is for you."—Inc.com