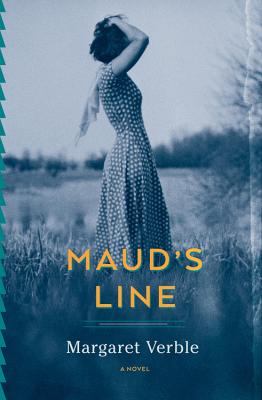 Maud's Line (Hardcover)
Houghton Mifflin Harcourt, 9780544470194, 304pp.
Publication Date: July 14, 2015
* Individual store prices may vary.
Description
FINALIST FOR THE PULITZER PRIZE

A debut novel chronicling the life and loves of a headstrong, earthy, and magnetic heroine

Eastern Oklahoma, 1928. Eighteen-year-old Maud Nail lives with her rogue father and sensitive brother on one of the allotments parceled out by the U.S. Government to the Cherokees when their land was confiscated for Oklahoma's statehood. Maud's days are filled with hard work and simple pleasures, but often marked by violence and tragedy, a fact that she accepts with determined practicality. Her prospects for a better life are slim, but when a newcomer with good looks and books rides down her section line, she takes notice. Soon she finds herself facing a series of high-stakes decisions that will determine her future and those of her loved ones.

Maud's Line is accessible, sensuous, and vivid. It will sit on the bookshelf alongside novels by Jim Harrison, Louise Erdrich, Sherman Alexie, and other beloved chroniclers of the American West and its people.
About the Author
MARGARET VERBLE is an enrolled citizen of the Cherokee Nation of Oklahoma. Her first novel, Maud's Line, was a finalist for the Pulitzer Prize. She lives in Lexington, Kentucky.
Praise For Maud's Line…
Finalist for the Pulitzer Prize

"A novel whose humble prose seems well-suited to the remote American milieu it so engagingly evokes: the Indian allotments of 1920s Oklahoma."—Pulitzer Prize citation

"[Margaret Verble] gives careful consideration to place, having spent a lot of time on these lands, rivers and streams, and through direct encounters with all the inhabitants of this place - both people and animals, their natures and behaviors. This is all rich source material that informs her writing. Maud's Line is filled with the deeper truths that stem from these stories."
—National Museum of the American Indian

"Maud's Line is a page-turner whose spare, vivid prose brings its characters to life in a time, place and circumstances that few non-Indians know much about."
—Lexington Herald-Leader

"In clean, spare prose, Margaret Verble describes a people's struggle to maintain a culture and an identity that both sustains and imprisons them. Her observations of the beauty and anguish of this life, and her vivid heroine, make this as good a novel as I've read all year."
—Historical Novel Society

"Maud is refreshingly open and honest about her own sexuality though conscious of her place as a woman in a sexist society, always careful not to insult the intelligence or manhood of her male friends and relations. Verble writes in a simple style that matches the hardscrabble setting and plainspoken characters. Verble, herself a member of the Cherokee Nation, tells a compelling story peopled with flawed yet sympathetic characters, sharing insights into Cherokee society on the parcels of land allotted to them after the Trail of Tears."
—Kirkus

"First novelist Verble, herself an enrolled member of the Cherokee Nation of Oklahoma, does a beautiful job of limning a sometimes hardscrabble Indian life that nevertheless has the comfort that familiarity and extended family bring. Place is especially important to the author's story, and its setting is beautifully realized, as are the characters who populate this gentle novel...Pair this one with novels by Louise Erdrich."
—Booklist

"Maud's Line is filled with evocative glimpses of violence, viscera, yearning and the brusque but communal caring of family...Verble crafts a story filled with nuance and quiet conflict."
—Shelf Awareness

"Writing as though Daniel Woodrell nods over one shoulder and the spirit of Willa Cather over the other, Margaret Verble gives us Maud, a gun-toting, book-loving, dream-chasing young woman whose often agonizing dilemmas can only be countered by sheer strength of heart."
—Malcolm Brooks, author of Painted Horses

"I want to live with Maud in a little farm in a little valley under the shadow of a mountain wall. Maud's Line is an absolutely wonderful novel and Margaret Verble can drop you from great heights and still easily pick you up. I will read anything she writes, with enthusiasm."
—Jim Harrison, author of Dalva, Legends of the Fall, and The Big Seven
"Margaret Verble gives us a gorgeous window onto the Cherokee world in Oklahoma, 1927. Verble's voice is utterly authentic, tender and funny, vivid and smart, and she creates a living community – the Nail family, Maud herself, her father, Mustard, and brother, Lovely,  and the brothers Blue and Early, the quiet, tender-mouthed mare Leaf, and the big landscape of the bottoms – the land given to the Cherokees after the Trail of Tears. Beyond the allotments, it opens up into the wild, which is more or less what Verble does with this narrative. A wonderful debut novel."
—Roxana Robinson, author of Sparta
or
Not Currently Available for Direct Purchase