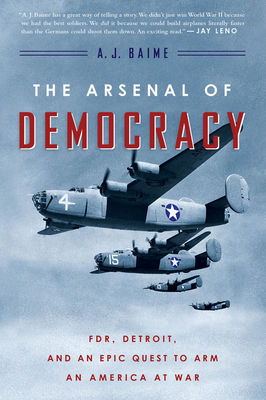 The Arsenal of Democracy (Paperback)
FDR, Detroit, and an Epic Quest to Arm an America at War
Mariner Books, 9780544483873, 400pp.
Publication Date: May 5, 2015
* Individual store prices may vary.
Description
"A touching and absorbing portrait of one of the forgotten heroes of World War II . . . A. J. Baime has given us a memorable portrait not just of an industry going to war but of a remarkable figure who helped to make victory possible."—Wall Street Journal
 
As the United States entered World War II, the military was in desperate need of tanks, jeeps, and, most important, airplanes. Germany had been amassing weaponry and airplanes for five years—the United States for only months. So President Roosevelt turned to the American auto industry, specifically the Ford Motor Company, where Edsel Ford made the outrageous claim that he would construct the largest airplane factory in the world, a plant that could build a "bomber an hour." And so began one of the most fascinating and overlooked chapters in American history.
 
Drawing on unique access to archival material and exhaustive research, A. J. Baime has crafted a riveting narrative that hopscotches from Detroit to Washington to Normandy, from the assembly lines to the frontlines, and from the depths of professional and personal failure to the heights that Ford Motor Company and the American military ultimately achieved in the sky.
 
"Wars are fought on many fronts, and A. J. Baime chronicles this little-known, but terrifically important battle to build America's bomber force with narrative zest and delicious detail. Put simply, it's a great read."—Neal Bascomb, best-selling author of The Perfect Mile
 
"Fast-paced . . . the story certainly entertains."—New York Times
 
About the Author
A. J. BAIME is the New York Times best-selling author of The Arsenal of Democracy: FDR, Detroit, and an Epic Quest to Arm an America at War and Go Like Hell: Ford, Ferrari, and Their Battle for Speed and Glory at Le Mans. His latest book, The Accidental President: Harry S. Truman and the Four Months That Changed the World, was published in 2017. Baime is a longtime regular contributor to the Wall Street Journal, and his articles have also appeared in the New York Times, Popular Science, and Men's Journal. He holds an MA in literature from NYU and currently lives in Granite Bay, California. Visit A. J. at Facebook.com/ajbaime and Trumanbook.com.