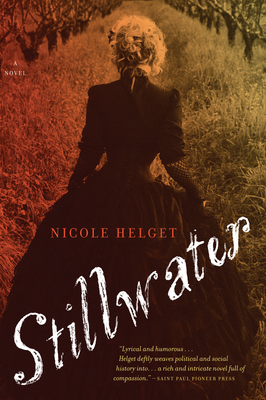 Stillwater (Paperback)
Mariner Books, 9780544483903, 336pp.
Publication Date: March 17, 2015
Other Editions of This Title:
Hardcover (2/4/2014)
* Individual store prices may vary.
Description
"Rousing fun." — MinneapolisStar Tribune

"A wonder of a novel, rich in history, humor, and heart, with prose that flows and sparkles like a sunlit river." — Benjamin Percy, author of Red Moon

"Lyrical and humorous [with] gorgeous prose . . . A rich and intricate novel full of compassion for these pioneers and the place they live." — St. Paul Pioneer Press
 
Raised in the same small community, Clement and Angel, fraternal twins separated at birth, grow up in different worlds. He lives among orphans, nuns, Native Americans, prostitutes. She lives in the town mansion, dressed in taffeta skirts and dodging her mother's manic attention. Bound by a mystical connection, the twins rarely meet, but Clement knows if he is truly in need, Angel will come.

Near the Mississippi River and Canada, Stillwater becomes an important stop on the Underground Railroad. As the nation pushes boundaries, geographic and moral, and marches into civil war, the territory is at a crossroads. Clement and Angel have both learned to survive at the edge of things, but what will this new world hold for them? Will it set them free?

Stillwater is a lyrical, vibrant, often hilarious, and always unforgettable journey into our past, ourselves, and the impulses that drive us to create and explore.
 
"Told in a vigorous and warmly resonant prose that captures both the ridiculous and the sublime . . . A steady pleasure." — Historical Novel Society

"Stillwater has true grit . . . Entertaining, inventive, outrageous and well-told."—MinnPost
About the Author
Born in 1976, NICOLE LEA HELGET grew up on a farm in southern Minnesota, a childhood and place she drew on in the writing of her memoir, The Summer of Ordinary Ways. She received her BA and an MFA in creative writing from Minnesota State University, Mankato. Based on the novel's first chapter, NPR's Scott Simon awarded The Turtle Catcher the Tamarack Prize from Minnesota Monthly.
Praise For Stillwater…
"Lyrical and humorous . . . Helget deftly weaves political and social history into . . . a rich and intricate novel full of compassion for these pioneers and the place they live." — Saint Paul Pioneer Press

"Told in a vigorous and warmly resonant prose that captures both the ridiculous and the sublime." — Historical Novel Society
"In moments of barbarity and humility, violence and tenderness, greed and sacrifice, Helget leaves no saint without sin and no sinner without grace . . . What unfolds is a novel of portraiture — of characters, of industry, of an era and the cold realities that shaped it — that does not give up its moments of humanity lightly."—Mankato Free Press

"In Stillwater, Helget's latest novel, the twins grow up in a landscape filled with colorful characters: trappers, loggers, outlaws, nuns, Native Americans and runaway slaves. And the land itself is vibrant. You can see its significance from the very first words of the novel." —  NPR, Weekend Edition Saturday

"This one's going to be a big deal. Helget's new book, Stillwater, is so entertaining, inventive, outrageous and well-told that I'm imagining a thousand book clubs gathering over her words, filmmakers vying to make the movie, and a leap from mere critical acclaim to something more like celebrity for the Mankato writer." — Minnpost

"Rousing fun." — Minneapolis Star Tribune

"Helget's tale of frontier life in the territory of Minnesota gives stark meaning to the term 'woebegone' . . . This novel effectively dramatizes the seismic sociological shifts that shaped the American Midwest." — Kirkus Reviews

"[Stillwater] often has a gothic feel, with madwomen, poisonings, and dead babies. But there is also an undercurrent of black humor, particularly in the portrayal of Beaver Jean, who is reprehensible but also a delightful comic creation." — Library Journal

"A stunning achievement. Helget brings her keen sense for Southern Gothic to, of all places, the Northwoods of Minnesota. A fascinating story of a frontier logging town, this novel boasts a remarkable assortment of characters — Indians, slaves, trappers, missionaries, mothers and lost children — all caught up in the crosscurrents of American history. A highly touching and believable tale." — Jonathan Odell, author of The Healing

"Make room Louise Erdrich, Minnesota has a new resident scribe. Rascally and robust, saucy and sincere and serious as a logjam, Stillwater is a celebration of this country's coming of age from a writer staking her claim to greatness." — Peter Geye, author of The Lighthouse Road

"A wonder of a novel, rich in history, humor and heart, with prose that flows and sparkles like a sunlit river." — Benjamin Percy, author of Red Moon and The Wilding