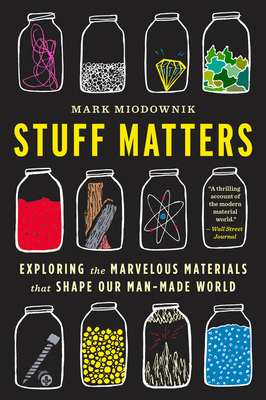 Stuff Matters (Paperback)
Exploring the Marvelous Materials That Shape Our Man-Made World
Mariner Books, 9780544483941, 272pp.
Publication Date: March 17, 2015
Other Editions of This Title:
Digital Audiobook (7/28/2014)
MP3 CD (7/29/2014)
Compact Disc (7/29/2014)
Hardcover (5/27/2014)
Paperback, Chinese (9/1/2015)
Compact Disc (7/29/2014)
* Individual store prices may vary.
Description
New York Times Bestseller • New York Times Notable Book 2014 • Winner of the Royal Society Winton Prize for Science Books

"A thrilling account of the modern material world." —Wall Street Journal

"Miodownik, a materials scientist, explains the history and science behind things such as paper, glass, chocolate, and concrete with an infectious enthusiasm." —Scientific American

Why is glass see-through? What makes elastic stretchy? Why does any material look and behave the way it does? These are the sorts of questions that renowned materials scientist Mark Miodownik constantly asks himself. Miodownik studies objects as ordinary as an envelope and as unexpected as concrete cloth, uncovering the fascinating secrets that hold together our physical world. In Stuff Matters, Miodownik explores the materials he encounters in a typical morning, from the steel in his razor to the foam in his sneakers. Full of enthralling tales of the miracles of engineering that permeate our lives, Stuff Matters will make you see stuff in a whole new way.

"Stuff Matters is about hidden wonders, the astonishing properties of materials we think boring, banal, and unworthy of attention...It's possible this science and these stories have been told elsewhere, but like the best chocolatiers, Miodownik gets the blend right." —New York Times Book Review
 
About the Author
MARK MIODOWNIK is professor of materials and society at University College London, where he is also director of the Institute of Making. He is the author of the book Stuff Matters, a New York Times bestseller which won the National Academy of Sciences Communication Award for Books and the Royal Society Winton Prize. Mark writes regularly for the Guardian, hosts regular shows on the BBC, and was chosen as by the Times as one of the one hundred most influential scientists in the UK.
Praise For Stuff Matters: Exploring the Marvelous Materials That Shape Our Man-Made World…
"Stuff Matters is about hidden wonders, the astonishing properties of materials we think boring, banal and unworthy of attention...It's possible this science and these stories have been told elsewhere, but like the best chocolatiers, Miodownik gets the blend right." —The New York Times Book Review

"[Ordinary objects] have found their poet in Mark Miodownik...A thrilling account of the modern material world...Though I blush to recall it, once I had the impression that materials science was dull and pedestrian. Stuff Matters has changed my mind; now I find myself running my fingers along things and sighing. Mr. Miodownik's lively, eloquent book changes the way one looks at the world." —Wall Street Journal
"Midownik dives into every detail...[with] joyous curiosity." —Entertainment Weekly

"Miodownik, a materials scientist, explains the history and science behind things such as paper, glass, chocolate and concrete with an infectious enthusiasm." —Scientific American

"Materials scientist Miodownik intertwines humorous vignettes of daily life in London with subatomic behavior to explain the feats of engineering that brought us samurai swords, skyscrapers, pool balls and even chocolate. From concrete in Roman architecture to atom-thick graphene, Miodownik builds on a historical framework to give readers an idea of future applications. Clever in every sense of the word, Stuff Matters may leave you looking at windows rather than through them." —Discover

"Stuff Matters makes the seemingly banal objects of our everyday lives into an endless source of wonder, dreams and possibility." —Salon

"Superb storytelling...fascinating...a delightful book on a subject that is relatively rarely written about." —Popular Science

"Entertaining and informative...[Stuff Matters] delivers on both the scientific and personal levels. Its anecdotes, inviting prose and unusual chapter titles introduce both the author and his field of research, materials science." —Dallas Morning News

"I stayed up all night reading this book. Miodownik writes with such knowledge, such enthusiasm, such a palpable love for his subject." —Oliver Sacks, author of Hallucinations

"Concrete, chocolate, paper, porcelain; this is a fascinating and informative account of the 'stuff' of our everyday lives." —Penny Le Couteur, coauthor of Napoleon's Buttons: How 17 Molecules Changed History

"It is a rare thing for a true scientist to be able to explain how things work so clearly to the layperson—and even rarer to do so in such an entertaining fashion. No one who reads this book will look at the world quite the same again." —Kate Ascher, author of The Works, The Heights, and The Way to Go

"[A] wonderful account of the materials that have made the modern world…Miodownik writes well enough to make even concrete sparkle." —Financial Times

"A deftly written, immensely enjoyable little book." —Observer (UK)

"[Miodownik] makes even the most everyday seemthrilling."—The Sunday Times (UK)
"Enthralling... a mission to re-acquaint us with the wonders of the fabric that sustains our lives." —Guardian (UK)

"Entertaining...These materials make fascinating reading." —Materials Today (UK)

"A great look at the science and stories behind the seemingly mundane substances that make up almost everything." —Physics Central

"A compact, intense guided tour through a handful of physical materials, from concrete to chocolate, revealing what makes them profoundly affect our lives...[Miodownik] writes with enthusiasm, empathy and gratitude, making us care for concrete or foam as much as for Mr. Darcy or the Artful Dodger...[Stuff Matters] puts the wonder and strangeness back into all the truly magical stuff that comprises our everyday reality." —Kirkus

"A fascinating introduction to materials science...Miodownik's infectious curiosity and explanatory gifts will inspire readers to take a closer look at the materials around them." —Publishers Weekly, starred review

"Ever wonder how concrete is made? Why chocolate gets white spots when it heats up then cools down again? What makes diamond and graphite, two allotropes of carbon, behave so differently? Miodownik (materials and society, Univ. Coll. of London; Computational Materials Engineering) answers all of these questions and more through relating his personal experiences with each type of material. The author explores the worlds of the grandiose as he watches the construction of the Shard in London, Europe's tallest building; and the miniscule, as he examines how small pores can lead to fractures in terra cotta, but similar fractures can be stopped in plaster (like that in a cast) by applying it over cloth. Miodownik introduces enough chemistry to explain, as his title suggests, the stuff that matters, but relates the science in such a way that the book should be accessible to all readers. ­VERDICT Recommended for anyone who wants to learn more about the materials that make up the world around them." —Library Journal, STARRED