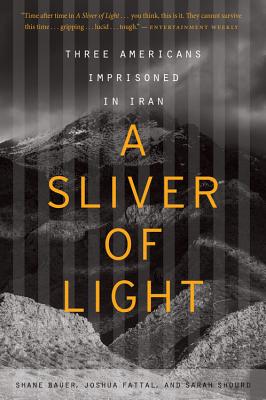 A Sliver of Light
Three Americans Imprisoned in Iran
Paperback

* Individual store prices may vary.
Other Editions of This Title:
Compact Disc (3/18/2014)
Hardcover (3/18/2014)
Compact Disc (3/18/2014)
MP3 CD (3/18/2014)
Description
"A Sliver of Light weaves a spellbinding tale of hard-won survival at the intersection of courage and love — the love of friends struggling to support one another in wretched circumstances, the unyielding bedrock of mothers' love for their long-lost children, and the fiercely tested love of three people for the family of humankind. It is a triumph of writing born of a triumph of being." — Andrew Solomon, author of Far from the Tree and The Noonday Demon
 
In summer 2009, Shane Bauer, Josh Fattal, and Sarah Shourd were hiking in the mountains of Iraqi Kurdistan when they unknowingly crossed into Iran and were captured by a border patrol. Wrongly accused of espionage, the three Americans ultimately found themselves in Tehran's infamous Evin Prison, where activists and protesters from the Green Movement were still being confined and tortured. Cut off from the world and trapped in a legal black hole, Bauer, Fattal, and Shourd discovered that pooling their strength of will and relying on one another was the only way they could survive.
In A Sliver of Light, the three finally tell their side of the story. They offer a rare glimpse inside Iran at a time when understanding this fractured state has never been more important. But beyond that, this memoir is a profoundly humane account of defiance, hope, and the elemental power of friendship.
 
"Riveting and necessary and illuminating in countless unexpected ways. The hikers have pulled off the almost impossible task of making from their hellish experience something of beauty and grace." — Dave Eggers
 
"A Sliver of Light is the record of a human rights triumph, a moving memoir by three individuals who found the strength to survive." — San Jose Mercury News
Eamon Dolan/Mariner Books, 9780544483972, 352pp.
Publication Date: March 3, 2015
About the Author
SHANE BAUER is an investigative journalist and photographer. He has reported from locations such as Iraq, Sudan, Chad, Syria, Yemen, Israel/Palestine, and California's Pelican Bay supermax prison. He has written for Mother Jones, The Nation, Salon, Los Angeles Times, San Francisco Chronicle, Christian Science Monitor, and others. He has received the Hillman Prize for Magazine Journalism, the John Jay/ H.F. Guggenheim Award for Criminal Justice Reporting, and many other national awards. He was also a finalist in the Livingston Award for journalists under 35.
JOSHUA FATTAL is a historian with a background in environmental sustainability. Prior to his arrest in Iran, he taught in Asia about the political economy of healthcare and was co-director of an environmental education center in Oregon. Joshua has also taught nonviolent communication, qi gong, and yoga. He lives in Brooklyn, New York with his partner and child.
SARAH SHOURD is a writer, educator and Contributing Editor at Solitary Watch currently based in Oakland, California. Sarah has done international human rights work with the Zapatista indigenous movement in Chiapas, Mexico; organized with women's groups against unsolved murders of sweatshop workers in Juarez, Mexico; and taught for the Iraqi Student Project while living in Damascus, Syria. After her wrongful imprisonment in Iran, Sarah has become an advocate for prisoners' rights, focusing her writing, speaking, and theater projects on the wide-spread use of prolonged solitary confinement in U.S. prisons and jails. She has written for the New York Times, San Francisco Chronicle, CNN, and Newsweek/Daily Beast, and contributes a blog to Huffington Post.