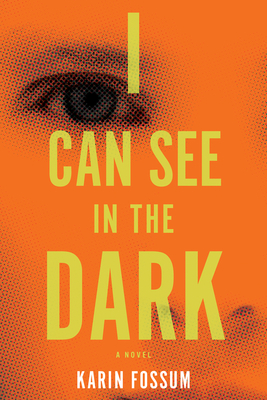 I Can See in the Dark (Paperback)
Mariner Books, 9780544483989, 224pp.
Publication Date: March 10, 2015
Other Editions of This Title:
Hardcover (8/12/2014)
* Individual store prices may vary.
Description
"One of the standouts of the Nordic thriller boom." —New York Magazine
 
Riktor doesn't like the way the policeman storms into his home without even knocking. He doesn't like the arrogant way he walks around the house, taking note of its contents. The policeman doesn't bother to explain why he's there, and Riktor is too afraid to ask. He knows he's guilty of a terrible crime and he's sure the policeman has found him out. But when the policeman finally does arrest him, it's for something totally unexpected. Riktor doesn't have a clear conscience, but the crime he's being accused of is one he certainly didn't commit. Imprisoned and desperate to break out, he fights to clear his name without further incriminating himself, in a gripping standalone novel from "a truly great writer" (Jo Nesbø).
 
 
About the Author
KARIN FOSSUM is the author of the internationally successful Inspector Konrad Sejer crime series. Her recent honors include a Gumshoe Award and the Los Angeles Times Book Prize for mystery/thriller. She lives in Norway.
Praise For I Can See in the Dark…
"The great Norwegian crime novelist Karin Fossum has a special gift for voices. She's come up with a humdinger in the first-person narrator…It's wrenching." —Washington Post
 
"Unsettling and scarily well written."—Ian Rankin, The Guardian (UK)

"Fossum descends deep into the alienated mind of Riktor to create an exquisitely Poe-ish novel of psychological suspense." —More
 
"The queen of Norwegian crime fiction, the prolific and brilliant Fossum has riddled the quaint countryside north of Oslo with imagined crimes…In Fossum's literary thrillers, the crime is almost incidental to a deeper moral crisis: Her killers aren't madmen but ordinary people driven to monstrous acts." —Men's Journal
 
"A taut, well-paced book…Chilling." —Dallas Morning News
 
"Fossum vividly unpacks the mind of a troubled individual in this haunting psychological thriller…Compelling—if unsettling—character study for fans of psychological suspense." —Library Journal
 
"Readers who can handle the darkest tales will be rewarded by Fossum's streamlined, thoughtfully constructed story." —Booklist
 
"[A] first-rate novel of suspense…Clever and compelling standalone." —Publishers Weekly, starred review
 
"A chilling portrait of a dead-eyed devil." —Kirkus