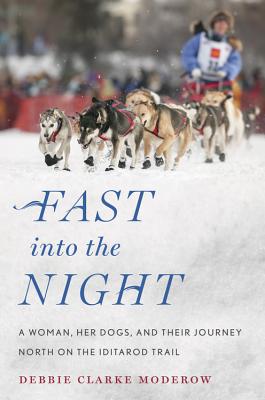 Fast into the Night (Hardcover)
A Woman, Her Dogs, and Their Journey North on the Iditarod Trail
Houghton Mifflin Harcourt, 9780544484122, 272pp.
Publication Date: February 2, 2016
* Individual store prices may vary.
Description
A captivating memoir of one woman's attempt to finish the Iditarod, led by her team of spunky huskies with whom she shares a fascinating and inextricable bond

At age forty-seven, a mother of two, Debbie Moderow was not your average musher in the Iditarod, but that's where she found herself when, less than 200 miles from the finish line, her dogs decided they didn't want to run anymore. After all her preparation, after all the careful management of her team, and after their running so well for over a week, the huskies balked. But the sting of not completing the race after coming so far was nothing compared to the disappointment Moderow felt in having lost touch with her dogs.
 
Fast into the Night is the gripping story of Moderow's journeys along the Iditarod trail with her team of spunky huskies: Taiga and Su, Piney and Creek, Nacho and Zeppy, Juliet and the headstrong leader, Kanga. The first failed attempt crushed Moderow's confidence, but after reconnecting with her dogs she returned and ventured again to Nome, pushing through injuries,  hallucinations, epic storms, flipped sleds, and clashing personalities, both human and canine. And she prevailed.
 
Part adventure, part love story, part inquiry into the mystery of the connection between humans and dogs, Fast into the Night is an exquisitely written memoir of a woman, her dogs, and what can happen when someone puts herself in that place between daring and doubt—and soldiers on.
About the Author
DEBBIE CLARKE MODEROW, originally from Connecticut,  went to Alaska in 1979 for a mountain climbing expedition and met her husband, Mark. For the Moderows, dog mushing has always been a family affair. Debbie ran the Iditarod in 2003 and 2005, completing the latter in 13 days, 19 hours, 10 minutes, and 32 seconds. In 2013, Debbie graduated from Pacific Lutheran University's Rainier Writing Workshop with an MFA in Creative Writing.
Praise For Fast into the Night: A Woman, Her Dogs, and Their Journey North on the Iditarod Trail…
Not only does Fast Into the Night detail in spare and honest prose all the grit and excitement that is the Iditarod, but its author aptly takes us along on her personal journey with all its internal struggles, tribulations, and tumult. At the same time she captures the remarkable bond that exists between a musher and their dogs, and the interplay they must share in order to make their goal of reaching Nome a reality. Bravo for turning out what may be the quintessential Iditarod story, and for crafting what is simply a great Alaskan adventure well told.
—Dave Atcheson, author of Dead Reckoning and Hidden Alaska.
 
Personal, vivid, and authentic, Fast Into The Night lives up to its title. Moderow's ability to project emotion through her graceful prose had me from the start, and never let go. Through moments of failure and triumph, Moderow's love for family, her dogs, and the grand adventure of life shine forth. 
—Nick Jans, author of A Wolf Called Romeo.
 
Moderow heard the call of the wild. She writes about racing dogs through the wilderness lyrically like Robert Service writes about seeking adventure in far off places. She heard the challenge, learned the lessons with her dogs, paid the costs, and won the enthralling and inspiring experience. It's a book you can't put down.
—Lynne Cox, author of Swimming to Antarctica and Elizabeth, Queen of the Seas.
 
I expected high adventure from Debbie Moderow's story of running the Iditarod through a thousand miles of Alaska's most grueling terrain—and happily, I found it. Moderow beautifully captures the personalities of each dog as she struggles to earn the team's trust, and she reveals her own vulnerabilities as she learns to trust herself. Crossing the finish line, it turns out, requires resilience as much as endurance, humility more than strength. This is an extraordinary account of a family's faith in one another—four-leggeds and two-leggeds alike.
—Sherry Simpson, author of The Way Winter Comes and Dominion of Bears.

"When a memoir magically materializes before your eyes, striking all the right chords, it's a wonder to behold—truly beautiful. In Fast into the Night that is precisely what Debbie Clarke Moderow graces us with—an elegantly crafted, sumptuous story straight from the author's heart." -Anchorage Press   
 
"THE SETTING of this compelling title is the frigid Alaskan outback, but the story itself is truly heartwarming. The author writes of her experience competing in the Iditarod and about the exceptional animals that pulled the sled along the thousand mile journey. An adventurous outdoors woman, Moderow interweaves her personal tale of becoming a racer with an account of the race itself. With gut-wrenching candor she shares how she dealt with failure, the death of her parents, and a grueling bout with depression to take part in an event referred to as the "Last Great Race on Earth." Debbie Moderow's dedication and love for the Huskies that accompany her from Anchorage to Nome is the soul that drives this insightful and touching memoir." - Cowgirl Magazine
​