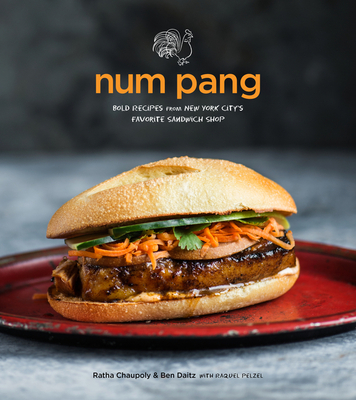 Num Pang
Bold Recipes from New York City's Favorite Sandwich Shop
Hardcover

* Individual store prices may vary.
Description
100 Cambodian- and Southeast Asian-inspired recipes from New York's favorite sandwich shop

In a city with so many great sandwich joints, Num Pang Sandwich Shop is a standout, receiving high praise from numerous sources including Bon Appétit and Zagat. First opened in 2009 by Ratha Chaupoly and Ben Daitz, the restaurant introduced New York City to Cambodian-inspired sandwiches and sides. Today, there are six locations in the city with more in the works. Num Pang sandwiches are similar to Vietnamese banh mi, but what makes them so special is the inventive fillings, ranging from Glazed Five-Spice Pork Belly to Seared Coconut Tiger Shrimp to Hoisin Meatballs. The book provides recipes for all the fan favorites as well as ones for condiments like Pickled Five-Spice Asian Pears, sides like the Sambal Chili–Glazed Chicken Wings, soups and stews like Curried Red Lentil Soup, salads like Green Papaya Salad, and drinks like Cambodian Iced Coffee. With touches of graffiti art inspired by the chain's signature urban, hip-hop style, Num Pang looks just as bold as the mouthwatering recipes taste.
 

Praise For Num Pang: Bold Recipes from New York City's Favorite Sandwich Shop…
"The food at Num Pang is delicious. No wait… it's f@*cking delicious! I met Ben Daitz years ago at the Washington Square Park dog run, and he told me that he was gonna open a sandwich place. I bumped into him a couple years later and had no idea that his place was the same place I go to for the most delicious sandwiches in NYC. We eventually collaborated on the most tastiest pastrami sandwich to be tasted. EVER! The sauce that Ben and co-owner Ratha invented should be made into a lip balm so you can just savor and savor and savor. Ben and Ratha's book is like a collection of magic tricks being revealed. Delicious magic tricks that I can make and eat in my apartment." —Adam "Ad-Rock" Horovitz, musician   "Ratha and Ben are masters of delicious composition. They are virtuosos because they make perfectly balanced sandwiches: no alterations, no additions, no substitutions (less a little extra Sriracha). But each individual element of a num pang is an artwork in and of itself, which makes this quirky and crafty book so delicious and the sandwiches actually simple to replicate at home in my own kitchen. Num Pang is the true and definitive #yumbang!!!" —Mario Batali, chef, entrepreneur   "Num Pang is one of those places that opened in NYC and immediately harvested a cult following. There are only two reasons how this is made possible in New York, the most competitive restaurant market in the world: 1) delicious food and 2) amazing culture. The food is delicious, made with care and passion, and comes from two of the best guys around. From the humble descriptions and step-by-step recipes to the awesome narrative and incredible photography, I am stoked to add this book to my collection, and I promise Ben and Ratha, I will COOK THIS BOOK!!!" —Michael Chernow, owner of Seamore's and co-owner of The Meatball Shop "Cambodia-born Chaupoly and native New Yorker Daitz were both building impressive restaurant industry resumes when they met, one day, at the bar of the Blue Water Grill. They quickly became friends and business partners, opening the Num Pang sandwich shop in Greenwich Village in 2009. Seven years and five additional locations later, the two are spilling their secrets of success in this collection of tangy recipes. They begin by revealing the "holy trinity (of four)," the ingredients that go into every sort of num pang (spoiler alert: cucumber, cilantro, chili mayo, and pickled carrots). Then, rather than focusing on sandwich building, they deconstruct, exploring the many ways of turning fowl, meat, fish, and vegetables into succulent centerpieces that can either be stuffed into a baguette, or served as a main or side dish. Highlights include a chile-basil fried chicken made with buttermilk; glazed five-spice pork belly with a hint of maple syrup; hoisin meatballs; and peppercorn catfish. Dotted throughout are helpful "know this" tip boxes, offering sage advice on skills such as flame-roasting ginger and judging the thickness of coconut milk. There is also a chapter of meals in a bowl with predictable entries such as oxtail stew, surprising options such as oatmeal flavored with tamarind, mango, and papaya, and, just for the heck of it, a traditional matzo ball soup." —Publishers Weekly —
Harvest, 9780544534315, 240pp.
Publication Date: May 17, 2016
About the Author
In 2009, RATHA CHAUPOLY and BEN DAITZ opened up the Num Pang Sandwich shop, which sells Asian sandwiches and sides that combine flavors from Ratha's childhood in Cambodia with Ben's culinary technique. They now have six locations throughout the city.
In 2009, Ratha Chaupoly and Ben Daitz opened up the Num Pang Sandwich shop, which sells Asian sandwiches and sides that combine flavors from Ratha's childhood in Cambodia with Ben's culinary technique. They now have six locations throughout the city.
or
Not Currently Available for Direct Purchase