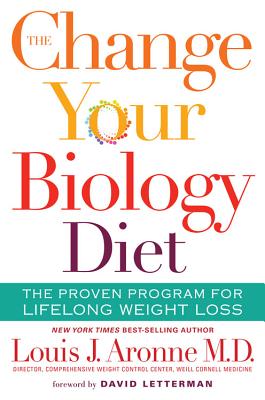 The Change Your Biology Diet
The Proven Program for Lifelong Weight Loss
Hardcover

* Individual store prices may vary.
Description
A best-selling doctor's life-changing program and diet plan to effectively overcome addictions to sugar, fat, and salt, and achieve permanent weight loss
Louis J. Aronne, M.D., an internationally recognized weight-management expert and the director of the Comprehensive Weight Control Center at Weill-Cornell Medical College, has created the Change Your Biology Diet, a proven program that helps people break through weight loss "resistance" to drop excess pounds and keep them off. Dr. Aronne's approach, unlike fad diets, focuses on biological factors that cause weight gain. For example, overeating the wrong kinds of food—namely highly processed, starchy, sweet, fatty food—damages neurons in the brain's appetite center that lead to weight gain. Following his plan can reverse this process. With the support of his extensive knowledge and the latest research, readers learn Twelve Breakthrough Strategies for Successful Weight Management, such as how the order in which food is eaten affects weight loss. He provides two different adaptable diets so that readers can personalize a program that works for them. There are meal plans, delicious recipes for protein shakes, soups, sauces, salad dressings, main courses, side dishes and desserts as well as three high-intensity workouts that require no equipment and can be done in less than ten minutes anywhere. Beyond diet and exercise, Dr. Aronne covers the most recent developments in weight loss medications and bariatric procedures. The Change Your Biology Diet provides readers with everything they need to know to lose weight successfully from one of the pioneers in the field of obesity medicine.

Praise For The Change Your Biology Diet: The Proven Program for Lifelong Weight Loss…
"This book will help you feel better, lose weight, and make you as smart as Alex Trebek. Thanks to Lou I understand the connection between heart disease and blood sugar. Let Lou help how you think and eat. He might save your life as well." — David Letterman, from the Foreword

"What a thoughtful, respectful, and compassionate book for individuals who struggle with their weight. Dr. Aronne combines a rich understanding of the new science of weight control with more than 30 years of clinical wisdom. Not another diet book, this is a thorough and highly readable description of treatment options for individuals who seek to improve their weight, health, and well-being." — Thomas A. Wadden, Ph.D., Albert Stunkard Professor in Psychiatry, Perelman School of Medicine at the University of Pennsylvania
 
"Finally here is a diet book from a bona fide obesity medicine specialist and the best one in the field. Dr Aronne explains his methods through state of the art science, and bench to bedside medicine. Not only does Dr. Aronne share his breakthroughs to weight loss and weight maintenance that comes from years of treating patients with this disease, but he also discusses when it is prudent to seek a specialist for medications and when it might be helpful to seek bariatric surgery. This is a must read for anyone who has struggled with weight problems because it will indeed save your life!" — Dr. Caroline Apovian, Professor of Medicine and Pediatrics and Director, Nutrition and Weight Management Center at Boston Medical Center and author of The Overnight Diet
 
"In an environment overwhelmed with conflicting advice and fad diets, Dr. Lou Aronne is a unique physician/scientist in the obesity field. He is very, very smart and is able to bring together actual scientifically-based knowledge with great compassion for his patients to effectively achieve weight control. Anyone with a problem controlling weight should listen, and listen well to his carefully reasoned advice. There is no one better!" — Richard N. Bergman, Ph.D., Director, Cedars-Sinai Diabetes and Obesity Research Center and Editor, Obesity, 2007-2012 
Houghton Mifflin Harcourt, 9780544535756, 352pp.
Publication Date: January 5, 2016
About the Author
An internationally recognized weight management specialist, LOUIS J. ARONNE, M.D., directs the Center for Weight Management at Weill Cornell Medical College. He is also author of the New York Times best-selling book The Skinny.
or
Not Currently Available for Direct Purchase