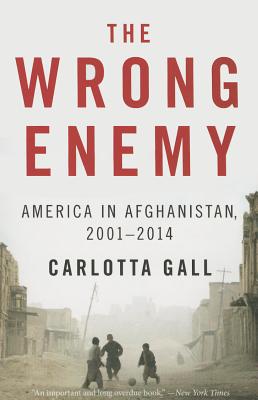 The Wrong Enemy (Paperback)
America in Afghanistan, 2001–2014
Mariner Books, 9780544538566, 368pp.
Publication Date: April 14, 2015
* Individual store prices may vary.
Description
"An enthralling and largely firsthand account of the war in Afghanistan."—Financial Times
 
Few reporters know as much about Afghanistan as Carlotta Gall. She was there in the 1990s after the Russians were driven out. She witnessed the early flourishing of radical Islam, imported from abroad, which caused so much local suffering. She was there right after 9/11, when the US special forces helped the Northern Alliance drive the Taliban out of the north and then the south, fighting pitched battles and causing their enemies to flee underground and into Pakistan. She knows just how much this war has cost the Afghan people. And she knows just how much damage can be traced to Pakistan and its duplicitous government and intelligence forces. Combining searing personal accounts of battles and betrayals with moving portraits of the ordinary Afghans who were caught up in the conflict of more than a decade, The Wrong Enemy is a sweeping account of a war brought by American leaders against an enemy they barely understood and could not truly engage.
 
"A strong, well-crafted account by an informed observer."—The Economist
 
"Gall is perhaps uniquely positioned to tackle the troubling questions she raises about Pakistan's alleged support of terrorism . . . a must-read."— Christian Science Monitor
About the Author
CARLOTTA GALL has worked for the New York Times since 1999, including over ten years in Afghanistan and Pakistan.  She previously worked for the Financial Times and The Economist.  In 2007 she was featured in the Academy Award-winning documentary Taxi to the Dark Side.
Praise For The Wrong Enemy: America in Afghanistan, 2001–2014…
"A valuable contribution to a hefty body of work on the American war in Afghanistan that has become stale and somewhat hackneyed. It provides a raw, unvarnished and important look at one of the darkest and least understood parts of the Afghan war . . . Ms. Gall, a reporter for the New York Times in Afghanistan and Pakistan for more than a decade, beginning shortly after September 11, is in an extraordinary position to write this important and long overdue book." — New York Times

"The Wrong Enemy is a timely survey of a military and diplomatic undertaking that has exacted a stiff tribute from Afghans and NATO forces in lives, treasure, and national prestige. Gall is right to confront the uneasy truths involving Pakistan's double-dealing while also identifying coalition shortfalls . . . When it comes to informative, credible reporting from Central Asia over the past decade, Gall ranks with journalists like Dexter Filkins and David Rohde who have written about Afghanistan with authority and context. But Gall is perhaps uniquely positioned to tackle the troubling questions she raises about Pakistan's alleged support of terrorism . . . As the US and NATO prepare to possibly withdraw all forces from Afghanistan at the close of this year, Gall's book qualifies as a must-read." — Christian Science Monitor

"Gall's long years of reporting for the New York Times from the front lines of the war are clear in this book, particularly in her vivid reconstruction of how things went rapidly downhill after the easy U.S.-led victories over the Taliban at the end of 2001 . . . To her credit, Ms. Gall gets the most important thing right. She underscores the danger of the U.S. turning its back on Afghanistan, which, while still fragile, shows more signs of modernity than ever before. The repercussions of the U.S. drawdown 'are already inspiring Islamists, who are comparing it to the withdrawal of the Soviet Union' after its defeat at the hands of the mujahedeen. Unlike the Obama administration, Ms. Gall recognizes that radical Islam can't be ignored or wished away." — Wall Street Journal

"A strong, well-crafted account by an informed observer." — Economist

"The author offers a compelling account of the attack on bin Laden's compound, the repercussions of which are still being felt. Gall admirably never loses sight of the human element in this tragedy." — Kirkus Reviews