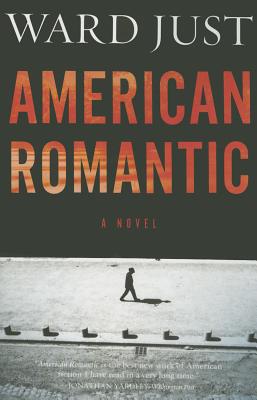 American Romantic (Paperback)
Mariner Books, 9780544538672, 272pp.
Publication Date: April 14, 2015
Other Editions of This Title:
Hardcover (4/1/2014)
* Individual store prices may vary.
Description
"Ward Just is not merely America's best political novelist. He is America's greatest living novelist."—Susan Zakin, Lithub  

"Ward Just is both a writer's writer and an astute tracker of human souls under duplicity and duress . . . American Romantic, his eighteenth, is one of his finest."—Gail Godwin, New York Times Book Review
 
Harry Sanders is a young Foreign Service officer in 1960s Indochina when a dangerous and clandestine meeting with insurgents—ending in quiet disaster—and a brief but passionate encounter with Sieglinde, a young German woman, alter the course of his life.
 
Absorbing the impact of his misstep, Harry returns briefly to Washington before eventual assignments in Africa, Scandinavia, and the Mediterranean. He marries the captivating May, who is fleeing her own family disappointments in worn-out upper New England and looking for an escape into Harry's diplomatic life. On the surface, they are a handsome, successful couple—but the memory of Sieglinde persists in Harry's thoughts, and May has her own secrets too. As Harry navigates the increasingly treacherous waters of diplomacy in an age of interminable conflict, he also tries to narrow the distance between himself and the two alluring women who have chosen to love him.
About the Author
WARD JUST's novels include Exiles in the Garden, Forgetfulness, the National Book Award finalist Echo House, A Dangerous Friend, winner of the Cooper Prize for fiction from the Society of American Historians, and An Unfinished Season, winner of the Chicago Tribune Heartland Award and a finalist for the 2005 Pulitzer Prize.
Praise For American Romantic…
 "Wise and elegiac recognition of the fading of American confidence and competence in ordering an unruly world . . . a sly parable of loss."—
Wall Street Journal
"An introspective novel . . . Wide-ranging and well-written, it may be Just's finest work to date."—
Christian Science Monitor
"Just's writing in American Romantic is so good it makes any writer jealous...American Romantic is the cat's meow as it moves to a surprise ending."—Buffalo News
"The latest from considers the toll that a life lived upon the great stage of international politics can take on a man of substance.
...Another brilliant novel from Just: wise, introspective and full of humanity."-—Kirkus
"Just's 18th novel tells the sensitive, elegant stories of a young, desperately naïve American foreign service officer and the two women who love him...Just's clever plot reveals a man conflicted by duty and loyalty, adroitly playing the State Department career game, but always wondering what might have happened if he had just made one or two different choices in his life. It's also a fascinating portrayal of American embassy operations and the treacherous shoals of international diplomacy and duplicity."—Publishers Weekly, STARRED review

Praise for Ward Just:

"A master American novelist." —Vanity Fair
 
"[Just's] vision of the people who run the world on our behalf is, for all their conventionality, the most profoundly subtle and, in its insight, the most radical." —Los Angeles Times Book Review
 
"There comes a moment . . . when a reader is brought up short by how spectacularly well Ward Just writes fiction . . . Its effect is nearly explosive." —Boston Globe
 
"Masterpieces of balance, focus, and hidden order . . . his stories put him in the category reserved for writers who work far beyond the fashions of the times." —Chicago Tribune