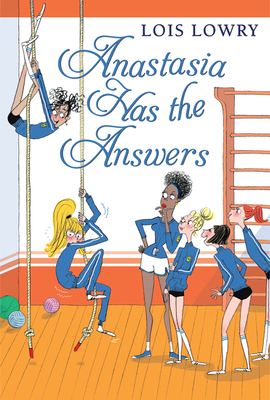 Anastasia Has the Answers (Paperback)
Houghton Mifflin, 9780544540330, 160pp.
Publication Date: February 2, 2016
Description
It's bad enough to be humiliated, Anastasia Krupnik realizes. But to be humiliated in front of an audience--and in front of the world's most glamorous gym teacher--and while wearing a royal blue gym suit? That's the pits. Now that she's decided to become a journalist, life's questions ought to be pretyy easy to answer, Anastasia thinks. A journalist, after all, simply responds to the who, what, when, where, and why of every situation. But why are Daphne Bellingham's parents getting a divorce? Is it Daphne's fault? And why--WHY--is Anastasia the most physically uncoordinated person iever to set foot in a gymnasium? Once again Lois Lowry's wonderful and irrepressible Anastasia has the answers.
About the Author
Lois Lowry is known for her versatility and invention as a writer. She was born in Hawaii and grew up in New York, Pennsylvania, and Japan. After several years at Brown University, she turned to her family and to writing. She is the author of more than thirty books for young adults, including the popular Anastasia Krupnik series. She has received countless honors, among them the Boston Globe-Horn Book Award, the Dorothy Canfield Fisher Award, the California Young Reader's Medal, and the Mark Twain Award. She received Newbery Medals for two of her novels, NUMBER THE STARS and THE GIVER. Her first novel, A SUMMER TO DIE, was awarded the International Reading Association's Children's Book Award. Ms. Lowry now divides her time between Cambridge and an 1840s farmhouse in Maine. To learn more about Lois Lowry, see her website at www.loislowry.com
Advertisement